Chinese Foreign Minister Wang Yi on Sunday proposed that the Japanese Foreign Minister Taro Kono join forces to normalize relations between the two states, reports
TASS
.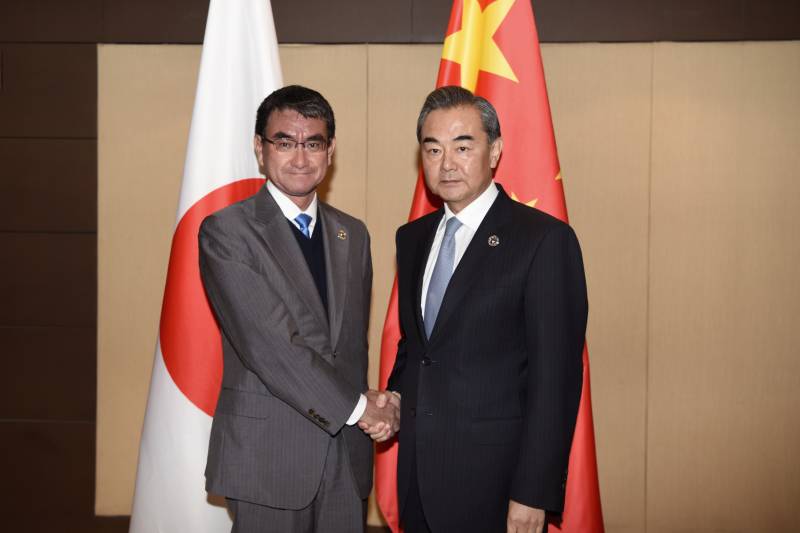 I welcome your arrival. This year marks exactly 40 years since the signing of a peace and friendship treaty between our countries - this is particularly important for bilateral contacts. The fact that you arrived in the PRC at the beginning of the year shows the determination of the Japanese government to improve relations with Beijing. We hope that Japan will not change its mood, will not go back down and will put words into action, joining forces with China, will act with us at the same time - it is necessary to bring Chinese-Japanese ties to the path of harmonious development as soon as possible.
quotes Wang And the press service of the Chinese Ministry.
According to him, relations between China and Japan are at an important stage today, and both sides should seize this opportunity.
In the past, our bilateral contacts were like a boat going against the current. They did not progress and deteriorated. We appreciate the positive statements that Tokyo has made recently,
stressed the head of the Ministry of Foreign Affairs of China.
Tokyo's readiness to develop ties with Beijing was announced at the talks by Taro Kono.
This year we would like to comprehensively improve relations
said the head of the Japanese department.
27 and 28 January Tarot Kono is in Beijing on an official visit, which is expected to lead to the optimization of contacts and the intensification of cooperation between the two countries in many areas.
Recall that relations between Beijing and Tokyo for decades have been complicated by mutual demands caused by territorial disputes and differences in official positions regarding a number of
historical
facts that affect the interests of both states.