Sebastian Roblen, military analyst at The National Interest, compares performance
tanks
T-90 (MS), M1 Abrams and Type-99.
According to the author of the publication, each of the armored vehicles has unique qualities. For example, the newest Chinese tank "Type-99" is far ahead of its competitors in speed and is capable of accelerating to 80 kilometers per hour along the road. Since "Abrams" with a horsepower 1400 motor can accelerate to 68 kilometers per hour, and T-90MS - to 72 kilometers per hour.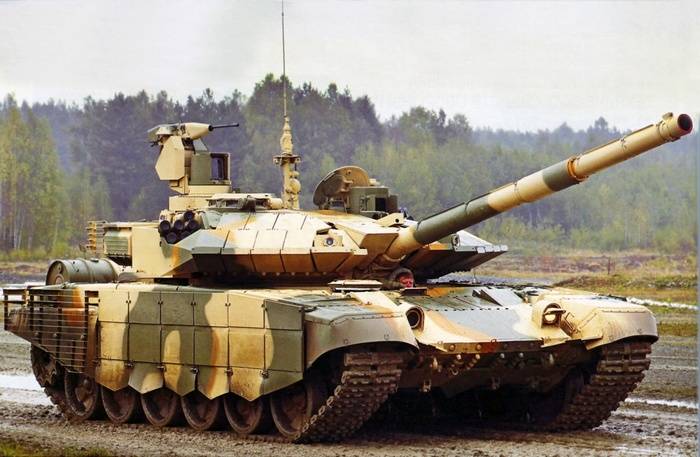 In addition, the American tank has the "most voracious" power plant: its characteristics allow you to drive 390 kilometers before refueling. Competitors are able to drive more than 480 kilometers. At the same time, the gravity of the Abrams can be considered its advantage. According to the analyst, the 120-millimeter cannon of this tank with M829 shells with uranium cores is capable of penetrating more armor on the 15-20% than the X-NUMX mm T-125 guns.
But at the same time, Russian and Chinese tanks are capable of firing Refleks anti-tank missiles through the barrel of their gun, while the Abrams does not have such capabilities. The T-90 and Type-99 also installed a Soviet-style carousel automatic loader, while the fourth member of the Abrams crew is precisely loading the gun. Therefore, additional space is needed for the loader, which makes the Abrams М1 tank more massive and heavier.
In general, "Abrams, with reservations, have the most firepower, whereas Type-99 machines are probably best protected by their multi-level systems. In addition, they are faster and have a longer range
- suggests Roble.
The Russian T-90 (MS) tank, in turn, is equipped with the Relict protection system, an improved telescopic sight and a more powerful engine, due to which it is able to compete with American and Chinese vehicles, the analyst concludes.