The United States acknowledged that only half of the fifth-generation F-35 aircraft are partly ready for battle, and the rest are unreliable and have thousands of defects, according to a report by Bloomberg referring to the report of the head of the Pentagon's department for troop testing, Robert Beler. All efforts to improve the reliability of the F-35 aircraft have "stalled" due to numerous problems.
In his report, the head of the Pentagon's department, Beler, argues that the share of ready-to-fight aircraft is at about 50%, and it's not possible to increase it significantly since October of the 2014 year, despite the increase in the F-35 number.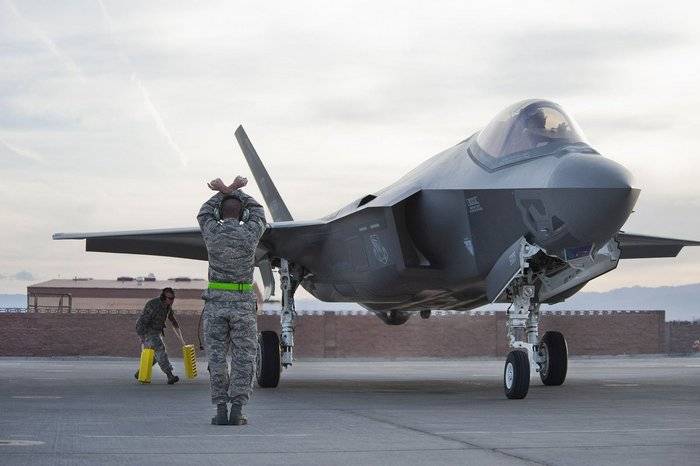 The report also indicates that upgraded versions of the fighter software have already appeared 31 times, however, some key flaws have not yet been fixed. In total, about a thousand different F-35 defects that may affect the effectiveness of its combat use have not been eliminated.
For example, aircraft modifications F-35B for the Marine Corps and F-35C for aircraft carriers can not be refilled in the air. Technical defects affect the launch of AIM-120 air-to-air missiles and the discharge of air-to-ground ammunition. The display in the pilot's helmet, which displays data on the flight and on the targets, does not work correctly, and the imperfect diagnostic system detects the "failures" of systems that actually function normally.
In order to finally complete the development phase of the F-16, stretching for 35 years, the aircraft must pass intensive military tests, which are already a year late. In addition, they are unlikely to be completed before December 2019 of the year, the authors of the document emphasize.
The Pentagon also stated the need to reduce the cost of the program. At the same time, the US military department intends to accelerate the production of F-35, although the problems identified at the current testing stage have not yet been corrected, notes Bloomberg.