A photo of the prototype of the 2C38 self-propelled anti-aircraft artillery system for the OCR "Derivation-Air Defense" with the 57-mm automatic gun appeared on the web.
The sample was presented during a visit to JSC Uralvagonzavod Scientific Production Corporation by the deputy chairman of the board of the Military Industrial Commission of Russia Oleg Bochkarev, the bmpd blog reports citing the press service of the corporation.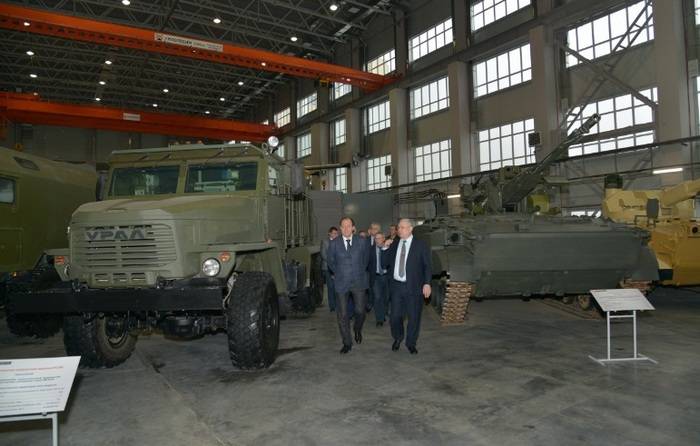 Recall that the materials on the 2C38 combat vehicle were presented in August 2017 at the Army-2017 International Military-Technical Forum at the stand of the Chief Rocket and Artillery Directorate of the Ministry of Defense of the Russian Federation. The materials reported that this product is being created as part of the "Derivation-Air Defense" development work, which implies the appearance in the troops of the advanced 57-mm mobile artillery complex with passive reconnaissance and tracking air targets.
The 2C38 combat vehicle is based on the BMP-3 and is designed to engage air targets such as unmanned aerial vehicles, cruise missiles, air-to-surface missiles, and tactical aircraft
aviation
, fire support helicopters. Anti-aircraft installation is also capable of shooting down rockets of multiple launch rocket systems, destroying ground and surface targets.
Key Features:
The maximum range of destruction - 6 km.
The maximum height of the lesion is 4,5 km.
The rate of fire - 120 shots per minute.
Full ammunition - 148 shots.
Vertical guidance angle - 5 degrees / + 75 degrees.
Horizontal pointing angle - 360 hail.
Maximum speed of targets hit - 500 m / s
Calculation - 3 people.
The 2C38 combat vehicle is equipped with an optical-electronic detection and aiming system for the IES OP, developed by Minsk JSC "Peleng". It allows you to carry out panoramic observation of the terrain at 360 degrees, as well as keep a sector review. The detection range through one of the television channels of a small unmanned aerial vehicle of the Berd Eye 400 type in the viewing mode is stated in 700 m, in the narrow field of view mode - 4900 m. - in 10 6400 m. The thermal imaging channel allows you to detect 12 x 300 m targets with a 2,3% probability at a distance of 2,3 80 m and recognize them at a distance of 10 000 m.