Oklahoma Senator (USA) James Inhof said that despite the serious illness of John McCain, it is McCain who makes the main decisions on the US Senate Arms Committee. Inhof notes that he himself presides over the meetings, but "the actual chairmanship remains with John McCain."
This topic Inhofe was forced to touch upon questions from journalists about how the defense committee of the upper house of the US Congress works due to the absence of John McCain.
It is known that since the beginning of this year, McCain has not yet appeared, not only in the committee he heads, but in general on Capitol Hill. An 81-year-old Republican, reportedly from around December 14, is undergoing treatment in Arizona for a form of cancer.
In connection with the absence of McCain, the position of the committee at the meeting on the topic "Global Challenges and the US National Security Strategy" was represented precisely by Inhof, who diligently announced that the position was agreed with McCain. Inhofe also read a letter to the audience, written by McCain on the occasion of the meeting, in which the head of the armament committee urged to focus on "confronting global challenges for the United States."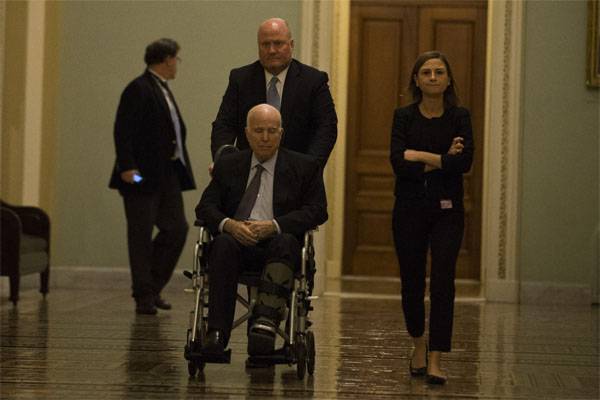 The state of McCain was commented by another Senator Lindsey Graham. According to him, last week he met with a colleague who "does everything to restore physical fitness."
Graham:
I hope John will be back soon.
At the same time, Republicans say that today the discussion of the US defense strategy and options for responding to global challenges is being conducted "with the absence of an uncompromising position of McCain." Such a situation is called "bad for American interests."