Kumertau
aviation
the enterprise (KumAPP) of the Russian Helicopters holding will hand over to the customer two light multi-purpose ship-based Ka-226T helicopters by the end of March, reports
press office
company.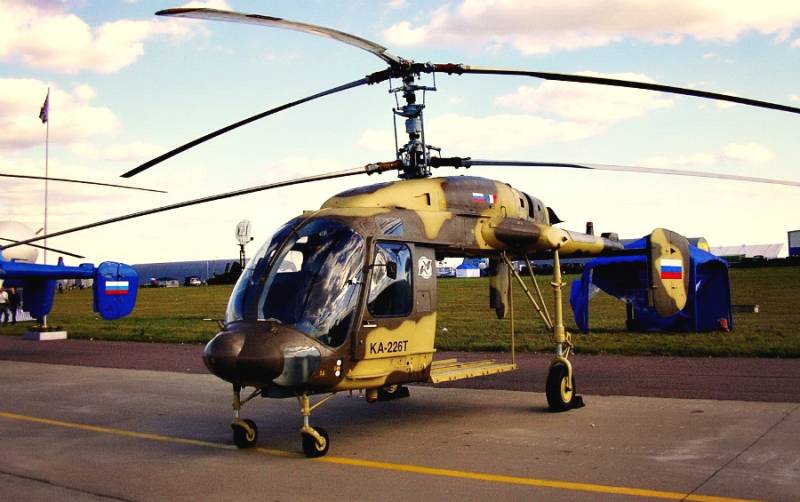 Machines will replenish the composition of the special forces of Russia.
Work within the framework of the State Defense Order is one of the main activities of KumAPP, this plant has unique competencies in the manufacture of deck helicopters, which help to strengthen the sea borders of Russia. In recent years, the company has been demonstrating a steady growth in production figures, it is fully ready for the placement of new orders from the Russian law enforcement agencies,
quoted by the press service of the general director of the holding Andrei Boginsky.
It is reported that "in contrast to the" land "version, the Ka-226T lightweight, ship-based light-duty multi-purpose helicopter has a system for folding rotor blades, in addition, the helicopter is equipped with the latest onboard equipment, and its components and systems are adapted to work in an aggressive marine environment. .
Due to its small dimensions, the machine is capable of being placed on ships and small-displacement ships. Ka-226T can be used to solve search and rescue and transport tasks during the day and night in simple and complex meteorological conditions.
Help of the press service: "The Ka-226T lightweight multi-purpose helicopter with a carrier system, made according to a twin-screw coaxial scheme, has a maximum take-off weight of 3,6 tons and is capable of carrying up to 1 tons of payload. The main distinctive feature is the modularity of its design. The helicopter is easily installed transport cabin, the design of which allows you to carry up to 6 people, or modules equipped with special equipment. "