Employees of the "National Industrial Portal" of Ukraine announced a competition among the readers to the name for the new armored vehicle created by the engineering group "Arey" for the armed forces of the country. Appeal published on
page
portal in social networks, the winner of the competition will receive the right to ride on the armored car.
Readers of the National Industrial Portal eagerly responded to the call and offered more 40 options. Among the proposed were very diverse: "Whack", "Viy", "Kolupator", "Punisher", "Trash", "T-Rex", "The Wanderer", "The Tramp", "Charon" and "Dragon". Most likes collected the name "Junk".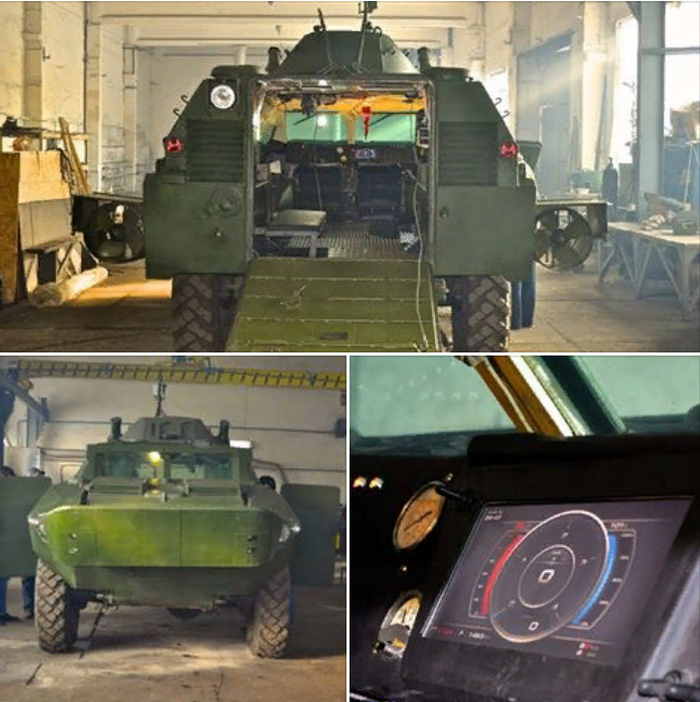 The armored vehicle was created on the basis of the Soviet BRDM-2. Judging by the photo, a huge LCD display showing the speedometer appeared in the cockpit. Although the former mechanical coped well with their duties - the benefit of the speed of an ancient armored car does not exceed 60 kilometers per hour. Probably, the monitor has other functions - to show the temperature of the oil, for example.
Changed the layout of the machine: the engine moved to the front, and in the stern is the troop compartment, where at least four fighters can accommodate, and two even comfortably. For their embarkation and disembarkation, a folding ramp is installed. The rowing propellers for moving on water leave the sides of the armored car, which gives it the appearance of a superman's car.
On the roof there is a tower for armament, but the photo shows only smoke grenades, and the embrasure in the center is empty. The BRDM-2 is armed with twin KPVT and PKT 14,5 and 7,62 mm machine guns, respectively. Booking a car provides protection from conventional assault rifles. Armor-piercing bullets of the sniper rifle pierce the BRDM from 200 meters, and the DShK machine gun from 500.
The armored car was put into service in the 1963 year and was produced during the 26 years. BRDM is in service with 78 countries.