Against the general background, a mini-scandal about the banning of the showing of the English film "Stalin's Death" in Russia is quite modest.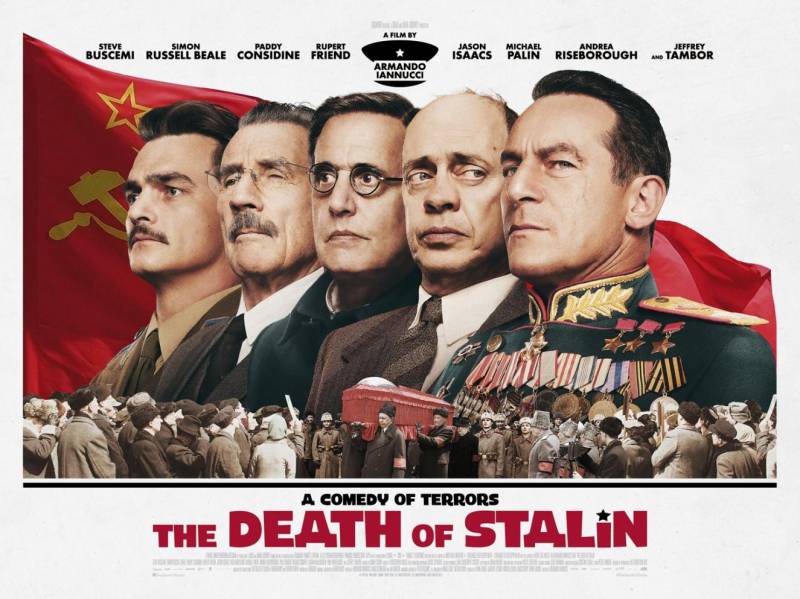 Naturally, someone here expressed outrage at this fact. For example, (to my great surprise), Kommersant. Someone expressed approval of the ban.
I will not begin to wash the bones of Andrei Plakhov from Kommersant, although it would be worth going through his moans on the topic that the evil censorship of ours banned a brilliant masterpiece against the background of a wave of protests. But a couple of quotes will bring.
"The talented Scottish comedian Armando Iannucci paints the death of the Soviet leader and the confusion of his surroundings, not sparing the grotesque."
So, a Scottish comedian with a truly Scottish last and last name painted a comedy about Stalin's death.
All right.
We ask: and on the basis of what?
Historical
documents? Memoirs of contemporaries or studies of historians? Artworks in the end?
Yes, the hell we bald!
Iannucci bungled his bread on the basis of the comic!
Naturally, distorting everything to impossibility with his brilliant grotesques. And the person, it seems, with the Russian name and surname Andrei Plakhov, suffers that this will not work on our screens.
I understand that after all the kinoskandals and the stream of criticism for our "masterpieces", Minister Medinsky is likely to be really scared of the consequences.
Yes, we still respect Stalin. And he has something to respect. And to argue on this topic is meaningless. And his environment was appropriate. And the modern environment of the current president of our country is a kindergarten, the middle group against the titans of that time.
And you can criticize as you please and blame the people's commissars of that time for anything, but their main difference from the ministers was that they built and (most importantly) built a great country.
Molotov, Malenkov, Kaganovich, Shakhurin, Voznesensky, Yakovlev, Khrunichev, Vannikov, Ustinov, Tevosyan, Sergeev, Zaltsman, Malyshev, Zverev and many others.
The question arises: what right do dollar workers have to climb to Russia with their libelous?
I would advise you to make a comic book on 200 pages about Queen Victoria. Or princess Diana. Or Sir Elton John.
And why not?
But we have people in the country, with some exceptions, cultural, and this will not allow themselves. Alas. But the free western part of the world can do anything.
Stalin and his entourage - this is our story. And it is up to us to decide whether we need comedy-grotesque coverage of the pages of our history.
I express my deep civil gratitude to Yuri Polyakov, Pavel Pozhigailo, Nikita Mikhalkov, Elena Drapeko, Sergey Miroshnichenko and everyone who put his signature on the ban on displaying this libel.
Hands off our story! In your dig and remove comics.