The latest Russian Il-78M-90A tanker aircraft made its first flight. On Thursday, the press service of the company "
Aviation
complex to them. S.V. Ilyushin. "
Today, January 25, the flight model of the IL-78М-90А advanced tanker aircraft made its first flight. Pilot the plane chief pilot "Ilyushin" Hero of the Russian Federation, Honored Test Pilot of the Russian Federation Nikolai Dmitrievich Kuimov
- said in a statement.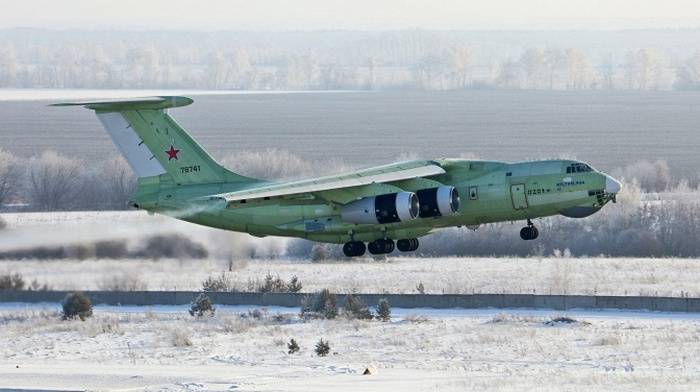 The improved modification of the tanker was created on the basis of the newest military transport aircraft IL-76MD-90А, while the design and creation of design documentation, as well as the production of the aircraft, were carried out on the basis of modern digital technologies.
Thanks to the four engines of the new PS-90А-76, the advanced tanker has an increased range and can take more fuel to refuel the aircraft than previous models. The specific fuel consumption of these power plants on the 12-14% is less than that of the D-30KP engines installed on earlier versions of the aircraft fuel tankers.
In addition, the flight-navigation complex was fully updated on the aircraft, as well as the "glass cabin" was implemented, which allows to reduce the load on the crew and improve flight safety.
The machine has three devices, a hose-cone-type refueling system - two on the wing consoles and one in the aft fuselage on the right side. IL-78М-90А will allow the simultaneous refueling of two front-line aircraft. With the tail unit it is possible to refuel long-range and special aircraft. When using IL-78М-90А on the ground, it is assumed that four aircraft will be refueled simultaneously.
The newer tanker IL-78М-90А retained the possibility of using it as a military transport aircraft. Re-equipment does not require a large amount of work and is carried out at the aerodrome. If necessary, it can be equipped with fire extinguishing equipment.
- noted in the company.
The new machine was the first tanker aircraft produced in Russia. Prior to this, all IL-78 gathered in Uzbekistan, reports TASS