Russian reconnaissance drones will equip with miniature high-precision radars that will significantly increase their capabilities, according to
News
.
Currently, the Ministry of Defense is developing tactical and technical requirements for a radar station. The decision to develop a radar for the "Outpost" was taken on the basis of its combat use in Syria.
According to the newspaper, "the radar created for the drone will be in many ways similar to the radar installed on" large "airplanes, however, taking into account the weight and dimensions of the drone, the novelty will be smaller."
The radar will be mounted in a small container that can be installed under the wing or fuselage of the UAV.
"Outpost" is produced by the Ural Civil Plant
aviation
. "One unmanned complex includes a ground control station and three UAVs, each costing about $ 6 million. A takeoff mass of 454 kg can carry up to 100 kg of payload. It is capable of observing without landing for 17,5 hours at altitudes of up to 5,7 km and at a range of up to 250 km from the airfield, "the material says.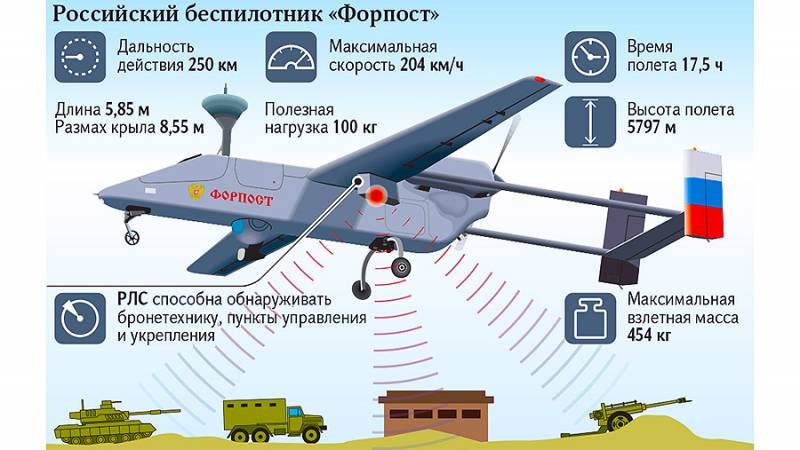 Equipping an unmanned vehicle with a radar station in addition to the traditionally used optoelectronic surveillance equipment will improve the detection and identification of targets. Similar practices exist in other countries. For example, in the Italian Falco devices, which are located approximately in the same weight niche as the Outpost. The Israeli prototype of the Russian UAV - Searcher drone ("Finder") - also has a version with airborne radar,
Denis Fedutinov, editor-in-chief of the Unmanned Aviation portal, told the newspaper.
As Defense Minister Sergei Shoigu said earlier, Russian UAVs in Syria made 16 thousand flights. Their total flight time was 96 thousand hours.