In an interview with German media, the US special envoy to Ukraine Kurt Volker said that the conflict in Donbass began allegedly from a hybrid war and "Russia's invasion" of Ukraine, and there is no hostility between the residents of Ukraine itself. In the number of "conflict-free" cities, he included Odessa.
According to Deutche Welle, Volker explained why, in his opinion, the conflict affected only part of eastern Ukraine.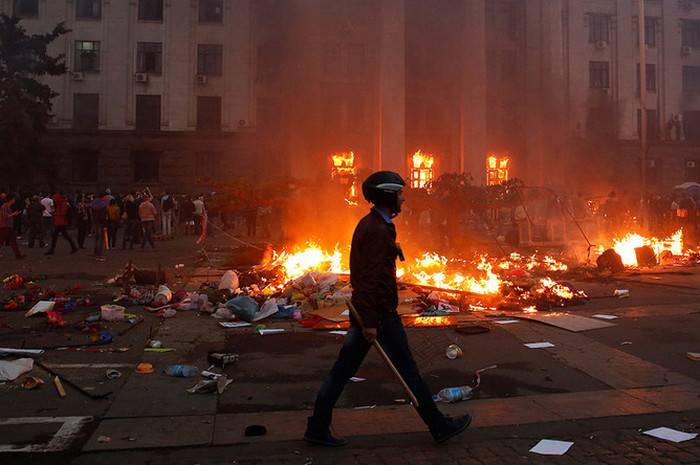 In Odessa, Kiev, other regions of the east of the country there is no conflict between the residents, there is no discrimination. People in these places live a normal safe life, they work. So the conflict affected only one part of the east of Ukraine. Why? Because it began with a hybrid war, with the invasion of Russia in Ukraine. There were created various organizations that were empowered, and the armed militias, which Russia trains, fully supports and provides
weapons
. It continues to this day.
- declared Walker.
We will note that the conflict in the east of Ukraine affected Odessa directly. 2 May 2014 in Odessa during the confrontation with football fans and radicals from the "Right Sector *" supporters of federalization were forced to take refuge in the House of Trade Unions. After that, the Ukrainian nationalists set fire to the building, and those who tried to escape from the fire were shelled and finished off with sticks and stones. 48 dead - we recall, the official data of the Ministry of Internal Affairs of Ukraine.
According to the State Department special envoy, with the help of "hybrid" measures, Russia allegedly wanted to "bring more politicians in Kiev to power in order to keep the country in its sphere of influence". At the same time, Volker declares that Moscow did not intend to "occupy" the whole of Ukraine by military means.
I do not think that the goal is it. Nevertheless, Russia is directly involved. But I think that it pursues rather political goals: to destabilize the country, influence Kiev's policies and try to drive a wedge between Ukraine and the West. I do not think it works, but I think that the reason for the tension was partly
- he said, transmits "Look"