Russian President Vladimir Putin announced that the new State Armaments Program (LG) for 2018-2027 was adopted the year, reports
Interfax
.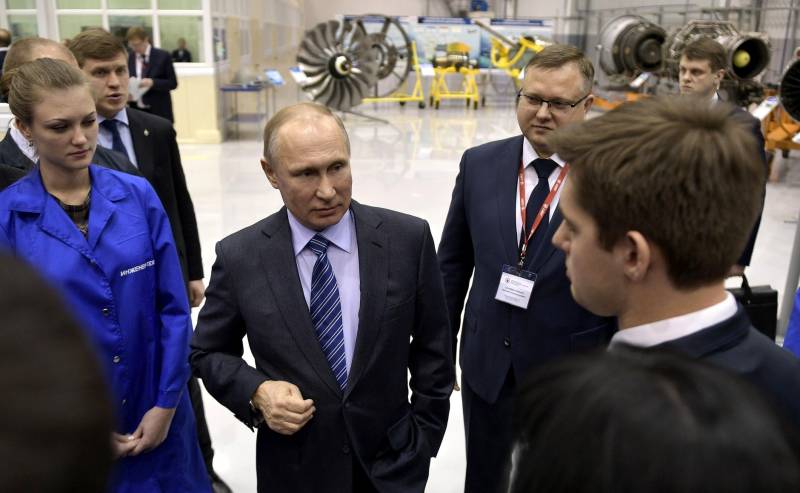 We accept, we have already adopted a weapons program and a state (defense) order until 2027,
the president said during a visit to PJSC United Engine-Building Corporation - Ufa Engine-Building Production Association.
Putin said that the defense industry in these years will work "stably and rhythmically."
At the final board of the Russian Defense Ministry at the end of 2017, the Russian leader stated that special emphasis in the state registration program would be made on equipping troops with "high-precision
weapons
air, land and sea-based, unmanned strike complexes, as well as personal equipment of military personnel, the latest intelligence systems, communications and electronic warfare. "
According to public speeches of representatives of the military leadership, the ten-year-old will be working on the new Sarmat missile system, the newest C-500 missile system, the Zircon hypersonic rocket. Also, the military-industrial complex is to complete work on the Armata, Kurganets, and Boomerang projects.
The Deputy Minister of Defense of the Russian Federation, Yury Borisov, earlier stated that Russia could create fundamentally new weapons in the middle of the next decade.
I think that the future program period will be characterized by the introduction of fundamentally new types and systems of weapons. The hardships gained in this direction by the leading defense industry enterprises make it possible to expect that by the 2025-2026 years there will be completely new types of weapons that will make major changes in the strategy and tactics of warfare,
said Borisov.
In addition, it is planned to adopt the Su-57 (PAK FA), MiG-35 fighters, upgrade the Tu-95, Tu-160, Tu-22M3 bombers, and create a promising long-range complex
aviation
(PACK YES).
Also in the new state armament program laid the construction of the strategic submarine "Borey-B". In the second program period, the construction of an aircraft carrier for the Russian Navy should begin.
We will start the creation of a new generation aircraft carrier in the second programming period of the SAP,
said the deputy commander-in-chief of the Navy, Viktor Bursuk.
In addition, the Russian fleet is planning to receive two helicopter carriers before 2025, they can be equipped with the latest Ka-52K Katran helicopters.