The Emergency Ministry column with humanitarian aid went to the regions of Donbass suffering from the Kiev aggression. This is the 73 th humanitarian convoy, which is sent to the DNR and the LC in recent years. From the message of the Ministry of Emergency Situations:
73-st column EMERCOM of Russia with humanitarian aid for Donbass left the Don rescue center EMERCOM in the Rostov region and is moving towards the Russian-Ukrainian border.
The agency reports that the cars will deliver more than 400 tons of humanitarian supplies, including food packages for children, to Donetsk and Lugansk. Medicines and hygiene products are also delivered to the republics of Donbass.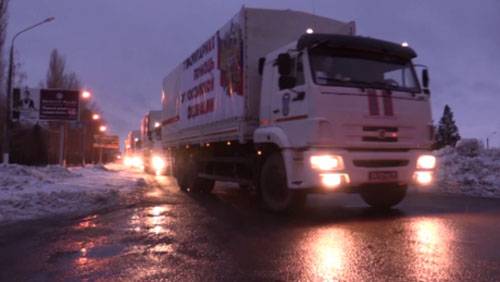 From the message
agencies
:
Behind the wheel of cars experienced rescue drivers, who during the work carried out dozens of humanitarian operations around the world. Also in the structure of the column are physicians and technical staff, ready, if necessary, to provide on the road timely assistance to drivers and staff accompanying the goods.
The previous (72) humanitarian convoy arrived in Donbass on December 21 of the year 2017.
Against this background, reports of new shelling of the DPR territory from the position of the Ukrainian security forces come from the Donbass. The report says that the fire was fired in the area of ​​the village of Leninskoye on the Mariupol direction. The positions of the Armed Forces of the DPR were fired from mortars, as a result of which 2 soldiers were wounded. Also under the shelling of the Ukrainian security forces turned out to be the village of Sakhanka. The settlement is completely de-energized.
Earlier, the President of Ukraine Poroshenko made a reservation "according to Freud", stating that Donbass is trampling on the boots of the Ukrainian occupier.