The Russian Foreign Ministry commented on Washington's next accusations of allegedly using Damascus chemical weapons "under the auspices of Moscow". Recall that in the United States announced "not all chemical exported from Syria
weapons
", Blaming Russia for this. Not a word was said that the United States participated on an equal footing with the Russian Federation in this process.
Ministry of Foreign Affairs
posted a document with comments:
On January 23, a number of senior US officials made slanderous accusations against the Russian Federation and the Syrian Arab Republic, trying to blame Moscow and Damascus for incidents involving the use of chemical weapons in that country. Essentially, a massive propaganda attack has been launched to denigrate Russia on the world stage and undermine efforts for a peaceful settlement in Syria. Contrary to common sense, we, along with the legitimate authorities of Syria, have been declared responsible for the chemical attack in Syrian Eastern Ghout on January 22, the fact of which is not even confirmed. The only link is the reports of the notorious White Helmets, who have long cooperated with terrorist groups and have completely discredited themselves with provocations and the constant spread of outright lies.
The statement further states that the ultimate goal of such attacks is an attempt to complicate the holding of the congress of the inter-Syrian dialogue in Sochi. Also, the Russian Foreign Ministry notes that the parameters of the peace process in Syria, as, apparently, the peace process itself, do not suit the American side.
From the statement:
The United States and its allies deliberately "killed" in November last year the Joint Mechanism for the Investigation of Chemical Incidents in Syria (IDA) created by the UN and the OPCW, refusing to align its activities with international standards of professionalism and objectivity. And not later than January 23, the American representatives categorically rejected at the UN Security Council meeting our draft resolution on the creation of a new, impartial and really effective mechanism for replacing IDA.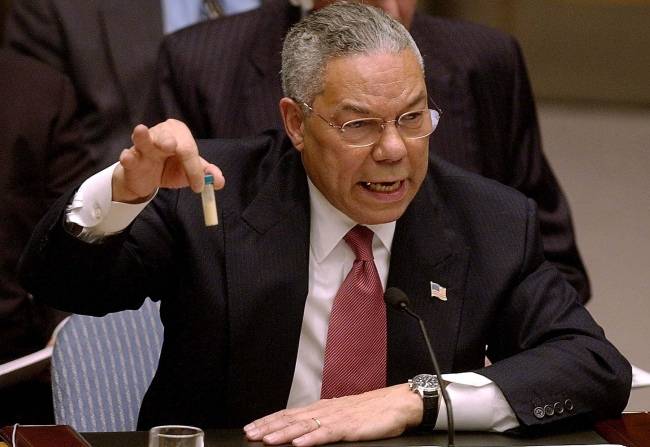 The Russian Foreign Ministry reminded the United States that their actions and statements are exactly the same as the policy of lies, which was undertaken in Yugoslavia, Iraq and Libya. Here and explicit reference to the famous "test tube Powell."