Army equipment is a conservative thing. Many of his samples have been used for decades. The most telling example is the knapsack, which was put into service in 1874, and with which the Russian army forgave only at the end of 2015, when a new army bag came to replace the veteran who had won a good ten of large and small wars. Yes, and other necessary elements of equipment, such as vests, unloading or tactical backpacks, usually with difficulty to achieve recognition, and for a long time were used by special forces, reconnaissance or airborne units, the most susceptible to various innovations.
However, in the list of innovations in military equipment there is clearly a white spot, the existence of which is perhaps no less traditional than the good old Sidor, which served the army for almost a century and a half. This is a white spot - the lack of devices for carrying goods. Moreover, even the problem of carrying goods during combat operations is rarely put, although, of course, it is always present, in one form or another, and is usually solved in ways as ancient as the world: carrying it in your hands or on your shoulder. There is even some kind of cunning in this, they say, that it's worth the healthy guys to move a crate there. In part, this has objective reasons, since motorized rifle companies and battalions in the state have a developed transport base (usually BMP or BTR), which easily carry all the necessary cargo: weapons, ammunition, food and water. For example, a grenade launcher platoon of a motorized rifle company (from a brigade) as part of 26 is a man who has the heaviest portable armament (20 AK-74, 6 AGS-17 and 31 ATGM) with a total weight of 1020 kg, has three BTR or BMP, on which all This weaponry is transported.
It would seem that there is no need for any special ways of carrying cargo. However, this question is very important, if we consider it more carefully.
Tactical need
In 1954, French troops in Vietnam suffered a phenomenal defeat at Dien Bien Phu. In this village, French troops occupied the former Japanese field airfield and created a powerful stronghold on it, in which there were 14,5 thousand people and another 7 thousand people in the area. These troops were reinforced.
tank
a battalion of 10 tanks,
aviation
, as well as a powerful defense, consisting of 7 forts and 49 fortified points. However, the French suffered a crushing defeat, ending in the surrender of 10,8 thousand soldiers and officers, most of whom died in captivity. The fortifications were taken by assault, and only 78 people could escape from the siege ring. Another 858 people were wounded were evacuated by agreement between the French and Vietnamese.
It was one of the most famous victories of the Vietnamese commander, Vo Nguyen Giap. Its root was that the Vietnamese carried out a logistic operation, which the French considered completely impossible. They carried on their hands at a distance of about 500 km through the impassable jungle everything necessary for the 50-thousandth army and the siege, including howitzers and mortars with a large supply of shells. 24 105-mm howitzers, 20 75-mm guns, 16 rocket launchers BM-13, 20 120-mm mortars, 80 37-mm anti-aircraft guns, and around 100 machine guns, I-wrenches, and I-wrenches. There are newsreel footage, captured as Vietnamese soldiers dragging dismantled cannons along a steep, slippery path. It was a huge victory for logistics.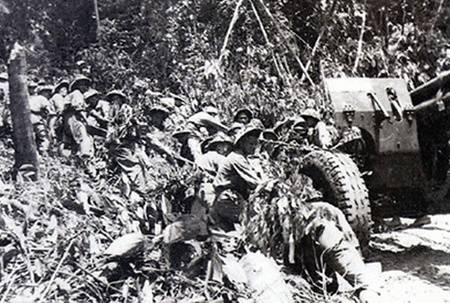 Vietnamese soldiers are dragging the American 105-mm howitzer М101 through the Fadin pass before the battle for Dien Bien Phu
This experience in the USSR and Russia was studied relatively little, although during the Great Patriotic War there were often cases when soldiers dragged ammunition for tens of kilometers, when muddy roads blocked the supply of cars and even tugs. The success of the logistic operation at Dien Bien Phu, of course, cannot be explained solely by the Vietnamese habits of similar ant work. Here a great role was played by careful preparation for carrying the entire cargo, its distribution between the fighters, the creation of special units of porters, the supply of troops with special devices for carrying heavy loads.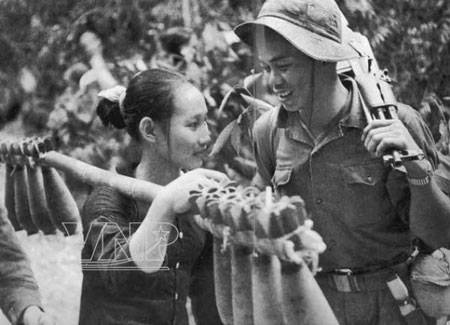 Photos of a later time, 1960-e, Truong Son Trail. The girl bears eight 82-mm mines without fuses, the weight of the load is about 24 kg
In any modern war, there is also often a situation of the need to carry heavy loads over fairly long distances, over difficult terrain and inaccessible to automotive engineering, sometimes under enemy fire. Troops that can carry loads in the most rational way have a strong tactical advantage. Sometimes it can lead to big and significant victories. And on the contrary, reliance only on equipment and the neglect of ways to carry goods rationally can cause severe damage.
If you further develop the tactical side of dragging cargo, then the question arises: is it necessary? If there are a lot of vehicles in the troops, motorized rifle units are well equipped with transport, then what's the point of being engaged in rational handling of cargo? In favor of carrying, you can make a few arguments.
First, in the defense, a motorized rifle company is defending a stronghold up to 1500 meters along the front and up to 1000 meters in depth. This means that even with the presence of armored vehicles (which has its own tasks in battle and its position, which is why it can be used as a vehicle very limitedly), carrying loads hundreds of meters in length is a completely ordinary matter. Even ammunition for rifle
arms
turns into a decent pile of cargo, which must be spread to the position. For example, one AK-74 rifle company ammunition is 28,8 thousands of cartridges, or 26 zinc round number, which is 312 kg, and together with the boxes - 390 kg. Besides him there are still grenades, ammunition for machine guns, AGS, grenade launchers, rations and water. By the way, water is required only for drinking 4 liters per day per fighter, and the weight of water for a company as part of 126 people will be 504 kg for one day. And 201 kg of daily rations per pack.
While there is no battle, carrying this load is no problem. But in the conditions of battle, when the main part of the company is occupied, the supply of even ammunition turns into an intractable task, and the weight of the cargo that the infantry motorized infantry needs to transfer to each other, increases dramatically. For example, there is one person from each branch, a total of 12 people from the whole company. Only one rifle ammunition will have about 32 kg or box per person. This is a burden that a person carries with difficulty. For example, according to labor standards, the maximum weight per arm should not exceed 25 kg. No, of course, that the fighter will carry the box with the cartridges to the position, but he will need time to restore his breath and strength, at least 20-30 minutes. At this time, he was a little fighting. This is where the need arises for rational ways of carrying goods, which is that the fighter can transfer about 30 kg over a distance of 1-2 km, and at the same time be able to restore strength and combat capability in a few minutes.
Secondly, the Afghan practice has shown that the theories of motorized infantry fighting, set out in the regulations, are somewhat different from the combat reality. So, motorized rifle actions were very common apart from armor, often several kilometers from their armored vehicles. In this case, increased ammunition was taken, up to 500-600 cartridges for AK-74. This kind of ammunition for a company weighed already 810 kg and it was necessary to carry it on its hump, along with personal belongings, grenades, as well as "kollektivka", that is, group armament: grenade launchers and machine guns with ammunition. The grenade launcher platoon, of course, could not carry all its weapons on itself, since the weight of the ATGM and AGS alone without ammunition exceeded a ton and for each of the 26 a platoon man would have 45 kg overweight, and with increased ammunition more. Because this weapon was distributed among other fighters.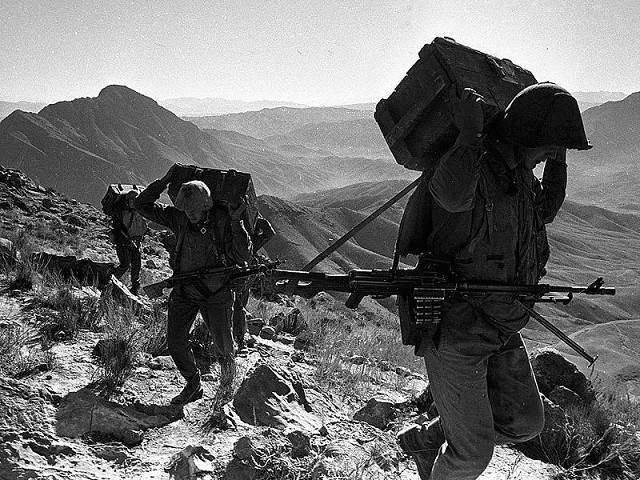 Afghanistan. One example of the irrational carrying of cargo. The machine gunner drags on himself, obviously, a box of 7,62-mm cartridges, weighing 27 kg.
Thirdly, if the stronghold was engaged for a long time, then the ammunition could reach zinc per fighter. 130 zinc in boxes - this is already 1950 kg. This is only automatic cartridges, and there were still machine guns (RMB could have up to 3000 cartridges per barrel, these are 15 stores with a total weight of 90 kg), grenades, rocket launchers, soldering and water. This was a necessity in the event of a hard and long battle, and in Afghan practice, such strongholds tried to deliver more ammunition, as far as armor or helicopter capabilities were enough, and then the remainder surrendered to the changers. In this approach, the war was not so much a fight, how much dragging.
And such situations in any war, in any theater of arises arise in a multitude. Meanwhile, the possibilities for dragging weights on the hands are very limited. According to labor standards for loaders, the maximum load should not exceed 50 kg with carrying on 60 meters, lifting in hands - no more than 25 kg. For young men at the age of 18, the maximum load should not exceed 15 kg, and it is this age that makes up the bulk of the rank and file in the Russian army and most of the work, including the handling of cargo, rests on it. Of course, you can train a soldier or make them carry more and more, but it either takes time or is bought at the cost of quickly expending strength and fatigue. A soldier tired of being dragged is not capable, his observantness and reaction are greatly reduced, he cannot shoot quickly and accurately. To exhaust a soldier by dragging goods on his hands, in essence, means giving the enemy an advantage. So, to engage in rational methods of carrying goods more than necessary.
Pull down to the guns
The whole question now is how to do it. In American sources, some attention is paid to the issues of carrying goods, due to the increase in personal equipment weight against the load norms recommended by physiologists. If the optimum load is within 22-25 kg, then now the equipment of the American soldier is 35-40 kg, and for some specialists (radio operators, mortar gunners, machine-gunners, etc.) it can exceed even 45 kg. Repeated attempts to reduce the weight of personal equipment failed, and this circumstance compels the Americans, and other armies of the NATO countries, to engage in issues of more comfortable wearing personal equipment. In their experience it is clear that for personal equipment there are two of the most rational ways: a vest-unloading and a backpack.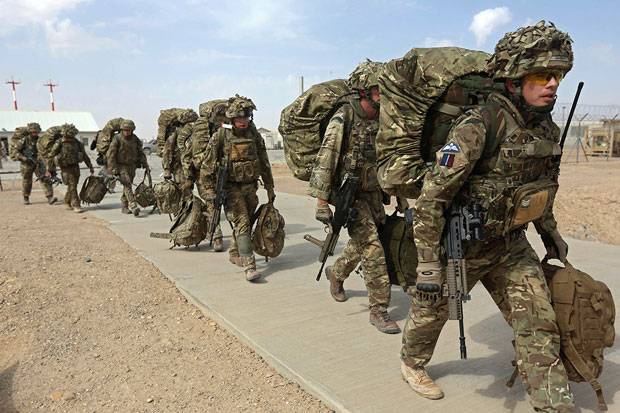 French soldiers in full gear. In the hands of them tactical backpacks, which are taken to combat operations.
Certain hopes in this sense are placed on technical innovations. Thus, for several years, the LS3 robot mule, developed by DARPA, was the pinnacle of American military technological inventions. The objectives of this development are more than transparent: to shift part of the load carried by the unit onto this robot mule. However, in December 2015, this development was comprehended by a sad ending: the US Marine Corps abandoned it due to too much noise generated by the robot when walking.
Another development, which received great popularity, was represented by various types of exoskeleton, allowing to increase the wearable weight up to 100-120 kg (despite the fact that according to the labor standards of the movers, it is allowed to carry 50 kg over a distance of 60 meters). Americans are also trying to achieve an increase in the speed of movement of a person in the exoskeleton and even hang armor on him. Similar developments are in Russia. However, the exoskeleton has a number of points, by virtue of which it is unlikely to become a mandatory set of equipment for any fighter. This technical complexity, and the need for maintenance, and the need for batteries (and he himself - the additional weight). Add the possibility of damage by bullets and debris, the failure of dirt, water, frost, as well as limited work in the exoskeleton in a half-bent position, lying or moving in it crawling. At the exhibition, the fighter in the exoskeleton looks cool, and the position, most likely, he will be a good target for the enemy. The exoskeleton, however, is very useful for engineer and engineering units.
It is worth noting that in the Western approach, emphasis is placed on personal equipment, and the "collective" is almost forgotten. It seems that this is the reason for the growth of the load of each soldier in the US Army and the impossibility of reducing this weight. We don't need to copy this bad approach. On the contrary, the development of the means of rationally carrying precisely "collectives" creates considerable opportunities for solving the task posed of rational transportation of goods.
Several people are free to carry a load that is unaffordable for one person. A classic example is a stretcher, on which you can lift up to 80 kg of cargo. For two carriers, 40 has kg of weight, which is quite acceptable. Especially if the stretchers themselves are made with exact observance of all the rules of ergonomics. Stretcher is, according to a study of the Soviet VTsIOT, conducted back in 1929 year, one of the most rational ways of carrying and lifting weights. But it was found out that if you hold a stretcher in your hands, as is usually done, this leads to quick fatigue and pain in your hands, since the load is on the ligaments, and not on the muscles. Keeping a stretcher on your shoulders is much better, and this is the best way. VTsIOT proposed an original innovation in the development of the idea: a stretcher strap. It was a short vest, not fastened in the front, on which under the sleeve armholes are stitched strong loops, which are passed through the stretcher handles. In total, the porters lift the stretcher, pass their handles through these loops, and with free hands are ready to go to the end of the world: the load of the stretcher falls on the strongest dorsal muscles. It is very suitable for military use, especially since the loops for pens can be sewn to the vest-unloading. In addition, porters not only can carry cargo, but also hold arms in their hands and retain their combat readiness, which is tactically important.
The stretcher vest turned out to be comparable to another classic - the "goat", another most rational way of carrying goods. "Goat" is a board with a cross stop for cargo, equipped with shoulder straps. She put on her back. A porter with a goat could carry up to three pounds (48 kg) of cargo. and strong - and even more. Today, tourists have a descendant of "goat" - the easel backpack, which combines the advantages of a shoulder bag and a "goat." The severity of the machine is rationally redistributed to the back and hips. The system "Yak" of this design allows you to carry up to 70 kg.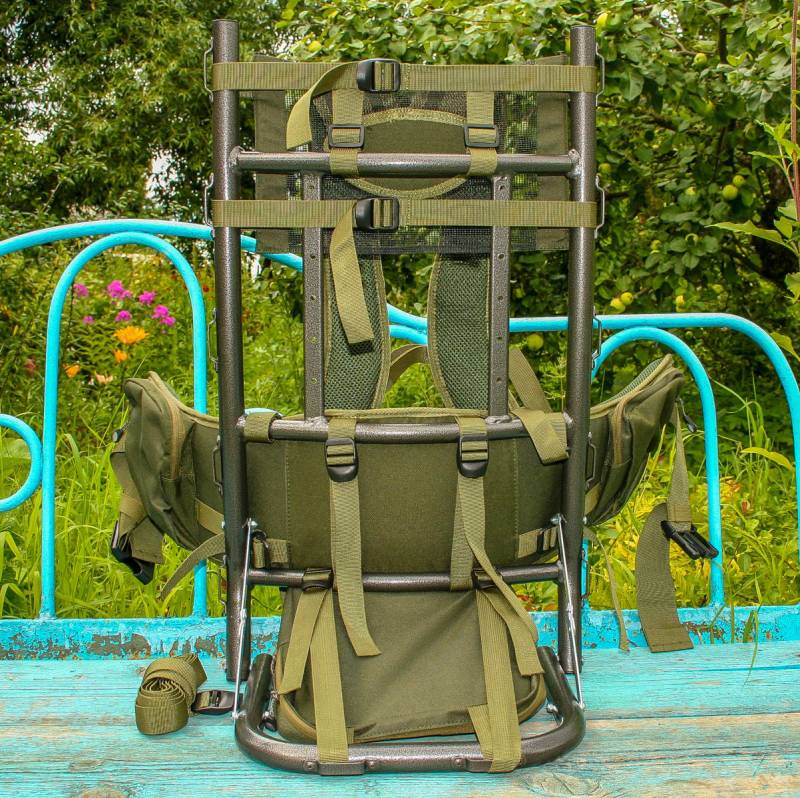 System "Yak": in front of the frame to accommodate the cargo, behind her shoulder straps and belt.
In principle, it was possible not to abandon the "cider" completely, but to supply it with this very machine. The military version of the easel backpack must, of course, be different from the tourist variety. Firstly, the ability to unfasten the bag and fix another load on the machine, for example, a box with cartridges or shells. Secondly, the ability to detach the straps and turn the machine into a sledge-drag. They can be fastened to the straps with a special rope, and the fighter can drag them with about 40-50 kg of dragging, including lying down. According to the experience of the war, this is the only way to drag something through the space constantly being shot through by the enemy. One or two drag machines can help get the wounded person out of the shot area. In all cases, the hands of the porter remain free, and he remains alert.
There are still many other different "collectives" that are quite heavy and do not lend themselves to a stretcher or easel backpack. These can be shells and mines in boxes, anti-tank systems, heavy machine guns and even large-caliber mortars and artillery pieces. Several people can smoothly lift and carry a very heavy load over a long distance. Experiments were conducted in which 28 people were able to lift a weight per tonne and carry it over a distance of 7 km. By this method, the Vietnamese dragged their howitzers and mortars through the jungle. A very simple device is required for this: a shoulder strap made of a safety belt, at the ends of which steel loops are sewn. It pounces on the shoulder or is put on over the head, distributing the load on the dorsal and femoral muscles. For engaging the cargo, you can have a steel hook in the form of a corner frame and a weight belt with a clip about 1,5 meters long, with steel loops sewn at the ends and equipped with a climbing karabiner. Four people with such belts can easily carry a large and heavy, up to 200-250 kg weight box, hooking it with hooks at the corners and holding the load with his hand. Two, three or four can easily carry a log by hooking it with cargo straps. With the help of such shoulder straps and cargo straps, you can carry the wounded, seated and lying down, any lengthy packaging, containers, large-caliber ammunition, and many other goods and weapons, up to guns. It is only necessary to screw in the necessary number of porters, in proportion to the weight of the load, so that each one should have no more than 30-40 kg, and if necessary, long-distance carrying - no more than 25 kg. For example, a 122-mm D-30 (weight 3200 kg) 128 man can handle a long-distance howitzer carrying. These straps can also pull the car out of the mud, if necessary. The advantage of this strap is its simplicity, uncomplicated manufacturing, low weight and the possibility of including it in the mandatory set of equipment for each fighter. The presence of shoulder straps in the equipment allows any unit to make a temporary division porters. And in this case, the hands remain free, and the porters with the cargo partially retain combat readiness.
As can be seen, very simple in design, devices for rational transportation of cargoes give motorized rifle units a great deal. They can carry their regular cargo, spending the least amount of effort. They can take and drag some other cargo, such as additional ammunition or heavy weapons, and even do it under enemy fire without losing their combat capability. It turns out that Suvorov's method of fighting is available - a secretive foot march and a sudden attack of the enemy in an unexpected place, on the move, using all the advantages of surprise, stunning massive fire, causing panic even among a trained and experienced opponent. There are many benefits to make these devices for the rational carrying of goods a mandatory part of the fighter's equipment.