Turkish
Tanks
on Wednesday crossed the border with Syria at Atma in the north of Idlib province (320 km from Damascus). According to Al Mayadeen TV channel, an armored convoy proceeded to the Tellet el-Is region in the south of Aleppo province in order to strike from there on Kurdish fighters defending in the Afrin region.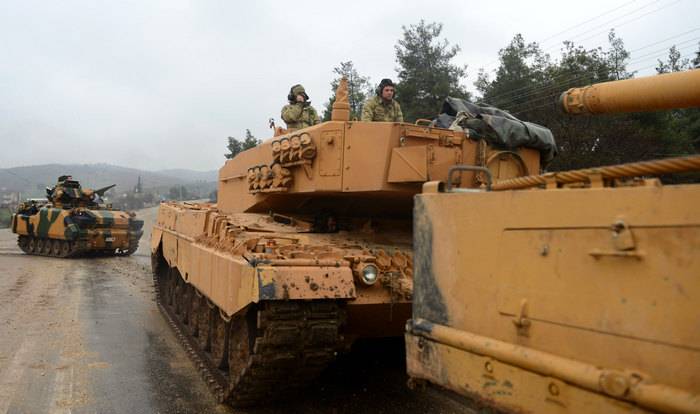 Earlier, Firat transmitted a statement by the representative of the coalition Forces of Democratic Syria (SDS) representative that Kurdish troops repelled on Wednesday in the Raju region (part of the Afrin district) in the north of Syria, attacks by the Syrian Free Army (SSA), supported by Turkish troops.
It is reported that the militia shot down three Turkish tanks in battle and forced the enemy to retreat in the direction of the border town of Azaz (20 km from Afrin). According to the statement, the VTS fighters killed 37 soldiers and mercenaries. On the number of injured information is not given.
According to the agency, fierce clashes are now taking place near the village of Himama in the district of Jandaris, where the large defensive line of the VTS detachments is located. There, the militia also inflicted casualties on the enemy and shot down one tank.
Earlier, attempts of the SSA formations to capture the villages of Miranaz and Isk, as well as the strategic heights of Kastel Jindo north of Afrin, failed. Firat reports that Turkish artillery is conducting intensive shelling of settlements in the Raju and Jandaris sectors. According to the agency, among civilians there are dead and wounded.