More than 200 reserve officers have been retrained on an additional professional program at the Department of Military-Economic Support of the Naval Academy (WMA), reports
press office
Ministry of Defense of the Russian Federation.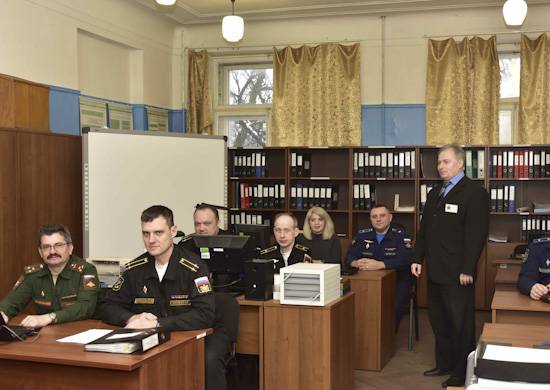 "The purpose of the implementation of the additional professional program is retraining within the framework of the existing qualifications for performing professional activities in the field of production, procurement of goods, works, and provision of services for state and municipal needs. Listeners are trained in the group "Production of goods, execution of works, provision of services for state and municipal needs (on issues of managing the state order economy and organizing product quality control)," the release says.
One of the promising areas of the program is "training specialists in the operation of the contract system, including planning, placing and executing tasks of the state defense order, organizing control over this activity, subordinate officials and executors of government contracts (agreements), preventing offenses and countering facts of corruption. "
It is reported that the content of the program takes into account professional standards in the field of procurement, and the content of the disciplines fully complies with the methodological recommendations of the Ministry of Economic Development in the field of procurement.
According to the press service, "the development of an additional educational program allows servicemen to continue their active work in government bodies (including government bodies), government extra-budgetary funds, local governments, as well as budget institutions and other beneficiaries after the transfer to the reserve. the federal budget, the budgets of the constituent entities of the Russian Federation or local budgets when placing orders for the supply of goods, performance of works and provision of servants. "
Leading scientists of research institutes VUNC Navy "Naval Academy" and teachers of the Department of the Military Medical Academy are involved in conducting classes.