The Defense Procurement Programs Agency of the Ministry of Defense of the Republic of Korea (DAPA) handed over to the country's Navy the seventh 1800-tonne KSS-2 class "Type-214", (079) Hong Beom-do, reports
TSAMTO
.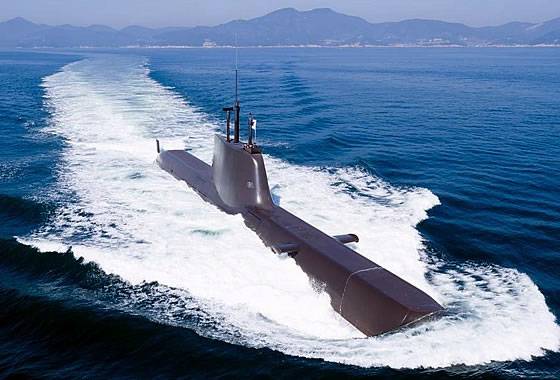 Currently, the Navy of the Republic of Kazakhstan has 15 submarines, including nine 1200-tonnage diesel-electric submarines built under the KSS-1 program, and six 1800-tonne Type-214 class naval submarines (the seventh submarine is transferred to 19 in January).
The command intends to increase the number of underwater
fleet
up to 18 units by 2019 and replenish it with nine more 3000-ton submarines in 2020. The construction of boats is carried out at the Hyundai Heavy Industries company in Ulsan in accordance with a contract signed in 2000 with the German company Thyssen Krupp Marine Systems (TKMS).
Type-214 class submarines are designed to combat enemy surface ships and submarines, minefields, and ground targets.
The length of the submarines is 65,3 m, the width is 6,3 m, the underwater displacement is 1800 t. The submarines are manufactured using stealth technology, equipped with a combined diesel-electric / anaerobic power plant, allowing them to reach speeds of up to 20 nodes in the submerged position and 12 nodes in the above-water position. The crew of the submarine - 40 man. The submarine can perform tasks at depths up to 400 m for 2 weeks. The ISUS-90 Combat Control System allows operators to receive various information and detect up to 300 targets simultaneously.
The submarine is equipped with eight torpedo tubes (533-mm) and can use sea-surface cruise missiles, Harpoon anti-ship missiles, heavy White Shark torpedoes and mines.