In command, the Indian naval forces stated that they perceive the development of Chinese infrastructure in the Pakistani port of Gwadar as one of the likely threats to the national security of India. In particular, Admiral Sunil Lanba, Commander-in-Chief of the Indian Navy, said that India has to pay special attention to the activities of the PRC in Gwadar, tracking, among other things, the frequency of appearance of foreign submarines in this region - in the Arabian Sea region.
In connection with the activity on the Indian borders of two geopolitical rivals of India, the country announced the need to intensify work on the development of the naval forces. In particular, it was about intensifying the program for the development of Indian underwater
fleet
. According to Admiral Sunil Lanba, in recent years, India has built more than 200 different ships. In particular, this number includes the first of six Scorpene class submarines, which was built at a shipyard in Mumbai.
From the statement of the commander in chief of the Indian Navy:
Submarines are the silent arm of our fleet and an integral part of our naval strategy. The ongoing projects for the construction of submarines mark a new chapter in the development of our submarine fleet.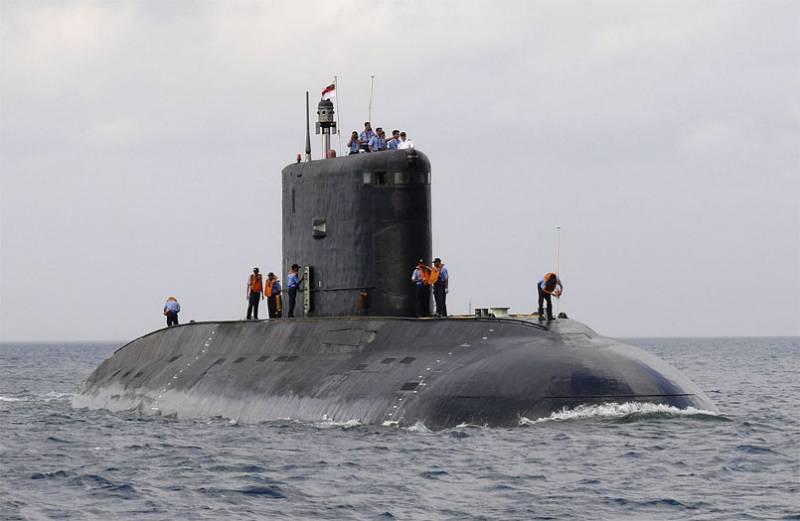 In the photo - S62 Sindhuvijay
At the same time, the Indian Navy notes that the program for launching submarines built at Indian shipyards is clearly stalled. The main problem is that India has problems with obtaining all the necessary technologies for the timely implementation of the project. The initial plans were for the Indian Navy to receive 2030 new Indian-built submarines by 24, the year of the Indian Navy. Now, in the case of obtaining all the necessary technologies, India will have to put 2 submarines a year in order to fulfill the plan on time.
It is reported that India has previously entered into agreements on the use of technology with companies such as Naval Group, Rosoboronexport, ThyssenKrupp Marine Systems and Saab.