The refusal of the Americans from the resolution proposed by Russia to investigate himatak in Syria testifies to Washington's unwillingness to create a professional and independent mechanism.
RIA News
Statement by the Permanent Representative of the Russian Federation to the UN Vasily Nebenzi.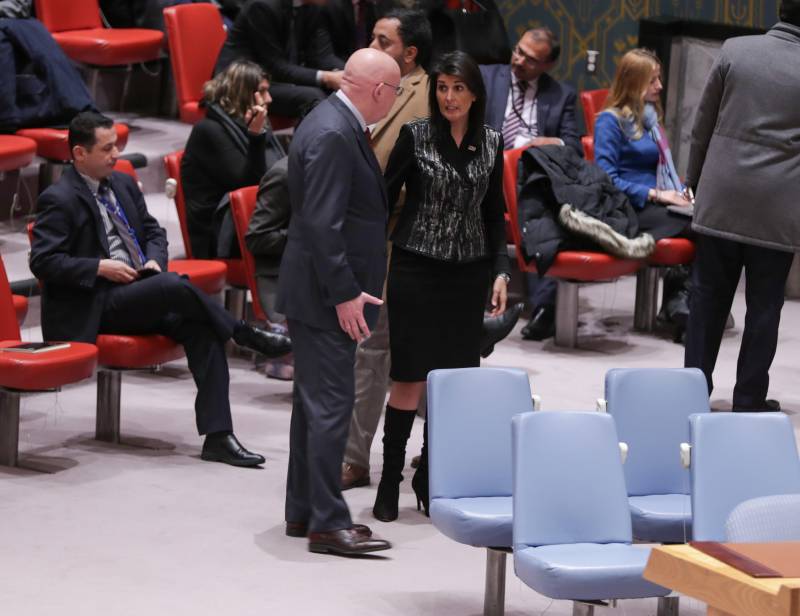 On the eve of Russia proposed to create a new international investigative body to investigate the use of chemical weapons, and has prepared a corresponding draft resolution. The United States opposed this proposal. At the same time, US Permanent Representative Nikki Haley stated that the US is ready right now to restore the previously existing UN-OPCW Joint Mechanism to investigate the use of chemical
weapons
(SMR).
The fact that our resolution is rejected from the threshold, says a lot. This again gives the truth, which we, unfortunately, know. The United States does not need any independent, professional mechanism,
said nebenzya.
Recall CIR 26 of October presented to the UN Security Council a report on the incidents in Khan-Sheikhoun 4 on April 2017 of the year and Umm Chose 15-16 of September on 2016. The IDA experts concluded that in the first case, sarin was used by government forces; in the second, the terrorists used mustard gas.
Russia is convinced that the report is based on "dubious facts received from outside." In late November, Nebenzia stated that the Russian side was ready to discuss the idea of ​​creating a new mechanism to investigate chemical attacks in Syria, since the CMR discredited itself.