In the Russian Orthodox Church made a proposal to rename a number of islands in the Arctic. In particular, Bishop Naryan-Marsky and Mezensky, Jacob, who is the head of the patriarchal project "Russian Arctic", stated that the "communist" names of the islands of Severnaya Zemlya should be changed to the 100 anniversary of the execution of the royal family. According to the cleric, the islands that were discovered in 1913 by an expedition sent to the Arctic by Nicholas II cannot bear "communist" names.
The names of the islands obtained in Soviet times: Pioneer, Komsomolets, Bolshevik, October Revolution Island, Krupskaya Island. At the time of opening in 1913, one of the islands bore the name of Cesarevich Alexei Island. Until 1926, the archipelago bore the name of Nicholas II.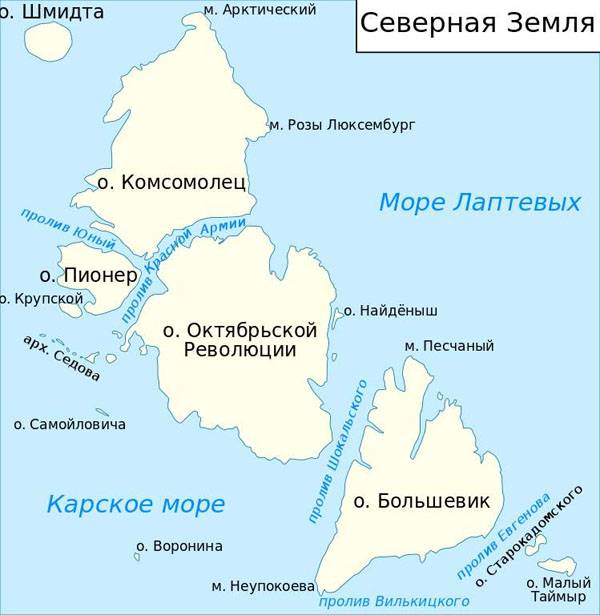 RIA News
quotes Jacob's statement:
We must follow the path
historical
and divine truth. Geography and land names should capture the path of creation, not destruction. These names look comical in the Russian Arctic: Komsomolets, Bolshevik, Pioneer. We must take our own history more seriously, respect and love our land. That we have few pioneering heroes, people we are proud of? I even think that let it remain the Northern Land. We must approach this issue wisely. I did not quite like the attempt to give all the islands exclusively the names of the royal family, they have no special merit in this. Another thing is that Emperor Nicholas II decided whether this expedition should be or not. Perhaps the main island should be named after Nicholas II, and the rest after the explorers of the Arctic.
The initiative (which, by the way, is not the first) responded to the CPRF. Yuriy Afonin, deputy chairman of the CEC of the party, said that he considers it an incorrect attempt to stir up history, rename streets, cities, and islands. According to Afonin, such a process today can adversely affect people.
Yuri Afonin:
Renaming in recent years has been very much. I think that it is necessary to stop and begin to engage in what concerns people: it is the economy, the social sphere. And do not distract the attention of public opinion on a secondary issue.