Reports of a bloody incident come to Germany at a school in the city of Lünen (North Rhine-Westphalia state). Edition
FAZ
reports that one of the local schoolchildren (according to preliminary data, he was 15 years old) attacked his peers with a knife. Wounded was one of the students of this school.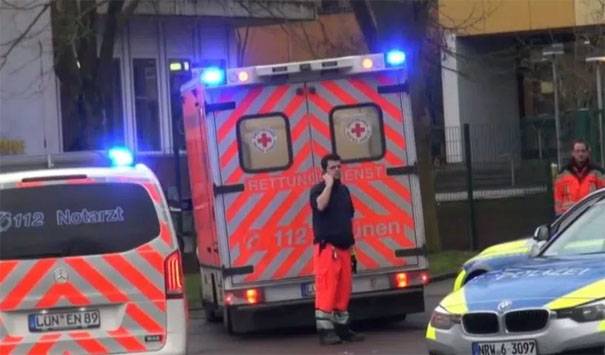 According to data published in German social networks, the injury of one of the teenagers in the school Lünen was fatal. The burgomaster Jürgen Kleine-Frauns stated that he was shocked by the information about the tragic incident in the school of a small town. On the website of the City Hall, Kleine-Frauns literally wrote the following:
This terrible act greatly influenced me, I offer my deepest condolences to the family of the victims of this attack. Our thoughts today are focused on the school community. We should be together this minute.
The North Rhine-Westphalia State Prosecutor's Office initially stated that the school massacre could have been caused by xenophobia. Then it was stated that both the assailant and the victim were ethnic Germans. Some time later, a statement appeared in the reports of the German law enforcement officers that the alleged criminal (he was detained) had, in addition to the German passport, a passport of a citizen of the Republic of Kazakhstan.
According to statements in the German media, the tragic incident occurred in one of the school corridors. Schoolchildren in social networks write that the alleged perpetrator "was easy to provoke," and that "he was easy to start for any reason." At the same time, students declare that the assailant was going to strike with a teacher's knife, but was prevented by another schoolboy, who received a blow to the neck.
Portal "Ruhr
news
»Writes that after the tragic incident, students in the school in Lünen are extremely depressed and are afraid to return to the school building to continue the learning process.
Against this background, in Germany they are trying to find out whether a schoolboy with a passport of a Kazakhstani citizen was a Muslim.