An interesting article by a Ukrainian writer, blogger, and analyst Andrei Vajra can be dug out on the Internet if you wish. The material is called
"They save their strength for the decisive battle"
. The author analyzes the Ukrainian reality. More precisely, the Ukrainians. Those who today, if they do not dictate their will to everyone in Ukraine, will be ready to do this tomorrow.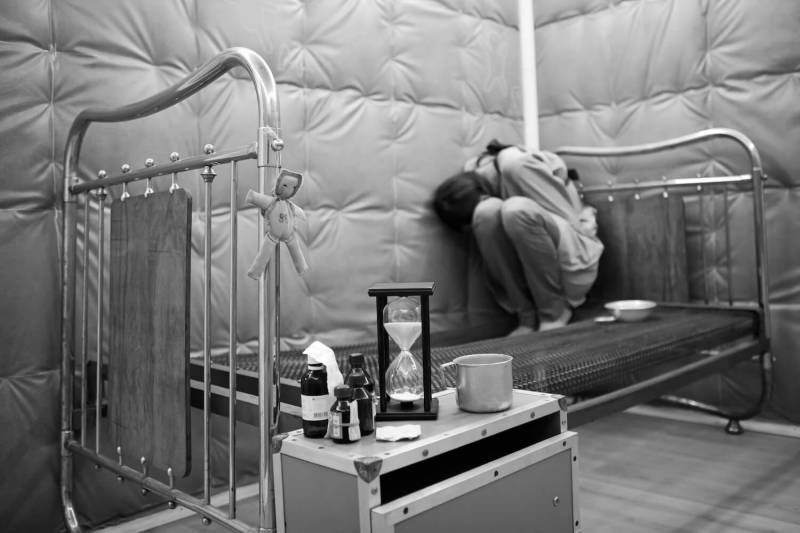 On the one hand, we are accustomed to kooky Svidomo Ukrainians. The perception of Ukrainian stupidity was dulled. It probably happens to doctors or soldiers in a war. The first death becomes tragedy and shock. The following is already commonplace. Just a job. Let not the usual, but work.
On the other hand, you start to think about how we differ from the Ukrainians. In the zoo, not only people examine various animals, but also animals examine people. The glass is transparent on both sides. So the question of who is studying whom is quite controversial. Those who have animals at home, agree with the thesis about the ability of animals to control the owners.
But back to the article. Let's see what strikes a Ukrainian author in modern Ukrainians? The author's text is not editable.
"I simply don't keep up with the dynamically developing concepts of the historical and ethnocultural origin of the most ancient nation of the planet -" Ukrainians. "Only a few days ago it became known that they are descendants of ancient Sumerians (details HERE) and then suddenly I read the angry message addressed to me and find out that "Ukrainians" are actually Russians who founded Russia in an epic struggle with the damned occupation moksha. "
Of course, you can laugh at the "stupid Ukrainians." We are not like that. We are literate. And our children are literate. We know very well
history
.
But let's not hurry. The author quotes from a militant Ukrainian history performed by a girl named Vera Filonenko. There, all the historical science that existed "before the age of gidnosti" was completely argued "crushed".
The horror is that such pseudo-historical knowledge is today in the minds of most Ukrainians. Most! Youth? It's all clear. What since childhood in the head perforated, then right. Check and think your own head laziness. But the older generation? Those who studied at the Soviet school? Those who graduated from Soviet universities?
And remember yourself in 90. When documents from archives began to emerge. Remember the "Icebreaker" and other creations of immigrants traitors. After reading. Spat, but read. And some part of this nonsense believed. Not everything, but enough for society to be tense. But we will leave from Ukraine. His business is full of mouth. In my own country, there are enough problems.
In the comments to our articles, you can often read that we are reproached for the lack of a "direction of travel." Anyone can criticize, but what exactly do you propose? And who told you that we are smarter than our own readers? The problem is important to see. Make out. Then there is a way to eliminate.
Yes, we talk a lot about the utter illiteracy of our youth. Even university students are amazed at the lack of basic knowledge of the history of their own people, of their own country.
Several years ago, on the anniversary of the revolution, the Communists staged a remake of the Soviet holiday.
Admission to the pioneers in Red Square. Beautiful action from the Soviet stagnation. Children with red ties on hand. Uncles and aunts in the same ties. Senior comrades who tie their younger ties.
But then struck another. On one of the federal channels was a short information plot. The young correspondent scoffed at the newly minted pioneers by asking only one question: why is the October revolution, and we are celebrating it on November 7? The children were in a stupor.
It is clear that this was filed as an example of the fact that the communist ideology turned into a farce. There were beautiful holidays. Yes, and those emasculated to the limit.
And if you look without bullying and fighting ideologies? Children are illiterate! Just uneducated! Small children have no basis for further education. In essence, this is a clean sheet. And you can write anything there. Even in any language, in any letters.
The house can not be built from the roof. To house stood, you must comply with strict sequence of work. The foundation, walls, roof. In order to continue education, one has to begin to receive it. Without a start, there is no continuation.
Years have passed since the television report on admission to the pioneers. Pioneers have grown. Became adults. Today they are studying in universities. Become at the helm of various companies. Participate in various competitions. They gradually take the place of "old fart". Look at the record of a test with modern beauties from Moscow.
Video stupid
We are sure that knowledge impressed you with its depth and vastness. This, by the way, is the answer to those who will now start to knock themselves on the chest. I teach my own. These girls also have moms and dads. And I do not think that these fathers and mothers wanted to see their beauties illiterate cattle. Brainless dolls.
Think only beauty is stupid? Look further. And enjoy ... be terrified.
And let's go back to the article by Andrei Vajra. What does he say about Ukrainians? Again, the spelling of the author will keep.
"And after all, the peressichni Ukrainians, with their brains ..., sincerely believe in such nonsense! They are pleased to believe it! They sit deep in shit, are not capable of anything, cannot do anything, beggars, downtrodden and fantastically dull, but at the same time that their ancestors created humanity, giving the world the first civilization, the first state, the first wheel, agriculture, the plow. This is not just revelations of idiots, it is the modern popular belief of the so-called Ukrainians. "
Well, how? And we? Are we much different from the Ukrainians? Is our youth much more literate than Ukrainian? Much harder it will be to inspire our same ideas that already driven into the Ukrainians?
Go right, comrades. It seems that if we, as one character in the picture, were offered to go on three roads with a rake, we would not just go along one of them. We would come back twice to go next. Degraded, so at least with music.
Even if this music is a funeral march.
But there is one tiny nuance. These "stupid" Ukrainians, brought up on history, written by scoundrels and Judas, are ready to defend theirs. Fatherland, home, history. And get up, by the way. For even a clumsy story, but its own. Bad Ukraine, but its. Evil heads, crammed with lies, but their own.
But about our something doubtful. From the top to the bottom. We, in a sinful affair, in 2015, were busy with affairs of a different nature, we missed a moment. Nothing, in 2018, we recall.
Here is another video. Photographed in Paris, in the most expensive club "Rasputin". Participants: the goddaughter of the current president of Russia and the daughter of the president's talking head. Ksyusha Sobchak and Lizonka Peskova.
Milota in the cube. And not very little Lizonka in Russia is bored, if there is an opportunity to hang out in Paris. And the LGBT parades are cool, and Charly.
And this is Peskov's daughter. Which he will shove somewhere, while in power.
See, dear readers. Look at Ukraine. And penetrate a little: what is happening in Ukraine is waiting for us in the very near future. And understand who will manage all this.
I would like to be mistaken, but that's bad luck: the further, the more often we are right in our suspicions. And I would like to hear the "Farewell of Slav women" march as the musical accompaniment of the future.
But the mind says that this will be Marche's funere from Frederic Chopin's Second Piano Sonata.