The Israeli Defense Ministry and the association Israel Aerospace Industries (IAI) handed over to the Italian Air Force the second of two CAEW G550 (Italian designation E-550А), ordered based on Gulfsream G550 administrative aircraft, reports
bmpd
with reference to IsraelDefense.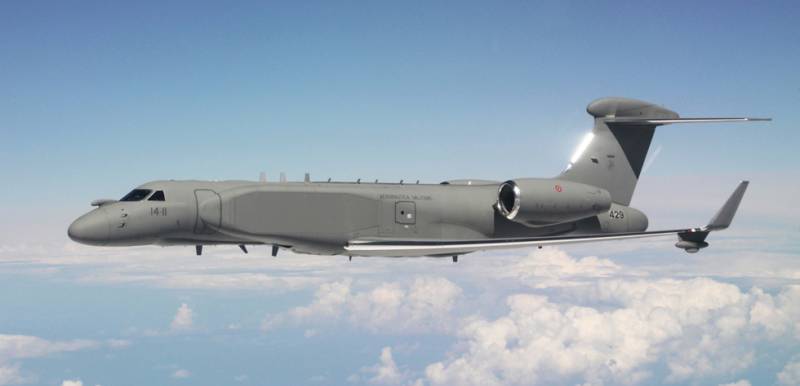 "The agreement on the supply of two DRLO airplanes to Italy and CAEW G550 control worth 850 million was one of the three counter-offset compensation agreements of July 2012 for the Israeli Air Force 30 training and combat aircraft M-346 Master produced by the Italian Finmeccanica group (now the company Leonardo) ", - said the resource.
CAEW G550 is equipped with the Israeli radar complex IAI Elta EL / W-2085 with conformal antennas with AFAR, as well as radio and radio intelligence complexes.
It is reported that "Italy became the fourth operator of CAEW G550 aircraft after the Israeli Air Force (two aircraft bearing the Israeli name Eitan, delivered in 2008), the Singapore Air Force (four aircraft delivered in 2010-2014) and the US Navy (one aircraft in 2017 year for use to accompany missile tests like the Soviet SKIP aircraft). "
The first plane the Italian military received in December 2016. Both cars will be part of the 71st
aviation
group of the 14th regiment stationed at the Pratica di Mare airbase near Rome. The aforementioned air group also includes several aircraft of radio and electronic reconnaissance and electronic warfare Alenia G.222VS / TCM and Piaggio P.180 Avanti II.