This year, the Rosgvardia will purchase Esaul high-range armored vehicles, made on the basis of the UAZ Patriot SUV, report
News
.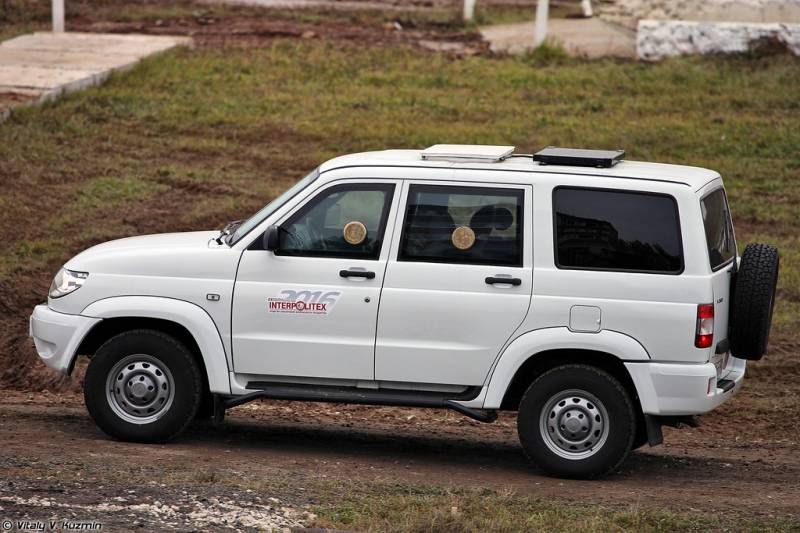 The cars of hidden reservations are intended for the transportation of servicemen and employees of Rosgvardi units in high-risk areas. They have a high degree of protection from the use of small
weapons
.
According to the results of the tests carried out, the car was accepted for the supply of the National Guard troops of the Russian Federation. This information was confirmed at the production plant "Technika", which is engaged in the manufacture of such machines.
In 2018, the Rosguard should get 5 cars.
"The main difference between the" Esaul "and the civilian UAZ is the hidden armor protection of the cabin. Anti-shrapnel and anti-ricochet protection is also provided - a F-1-type grenade exploded next to a car will cause no harm. The glasses in such a machine are almost impossible to break; they are made of bullet-resistant molded glass 19 mm thick. The level of protection provides security from any firearm. The machine is protected from unauthorized entry, "the material says.
The maximum speed of the car - 100 km / h, power reserve - 500 km. Along the perimeter of the cabin there are 5 loopholes that allow you to fire while inside. The machine can be retrofitted with an anti-explosion device, for which the manufacturer provides a special platform.
Rosgvardii needed cheap cars, economical to use and unpretentious. "Esaul" fully meets these requirements. The big advantage is that these cars have hidden reservations, they are inconspicuous and merge with civilian vehicles. "Esaul" will be used for covert delivery to the site of the operation of small task forces. I suppose that this vehicle will not be equipped with additional weapons. There are loopholes in it, from where, if necessary, you can fire, that's enough. The small number of purchased cars is most likely due to the fact that the Rosguards want to conduct a trial operation and verify the quality and reliability of this armored car,
told the newspaper military expert Alexey Khlopotov.