The arsenal of Russian air defense systems will be replenished with a small-sized anti-aircraft missile, which was created taking into account the experience in the use of the Pantsir air defense missile system in Syria, according to
News
.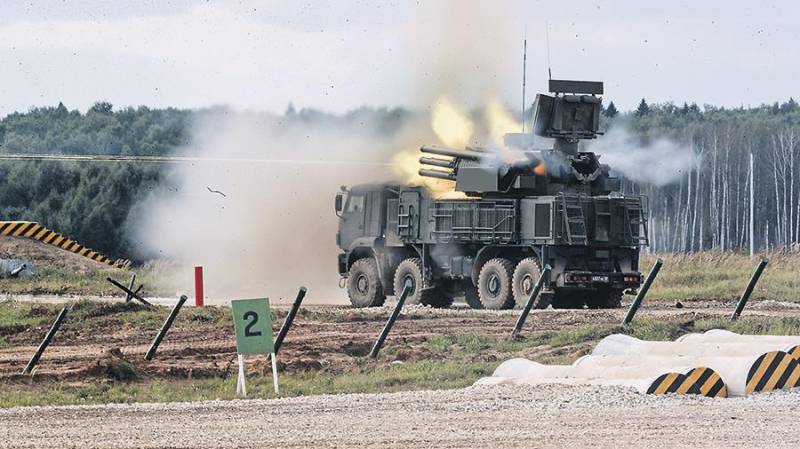 "For a fairly tiny size, the novelty has already received the nickname" nail "from the military. Four "nails" are installed in one regular launch container "Pantsir". In the future, the novelty will be the main tool to combat high
weapons
"- the newspaper writes.
Currently, the new rocket is being tested.
For the first time, small-scale missiles were presented at the Army-2017 forum. Its developer is Tula Instrument Design Bureau JSC. The missiles are designed to destroy unmanned aerial vehicles and, in the long term, to destroy high-precision weapons combat units.
According to the information, "the rocket is completed with a powder accelerator detachable in flight with a lightweight body made of composite materials; the engine is installed only on the upper stage, and after its separation, the product flies by inertia ". Four small-sized missiles are installed in the container of a standard "Pantsir" rocket of caliber 170 / 90 mm.
First of all, it is about intercepting small UAVs and single unguided rockets. To combat such targets, it is possible to use the Pantsir rocket, but it is too expensive. That is why the development of a simpler "budget" rocket was required. It will be inferior to the standard range, but it will be more maneuverable. Her combat performance is enough to cope with the tasks facing her,
explained military expert Anton Lavrov.
At the same time, in his opinion, the novelty will significantly increase the ammunition "Pantsir".
Four small-size rockets can be charged into the standard launch canister. It is also possible that one installation will be equipped with several types of missiles at once. The operator will be able to choose the type of ammunition depending on the combat mission,
said the expert.