The authorities of the DPRK established a new official holiday - the founding day of the Korean People's Army (KPA), which will be celebrated annually on February 8, reports
TASS
message of the agency TsTAK.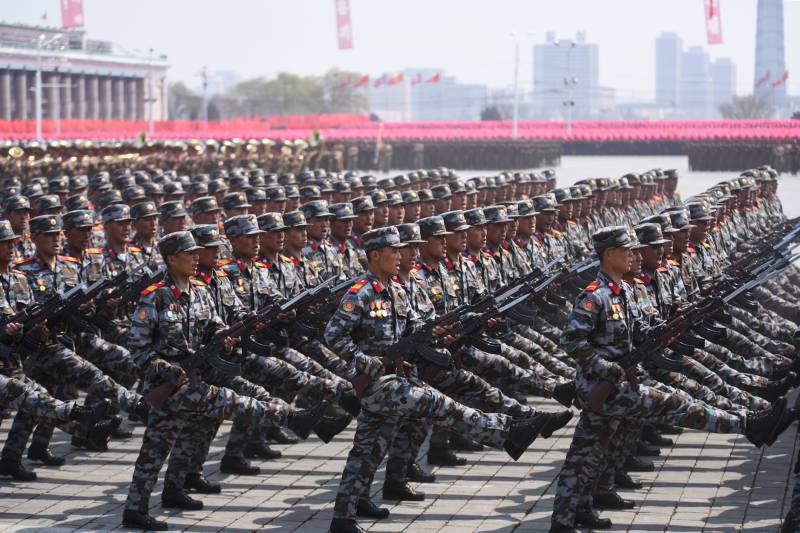 Celebrations will be held annually on this day. What exactly is not specified, however, earlier South Korean media reported on the plans of Pyongyang a day before the start of the Olympics to hold a military parade.
As stated in a resolution of the Central Committee of the Labor Party of Korea, "On February 8, 37, Juche (1948) represents
historical
the day of the proclamation of the KPA ", which appeared through the" transformation of the Korean People's Revolutionary Army (PRRA) created on April 25, 1932 into regular units. "
Thus, 8 February this year in the DPRK will celebrate the 70 anniversary of the Korean Peoples Army. (The foundation day of KPRA will continue to celebrate April 25).
In this regard, the party leadership decided that annually 8 February party organizations should carry out "work on ideological and political education", as well as other activities, "so that servicemen, party members and the working people are deeply aware of the merits of the great leader, Comrade Kim Il Sung, on building regular revolutionary armed forces. "
Relevant authorities, including the cabinet, should take practical steps to celebrate the founding of the Day of the Communist Party of China,
the document says.
Earlier, South Korean media, citing sources reported that the DPRK, is preparing for the February 8 military parade. In particular, it was noted that more than 12, thousands of military personnel and 50 units of artillery units were pulled to the Pyongyang region. Japanese observers have already said that if Pyongyang really holds a parade the day before the Olympics, it means that he wants to show the world community that he is not going to give up missile and nuclear programs, despite the inter-Korean dialogue.