The journalist of the Neue Zürcher Zeitung, Benjamin Tribe, saw the candidate Grudinin as the collector of the voices of the disgruntled. In his opinion, Grudinin is doing a "service" to the Kremlin.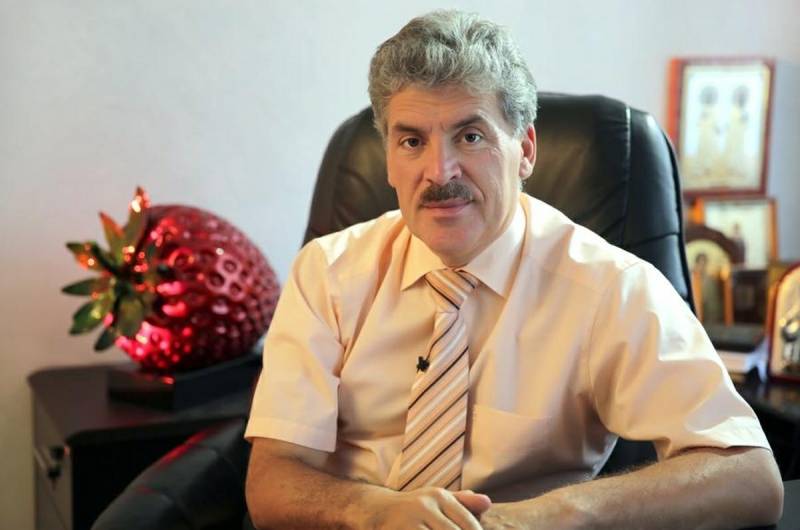 According to the author
"NZZ"
The candidate of the Communist Party of the Russian Federation provides the Kremlin with a "favor", giving the Russian elections "legitimacy." The candidate from the Communist Party in the elections is unlikely to defeat Putin, but he has no such task - this is not the task of the "systemic opposition" in Russia, the Neue Zürcher Zeitung website quotes
"InoTV"
.
Grudinin's task is to increase turnout in the elections and their "legitimacy" by attracting votes of "politically and economically dissatisfied". Increased turnout will play into the hands of the Kremlin.
According to the results of a fresh January poll, P. Grudinin was twice as popular as Comrade. Zyuganov, typing in Russia about 8% voter support. Probably, his rating in March will be even higher. Nevertheless, the victory over Putin is "excluded", the correspondent of the Swiss newspaper said. But here "new voices" Grudinin may try to get it.
"Russian voters will not force Grudinin to fulfill his promises, but this is not the task of the parties of the so-called systemic opposition in Russia," the author of the material said. "Their candidates should get votes of the disgruntled, who do not elect Putin, but only by participating in elections increase their legitimacy."
Among Grudinin's promises, the author singled out the following: restricting the flow of foreign "speculative capital" into the country, Russia's withdrawal from the WTO, regulating the prices of basic foodstuffs, nationalizing industrial enterprises and banks, raising taxes for the rich and repealing for the poor. Finally, Grudinin "directly criticizes Putin."
Tribe recalls that in the State Duma, the so-called opposition parties are subject to the decisive issues of "United Russia". The apathy of the people, coupled with a "silent protest", can lead to a low turnout in the elections, and this will prove to be a "defeat" for the Kremlin. And this is where Grudinin is: he will help to prevent low turnout.
It will be, we note, very interesting to find out how the picture of the polls in February and March will be. And then the final result will show the March elections. With such a bright candidate who ventured to "directly criticize Putin," the result may surprise even those technologists to whom Tribe and other European journalists attribute a certain scenario developed by the Kremlin to increase popular turnout.
Whatever one may say, but the voices that will go against Putin will infringe upon the very "general nationality" that the Kremlin-like propagandists like to point out. And it will not at all be in the hands of Putin.
Observed and commented on Oleg Chuvakin
- especially for topwar.ru