A separate engineering brigade of the Central Military District, deployed in Bashkiria, tested at the test site the only samples of the latest engineering equipment BMR-3 and IMR-3М, which recently entered service. With the help of new machines, the subunits made passages in the field where combat mines were installed, and also cleared them, the district press service reported to Military Survey.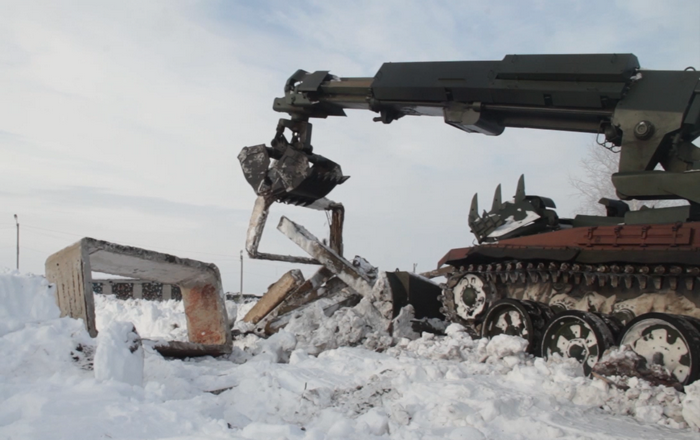 The press service added that the combat capabilities of the brigade were shown as part of the celebration of the professional holiday - the Day of the engineering troops, which is celebrated in Russia on January 21. In addition, the military showed the work of mine detection dogs and the newest nonlinear radar Korshun, defused mines near the roads in a disruptive way, worked out actions to repel an assault fighter attack on the reconnaissance patrol, deployed a new TMM-3 heavy mechanized bridge.
And they also showed in action a self-propelled demining plant UR-77, better known by the people as "Serpent Gorynych" and by its capabilities it has no analogues in the world.
The armored mine clearance vehicle BRM-3M based on the chassis
tank
T-90 is designed for reconnaissance, overcoming and clearance of minefields, the paths of movement of military convoys, the creation of passages in minefields during the fire resistance of the enemy. It has high resistance to close explosions. Its technical capabilities allow trawling mines installed in snow or soil, neutralizing mines lying on the surface, and also equipped with radio fuses.
The demining engineering vehicle IMR-3M is the first vehicle of this designation, which is based on the chassis of the T-90 tank. Previous models of WRI were made on the chassis of the T-55, T-72 and T-80 tanks. It is equipped with universal dozer equipment and a telescopic boom with URO (universal working body). One of the working tools is a bucket with a capacity of 0,35 cubic meters. Fully sealed and able to work in areas contaminated with radioactive substances. It also has installed the latest communication tools.