The CAA, with the support of the Russian Aerospace Forces, continued the offensive in Aleppo, Idlib and Hama. During the confrontation between the Kurds and the Turkish forces, more than ten civilians were killed. Reports about it
FAN
with reference to Syrian sources.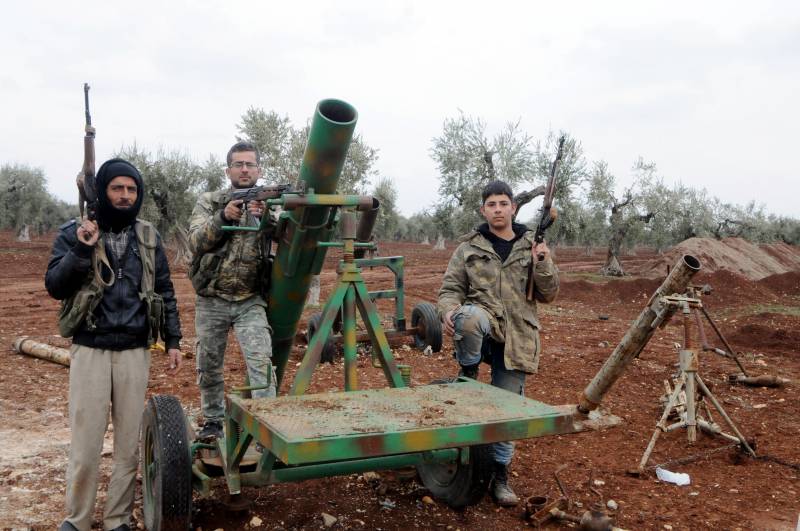 SSA fighters
In the north-east of Damascus, between the settlements of Harasta and Irbin, armed confrontation between illegal anti-government groups and the Syrian Arab Army (CAA) did not stop. During the fighting, a number of buildings outside the local hospital building came under the control of the CAA. Radicals lost dozens of militants killed.
All day long
aviation
Turkey inflicted airstrikes on strongholds of the Kurdish National Self-Defense Forces (YPG) in the canton of Afrin (Aleppo province). According to Turkish sources, as a result of continuous bombing, at least a hundred YPG fighters were killed and 10 civilians were also killed. Under the blows were the settlements of Tel Rifat, Tubil and Baliya, as well as the territory of the Mennakh air base. Armed clashes were also noted near the village of Hammam. Opposition sources claimed that during the battles of the "free army" they managed not only to capture the settlements of Ada Manali and Shankil, but also captured three Kurdish soldiers. By evening, the Kurds retaliated against the city of Reyhanli in Turkey, which led to the death of one of the local residents and the wounding of 32 more people.
In the past 24 hours, one of the formations that came out on the side of the Syrian Democratic Army (SDF) left the ranks of the Kurds, announcing their joining the pro-Turkish detachments of the SSA. Despite the fact that the Syrian authorities have repeatedly protested against the invasion of Turkish forces, Ankara does not stop the attacks in the north-east of the region.
The Syrian Democratic Army (SDF) stronghold near the village of Al-Bahra in the province of Deir ez-Zor has undergone a surprise suicide attack. Local media reported the death of at least 30 SDF fighters.
After the release of the Abu Dukhur military base, government units continued to develop the offensive in the south-eastern part of the Idlib province with the support of Russian aviation. The SAR forces reached the outskirts of the city of Abu Dukhur, on the way to which they liberated the settlements of Surudj and Istanbulbalat. In the meantime, the Russian HQs conducted a massive air attack on the positions of the militants of the terrorist alliance near the town of Jisr Ash-Shugur. Significant damage was caused to the defense of "Dzhebhat an-Nusra" (banned in the Russian Federation), dozens of radicals were destroyed.
Due to the fact that the day before, the SAR army managed to completely block the enclave of IG terrorists (the group was banned in the Russian Federation) on the border between the provinces of Idlib, Ham and Aleppo, the troops of the CAA and the National Defense Forces (NDF) began to encircle the ring around the igilovtsy. As a result of fierce fighting, the settlements of Al-Tutah and Anik Bajara were liberated.