The Foreign Minister commented on the state of relations between Russia and the West. An interview with the head of Russian diplomacy was published
Kommersant
after Sergey Lavrov's three-day trip to New York. While in the United States, the Russian minister took part in two meetings of the UN Security Council.
According to Sergey Lavrov, the current crisis in relations with the United States is "worse than the cold war." The Russian Foreign Minister noted that the reason for the crisis in relations with Washington is that Russia is pursuing an independent, independent line in international affairs.
Speaking about the crisis in Ukraine, Sergey Lavrov called the events of February 2014 of the year in this country a "European disgrace". According to the Russian foreign minister, the Ukrainian coup d'état is "
история
betrayal of the West in relation to international law. " We are talking about the agreement of Viktor Yanukovych and the opposition, whose implementation was guaranteed by representatives of Germany, France and Poland. As you know, these states actually refused their guarantees already the next day after signing.
Sergey Lavrov mentioned the numerous facts of heightening anti-Russian hysteria in the West. In particular, we are talking about the work of the commission of Richard McLaren, which unprovenly accuses Russian athletes of almost all the "use" of doping in the format of the "state program".
From the statement of the head of the Ministry of Foreign Affairs of Russia:
We cannot, being completely disinterested in forging a spiral of confrontation, remain calm when trying to punish Russia in every way, be it our (diplomatic) property, be it the same sanctions or attempts to use sports themes (...) Richard McLaren said in his report that there is no evidence, they do not know how it was done, but they know how it could be done. No normal court in any country would accept such accusations.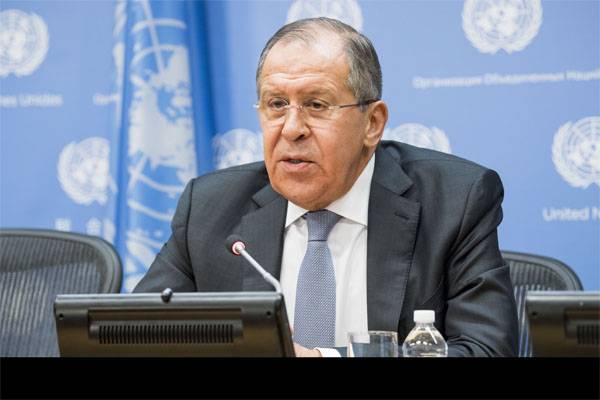 In this regard, I recall the situation with the Malaysian Boeing, when three days after this tragedy, the United States began to demand an investigation, while stating that they know who did it, but are confident that the investigation will confirm what they know.
According to Sergey Lavrov, "all these" Star Wars "and other notions played a role here.
Sergey Lavrov noted that now there are no ideological contradictions between Russia and the West as in Soviet times, but unfair competition is advancing in the West, lobbying groups and double standards are being used in attempts to achieve their goals, which makes a situation that did not exist even in times cold war.