In the rubric of "Weekend fiction" "Military Review" presents a small material on
weapons
used by civilization, many puzzles of development and decline of which have not been solved until now. We are talking about the Aztec civilization, which existed in the period from the XIV to XVI century in Central America.
Thanks to the numerous Aztec writings (self-designation - "sack", from which comes the name of the modern state of Mexico), as well as artistic images, historians know what weapons the warriors of this civilization used.
One of the very original weapons samples translated into Russian sounds like a "hand stick". In the original language, the sound of the name of the weapon is: makauuitl (often makuahuitl) from "Mācuahuitl".
Unfortunately, not a single instance of this Aztec weapon has reached our days. Historians claim that the authentic example of the Macawahuitl was preserved in Madrid in the Spanish royal arsenal until the middle of the 19th century. It was kept until a major fire, during which a "hand stick" made of wood was expected to have exactly the same fate as all wooden armaments.
What was the macawahuitl? This, as already mentioned, a wooden stick that had a flat shape. The stick-like stick had several rows, as it were now said, of striking elements. These elements were pointed splinters and fragments of obsidian (a rock of volcanic origin). The Aztecs used Obsidian for the reason that it is possible to make blades with an edge of extremely small thickness from this material - up to nano units. Of course, before the nano units, the Aztecs could not sharpen these fragments technically, but they did not need sharpening to the level of "micro". It is enough.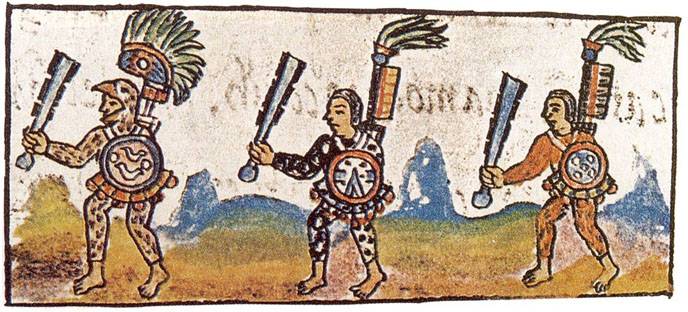 Pointy obsidian debris was glued to a wooden base with wood resins.
The length of the macaouitle was in a "mathematical" dependence on the growth of the warrior using this weapon. According to the records, the Aztecs managed to find out that the maximum length of the weapon was approximately 122 cm with a width of up to 15 cm. At the same time, information about the so-called two-handed macawwellet two meters long was also preserved.
One blow of the weapon makauuitl led to multiple stab, cut and ripped wounds. At the same time, the wounds could be so deep that they irreversibly hit the bones of the human skeleton at the same time in several places.
Often makauuitl used when hitting a flat - in order to immobilize the enemy, followed by capture in captivity.
Of
historical
documents it is known that Macuahuitl survived the Aztec civilization. It is argued that the Spanish conquistadors, having brought the macuahuitl to Europe, gave him a continuation of life - in the Old World.