Information Agency
Interfax
citing sources, writes that the Sprut-SDM-1 self-propelled anti-tank gun will be released to state tests in the 1 quarter of the 2018 of the year.
At the same time, it was announced that state tests of the latest anti-tank weapons will be completed in the first quarter of next year. It was then, as predicted, "Sprut-SDM-1" and will be put into service the Armed Forces.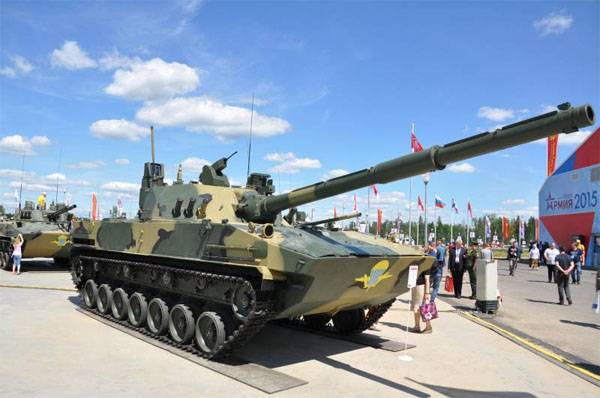 Initially, the tasks of the developers of the new self-propelled gun included the improvement of combat performance, which would be achieved using new sighting devices, as well as fire control tools.
From its predecessor - the Sprut-SD armored vehicles, the SDM-1 version is also distinguished by the new undercarriage. It actually has the same "architecture" as the BMD-4M, with some minor additions. The Sprut-SDM-1 has 7 road wheels with an individual torsion bar suspension and a hydraulic shock absorber system on two sides. The Sprut-SDM-1 suspension parameters are adjustable, allowing you to change the clearance. The undercarriage is also represented by stern drive wheels for lanterning, front guides with a tension mechanism and several supporting rollers of small diameter. These rollers are designed to hold the upper branch of the track in the proper position.
Interfax reports that during state trials, the latest Russian self-propelled gun will, among other things, be dropped from the Il-76 military transport
aviation
.