At the Kapustin Yar test site, combat firing of an anti-aircraft missile brigade equipped with a modern BUK-М2 missile system will be held. This was reported to RIA Info-RM by the spokesman for the commander of the North Caucasian Military District, Lieutenant Colonel A. Bobrun.
This is the first and only compound of the Army Air Defense of the Ground Forces, which has been armed with the newest complex BUK-M2.
At the Kapustin Yar test site in the Astrakhan region, combat firing of units of the military air defense of motorized rifle formations of the Central Military District are taking place.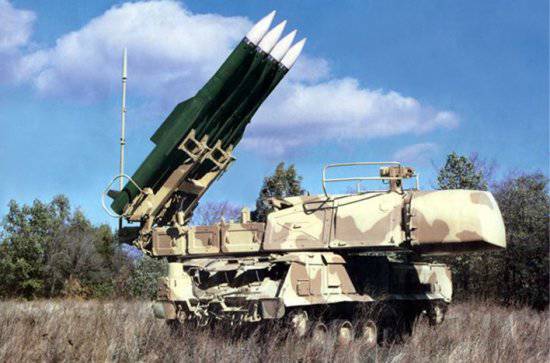 Anti-aircraft gunners from the Volga region, the Urals and Siberia perform live firing at small-sized high-altitude and low-flying air targets from the Buk-МХNUMX, C-2, Thor, Osa, and X-TVN missile systems, anti-aircraft gun missile system "Tunguska" and MANPADS "Igla".
In the course of the firing, the "Singing" aerial targets are used, which simulate unmanned and manned air targets at low and medium altitudes (up to 5 km) and the "Saman", which imitate tactical aircraft
aviation
and cruise missiles, as well as the modernized anti-tank guided missile "Falanga-M" designed to simulate a maneuvering air target.
Airborne mimics mimic the various characteristics of an air attack, which is an essential element in the tasks of monitoring the air situation, searching for and detecting air targets and then destroying them using modern anti-aircraft weapons.
The conditions for firing at air targets are as close to combat as possible. Minimal time is allotted for detecting, capturing and destroying a target.
The calculations of anti-aircraft missile systems are working out the issues of starting positions and deployment on the ground, preparing combat control centers for combat work.
When practicing combat missions, the radar units organize combat duty operations and conduct reconnaissance of an air enemy. Fire units are preparing to repel an air strike.
To organize the control of air defense forces and the interaction with concealed troops, modern means of communication and automated control systems are used. The use of automated control systems allows in the shortest time to identify and distribute air targets, as well as to bring to the fire means the commands for their destruction in real time.
The issues of conducting radar reconnaissance, control, and interaction are handled in the conditions of radio suppression of communications and radio interference in various frequency ranges of radar facilities.
Fire units perform tactical camouflage activities, work out the actions of nomadic units and fire from an ambush.
Conducted live firing is a planned event for the training of military authorities and the troops of the USC "Center" and are held from August 30 to September 26 2010.
In total, more than 2 thousand troops of the military air defense units of the Central Military District and about 700 units of equipment were involved in the shooting.