The prospective K-17 wheeled infantry fighting vehicle, also known as the Boomerang military-industrial complex 7829, will be the first in the world to be serially installed with an active defense system (KAZ). Nowhere was the installation of such systems immediately at the design stage provided, writes Rossiyskaya Gazeta
At participating in parades on the Red Square, armored vehicles of the average unified KAZ family have not yet been mounted. There were no such systems at the Boomerang at the International Military-Technical Forum "Army-2017" demonstrated last summer with the B05YA01 "Berehok" combat module.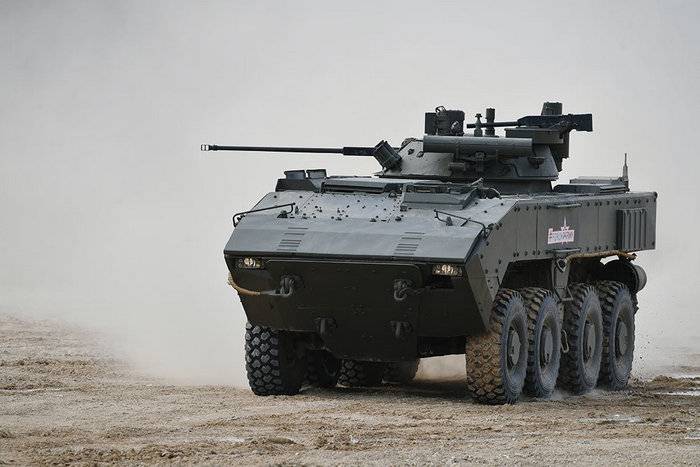 However, a year earlier, in the same place, in Alabino near Moscow, at the stand of the Main Armored Directorate of the Ministry of Defense of the Russian Federation, one could see a detailed model of K-17 with the Afganit complex. Thanks to such active protection, the latest Russian BMP will become invulnerable to rocket-propelled grenades, anti-tank guided and
aviation
rockets.
It was reported that this KAZ is also capable of intercepting high-explosive, cumulative, and also armor-piercing-submunition shells fired from main combat cannons
tanks
.
Such protection currently does not have any combat vehicle of this class. Abroad, work was carried out on the installation of KAZ on wheeled vehicles, but everywhere for research they used armored personnel carriers, which are produced for a long time or whose production has already ceased.
The increased security of the BMP will not be limited to one "Afghanite". At K-17 also mounted equipment opto-electronic suppression (COEP). Due to the presence of special sensors, the machine will be able to record cases of its exposure to laser sights, range finders, precision guidance systems
weapons
. In the automatic or manual mode, special aerosol munitions will be emitted in the direction of the enemy, which will create a smoke screen impenetrable for the enemy.
Military experts believe that the availability of reliable armor, powerful mine protection, KAZ and KOEP will make the Russian "Boomerang" the most protected wheeled armored vehicle in the world - Arzamas equipment will definitely become an example of imitation for designers from other countries.