The Combat Automated System (ALS) "Companion" was tested in conditions close to those at a temperature above 30 degrees Celsius. It is reported by TASS with reference to the press service of the Kalashnikov concern (included in Rostec), which creates these machines.
BAS Soratnik was tested in conditions as close as possible to the combat ones. These tests confirmed the characteristics of the complex and proved the possibility of using this robotic system at air temperatures above 30 degrees Celsius
- Said in concern.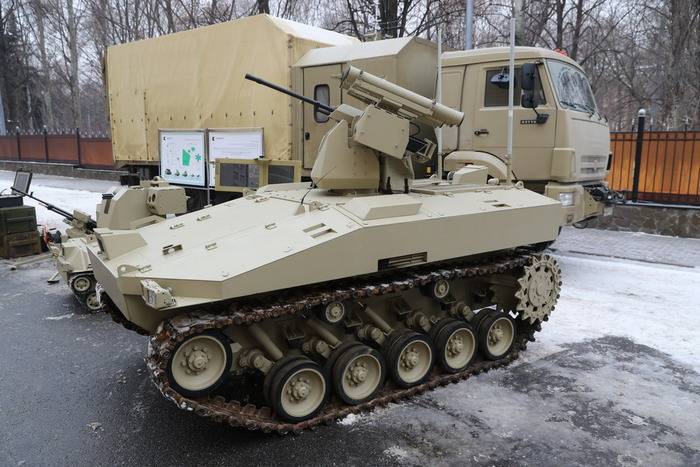 They clarified that the scientific and technical background that was obtained during the development and creation of the "Companion", as well as the results of its tests, will form the basis of promising combat robotic complexes.
The Soratnik armored tracked vehicle is intended for reconnaissance and retransmission, patrolling and protection of territories and important objects, demining and barrage. The Companion operates in three control modes, the mass of the complex does not exceed 7 T, it is capable of speeds up to 40 km / h. With remote control and direct visibility, the range of the machine is up to 10 km.
Machine guns of caliber 7,62 mm and 12,7 mm, as well as grenade launchers of type AG-17А caliber 30 mm can be mounted on the tracked platform. The combat module is equipped with a gyroscopic stabilization of weapons and is able to independently detect, accompany and destroy targets, determining their type. In addition, it is possible to install eight Cornet-EM anti-tank guided missiles at the Companion. The armored vehicle can also work in conjunction with drones.