The US State Department sent an appeal to Turkey to refrain from a military operation in Syrian Afrin (Aleppo Province). Recall that Ankara is concentrating impressive forces and assets near the border with the SAR, declaring its readiness at any time to launch an operation against the Kurdish YPG units. These actions, as stated earlier by Turkish President Erdogan, are associated with the decision of the United States to create a "border guard service" in the north of the SAR from among the representatives of the mentioned units.
The official representative of the US Foreign Ministry, Heather Nauert said that Turkey would not be worth taking "steps of this kind." It's about preparing for the operation in Afrin.
Nuerth:
We want everyone there to concentrate on the fight against the "Islamic State" (* banned in the Russian Federation).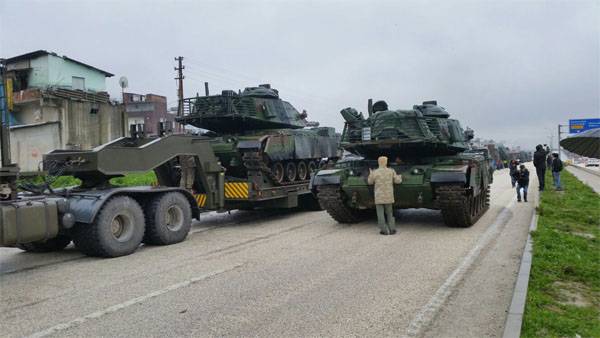 In Ankara, meanwhile, said that the preparation for the operation "is not directed against the Syrian Kurds." Information service "Anadolu", referring to the representatives of the government of the country, reports that the purpose of the operation are representatives of armed groups of the Kurdistan Workers' Party. The PKK in Turkey is considered a terrorist organization.
Statement by the Press Secretary of the President of Turkey:
Turkey will continue to take all the necessary measures to prevent threats to its national security, regardless of where they come from - be it Afrin, Jerablus, Manbij, or areas in Iraq. Turkey, as well as before, will continue to fight PYD / YPG / PKK, ISIL * and any other terrorist organizations. At the same time, Turkey does not intend to wait for this permission and itself has the right to choose the place, time and methods of struggle.