At the Dalian Naval Base in Liaoning, a ceremony was held for the introduction of the Chinese
fleet
the new missile frigate "Rizhao" project 054A (class "Jiangkai II"). On Thursday, January 18, according to TsAMTO with reference to the press service of the Ministry of Defense of China.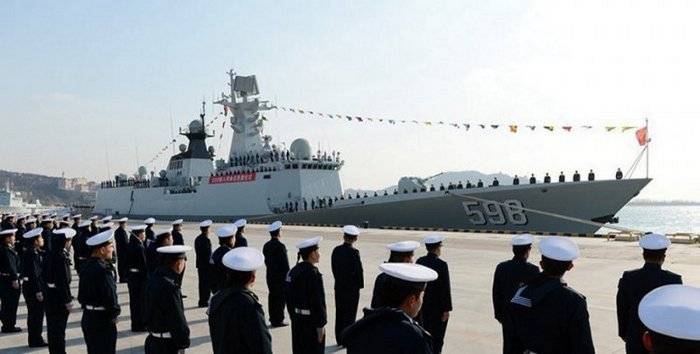 Rizhao was built in Guangzhou at Huangpu Shipyard of China State Shipbuilding Corporation CSSC (China State Shipbuilding Corporation). He was launched in April 2017 of the year. "Rizhao" became the 26-m frigate of the series, adopted by the Navy. Four more ships of the series are being tested.
Jankai II class frigates, built on the basis of the 054 project, are distinguished by a large number of advanced weapons and control systems. The lead frigate was commissioned in January 2008 of the year.
The total displacement of the ships of this series is 4053 tons, the hull length is 134 meters, and the width is 16 meters. Speed ​​- up to 29 nodes. Sailing Range - 3800 miles. Crew - 190 man.
Frigate armed vertical launch system with 32 cells for anti-aircraft missiles HQ-16, two launchers on four anti-ship missiles YJ-83, 100-mm artillery systems, the four anti-aircraft artillery CIWS complexes (Chinese analogue AK-630) and two triple tube torpedo 324 caliber mm.