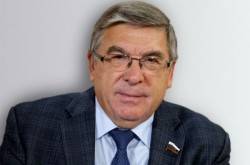 Russia is entering a very serious period: the share of the population in the age from 20 to 40 years is rapidly decreasing, and it is this population that is most active. And if in the 70 of the twentieth century, their share was 60% of the population before the pre-retirement age, it has now decreased to 40%, and continues to decline. Our health is highly dependent on the social policy of the state in which we live. How protected are the state, by its laws, our old people, children, young families, single mothers? This is our conversation with the senator dealing with these problems.
- Valery Vladimirovich, the demographic situation in the country today is so acute that the State Duma unanimously adopted even a whole package of laws initiated by Vladimir Putin ...
- This batch of bills was expected. We could not respond to the rapidly changing environment. Two of the most important laws were adopted - on monthly payments for the birth of the first child and on the extension of the maternity capital program to 2021. The first concerns those families where the husband works, and the wife has been on child care leave for a year and a half, and their total average per capita income is less than one and a half subsistence minimums in the subject of the Federation.
Another law deals with extending the maternity capital program for another three years and expanding its scope. Now the maternity capital can be used to send children under the age of three in the nursery.
- The President set the task to make the Russian family a three-child. How realistic is it anytime soon?
- The modern woman-emancipe is not in a hurry to get married, not in a hurry to give birth to her first child until she gets an education and finds a job with a decent income, does not arrange her own life. Yes, and from career growth will not give up. Yes, and from high tribunes it is increasingly being said about the increasing social and political role of women in society. We cannot forbid people to learn, set global tasks. We can not make everyone have children and stay with them at home. Moreover, the question is always acute: what to live, where to live?
Maternity Capital Act -10 years. That's not a lot. Let's see what will work next. We will index the maternity capital, change its uses, include new options in it. If we understand that a young family in a given period is more important to spend the maternity capital, say, not for housing, but for something else, we will reconsider this norm. If we see that it is necessary to help a young family, not only the first one and a half years of life of their first child, but up to the age of three, we will find this opportunity.
But the task of reaching the standard of a family with three children has not been canceled. This is a strategic task. Here, they say, all means are good. And the mortgage with a rigidly fixed six percent level, and the indexation of maternity capital, and the variability of its use ...
In general, I would not dramatize the situation with demographics. The findings and forecasts of scientists - this, of course, is important. But I would see how society will react. How people will respond to the measures of the state. It may be that these measures will not be enough. And maybe the other way around - the first impulse will become positive, and people will respond to this motivation. This is not the president's call: "Go and have a baby!" But the creation of a whole institution of social conditions that should influence the public consciousness.
- I heard that there is a special program for regions with a poor demographic situation ...
- Yes, she was accepted by more than 20 regions of Russia. They receive state subsidies for this very purpose - to support the desire of the fathers and mothers to have a third child. We criticize regions that refuse this program.
Another important element in the social policy package. The procedure for indexation of alimony set forth in the Family Code of the Russian Federation to citizens in need of social services and persons acting in their interests has been specified. They are granted the right to submit an application to an organization in the vicinity of their place of residence.
In general, for registration of benefits, parents of children will need to contact the social security authorities of the population or write a statement in the multifunctional center of state and municipal services (MFC).
As part of the legislative support for family policy, a law has been adopted, thanks to which the maternity capital program will be fully implemented on the territory of the Republic of Crimea and in Sevastopol.
- And the young mothers are not bogged down by collecting certificates for receiving maternity capital and other payments?
- You are right, paperwork can devalue any good idea. Therefore, social services in the regions can not be overdone with the documents that must be submitted to receive payments. There should be a clear and comprehensive list of them. Here is a fresh example from my practice. I am considering the appeal of a minor mother from the Kursk region. Requests to render her financial assistance. Requested local rural social services. It turns out the child a few months. The father recognizes paternity, but he does not work. The mother of the mother is also not working. Does not work and cohabitant mother. (Grandmas newborn). The brother of a young mother studying at school. The only employee in the family is the elder sister. Works on a car wash, gets eight thousand rubles and a disability allowance. Here is a picture. Social services keep this family registered. But a minor mother will not receive a subsistence minimum for a child, since she is not subject to the requirements of this law. The question is why the parents of a young mommy do not work, they are only in 40 years.
First of all, it is necessary to help to employ a person, to organize his professional retraining, if it is necessary, so that he himself earned a living. And then further help.
- How to check that the money allocated by the state for raising a child goes to its destination?
- This is, for example, the St. Petersburg experience. In the northern capital, all social payments were transferred to special social cards. This money can be spent only on appropriate goals - children's clothes, medicines, food ... You cannot buy tobacco and alcohol for them. Representatives from forty regions of Russia attended the parliamentary hearings. The experience of St. Petersburg was voiced and taken into account by many.
- At one time it was about the introduction of a unified automated information system of social security. Does she act? If so, to what extent does this system help to monitor the implementation of laws of social policy in the regions?
- There is an order of 500 industry information systems. As a rule, these are local systems - migration system, procurement system, medical system, law enforcement ... Do not forget that we have even more 2000 regional information systems, autonomous. They circulate a huge amount of information. But these systems, unfortunately, are not united with each other and do not fit in any way. People are forced to continue to go to the authorities.
Therefore, we are talking about the technology of introducing a single window MFC. Windows - issuing and receiving. And behind the MFC should be a large information network that would allow to put together the entire information array, pulled everyone into its orbit, right up to the village councils. Now the huge work on the creation of a unified information automated system that will help social workers is being completed.
- Valery Vladimirovich, 21 December 2017 was five years old since the State Duma adopted the so-called "Dima Yakovlev law", which prohibits US citizens from adopting Russian orphans. Is it still relevant today? Recall, the document received the name of the boy who died in the States in 2008 year due to the fact that the adoptive father left him in the sun in the car ...
- We are ready to cooperate with any countries and any social institutions. But on one condition - Russia retains the right to control what happens to the child in the family who took him up. Not a single state agreement with the countries that have fulfilled such a condition has been terminated. But we cannot agree to cooperate with states that refuse to disclose information about how a child lives in a new family.
In general, the "law of Dima Yakovlev" did not radically affect the number of children placed in families. In recent years, our fellow citizens have become more active in adopting orphans, arranging custody for them. The number of children in orphanages has decreased three times since.
For its part, the state began to pay more attention to the preparation of foster parents. We have become more professional in the preparation of parents who want to bring up children from orphanages, but the problem of secondary orphanhood is still acute. The number of children returned to orphanages from foster families is still large. More orphans appear when parents are alive. There is an acute problem of parental responsibility. In my opinion, the loyalty of the state to negligent parents is sometimes too excessive.
- As you know, allocated one hundred million rubles for long-term care for older people. By analogy with infants, social services can track the fate of very old people, if they live in their own apartments, and not in nursing homes ...
- This is a complex and delicate topic ... The basic law on social services for the population (442) does not prescribe the exhaustive norms of its application. I will remind you. The 2015 Law of the Year gives the green light and opens up tremendous opportunities for social entrepreneurship. The previous law, adopted in 1995, stipulated that public services for social services should be provided by state and municipal authorities. Since 2015, the state has only established social standards and financed such services. The orders for social services themselves are distributed on a competitive basis. Their suppliers can be commercial and non-profit organizations, and individual entrepreneurs.
Regions have the right to make their laws based on their conditions. In the Yamalo-Nenets or Khanty-Mansiysk districts, for example, or in Kamchatka, where people lead a nomadic lifestyle, you will not apply the technologies that have taken root in Moscow.
The order of the 25-ti regions created their own laws allowing escorted residence. Probably an older person to live at home is more comfortable than in a hospital or nursing home. Although statistics, paradoxically, suggests otherwise - the average life expectancy of veterans living in boarding schools is higher than that of their peers living at home. Why? Regular, hourly meals. Regular medical examination. Mode. Prevention. Medications taken on time. Collective forms of participation in life ... And then, family, family, home-to-house are different ...
- The notorious 1200 rubles, which are paid for the supervision and assistance of lonely old people, cannot be received by pensioners, although they often take care of each other. In Japan, for example, there is even a program for the "Elderly for the Elderly" ...
- I see a way out in that socially-oriented non-profit organizations (NPOs) would receive the right to participate in this social service. The list of services to the social basic law (402) is. The services on 40 are more than activities.
NCOs are still moving along the simplest way to receive grants. More than seven billion rubles are allocated for these purposes. The grant can be obtained once or twice, and the NPO will allow for systemic funding. They went to system financing - you can attract veterans to create an institution of mentoring, care, and so on ... It seems to me that this is the perspective. And we will work with NGOs in this part.
In general, retirees themselves must remain active as long as possible. As in the same Japan. More movement, positive!
Recently I got to the competition of sports and ballroom dancing among the elderly. Nice to see! In their eyes you read the call: "Do as I do!". We have excellent programs for self-education. The TRP program for people of different ages ...
But the problem is that there is a lack of a culture of attitude towards one's own health. The trend to be healthy should become a fashion, go to society.
Then forget about all the pills that are advertised on TV, and you will only believe in the promotion of a healthy lifestyle. By the way, soon we will come out with an initiative to ban advertising of drugs on television ...