The "golden era" of import substitution in Russia seems to be over - more and more imported products are on the shelves and windows. In 2017, four times more vegetable oil was brought from abroad, twice as many potatoes, onions, and garlic ... Is it really so quickly forgotten how to grow it yourself ?!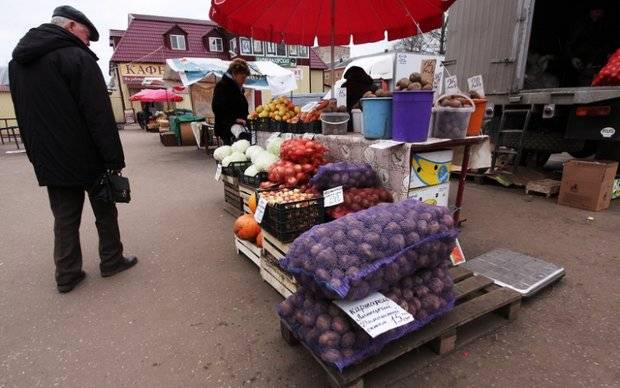 Farms are building ... And there is nothing
2018 began with a number of positive
News
related to import substitution. For example, one of the country's largest greenhouse complexes, Yugagroholding, opened in Dagestan (Kumtorkalinsky District), a large goat farm in Mari El (Sernursky District), and the Ozon Farm pharmaceutical plant in Togliatti.
In the Leningrad Region (Vyborgsky District), the production of lactose-free milk was launched at the Losevo Production Association, the expansion of the Bris-Bosfor shoe factory began in Novorossiysk, and a floating marine fish processing plant was started in the Sakhalin Region.
The official figures of Rosstat should also inspire optimism. So, following the results of 2017, the production of fruits, berries and nuts increased by 85%, fish products (including fish fillets) increased by 28%, and frozen fish by 4%.
However, this is where the positive news ends. Against the background of rising oil prices (over the past six months, prices for the Brent oil futures contract jumped almost 1.5 times - from $ 48 to $ 69 per barrel), revenue from export sales of raw materials is also growing. According to the estimates of the Federal Customs Service (FCS), foreign purchases are also growing: from the beginning of the 2017 year (so far there are eleven months data available), transport and electrical equipment have been imported into Russia by almost 27% more, including trucks - by 54% .
Imports of footwear increased by 14%, cotton fabrics - by 52%, plant protection products - by 11%. In words, the policy of import substitution in the food sector is declared. But stubborn statistics show that food is also being imported into Russia more and more.
Accounts Chamber did not count potatoes
According to official statistics, over the months of 11, imports of vegetable oil (four times), grapes, onions, garlic, potatoes, cabbage, and milk increased over the course of the month. Contrary to declarations, purchases of meat (including poultry), fish, butter are growing ... Milk production remained at the level of 2017 of the year - 2015 million tons. At the same time, the share of domestic products is only 30,7% with the minimum required, according to the Food Safety Doctrine, 80%.
According to the Federal Customs Service, a third more corn was purchased abroad for 2017 (46 thousand tons), 14% more barley (169 thousand tons). We are importing even wheat - however, last year it was one and a half times less intensive than it was in 2016 year (thousands of tons were bought "for all" 247).
But all this is the main commodity items, for the replacement of which the state policy in the agro-industrial complex of the last years was directed.
The situation with import substitution interested even the Accounts Chamber of Russia. Strange as it may seem, most of the auditors are alarmed by the situation with potatoes: the area under this crop is reduced, the country lacks potato storages, the infrastructure for logistics and improvement of root crops is not developed.
Accordingly, the gross yield is also decreasing: according to Rossatat, for 11 months of 2017, it amounted to 29,6 million tons - this is almost 5% less than it was a year earlier. In the Potato Union of Russia, it is believed that more potatoes are produced in the country than citizens can eat.
And that would be true if not one "but." Synchronously with a decrease in yield, potato imports (fresh and chilled) are growing: last year it doubled, exceeding 550 thousand tons. While in the 2016 year, on the contrary, "potato" imports steadily declined.
The ruble has risen - and with it the import
What times is going on today Russian import substitution in agriculture - light or dark? We asked this question to our regular experts on economic issues - and they do not hide their pessimism.
Roman Alekhin, founder of the Alekhin & Partners marketing group:
- Most likely, it is not worth waiting for any special success and a significant increase in the volume of import substitution in 2018!
The growth of import substitution was associated not only with sanctions and prohibitions, but also with the fall of the ruble exchange rate, which peaked just in the 2014-2015 years. And now there is every reason to predict a stable ruble rate over the course of 2018 of the year (unless there are some sudden negative factors, such as a sharp fall in oil prices or a serious geopolitical conflict).
The share of imports will grow in the 2018 year, which will lead to negative trends in the area of ​​import substitution - many products will return, and consumers will prefer Western products. This is due to the fact that far from all spheres Russian manufacturers were able to come closer to the price / quality ratio offered by Western companies.
Now complain about the low quality in the field of engineering and shipbuilding - large players prefer products from foreign manufacturers, as they have higher quality. We have high quality products in agriculture: dairy products, cheeses, fruits and vegetables can compete with foreign ones. The same types of cheeses, which were under the action of sanctions, appeared on the Russian market from domestic producers, of quite comparable quality.
Moses Furschik, managing partner of FOC Company (Financial and Organizational Consulting:
- The most relevant topics for import substitution in the near future are milk, fruits, and also greenhouse vegetables. In other areas, either a sufficient level of domestic production has already been achieved, or there is no economic sense in its radical expansion.
A separate topic is fish. There are prospects for increasing supplies from the Far East, as well as the development of fisheries in the European part of Russia. For the first, improvement of the logistics infrastructure is needed, and for the second, a gradual launch of a significant number of not very large projects. Both that, and another - not absolutely fast process.
In general, to support import substitution, not prohibitive measures are more beneficial, but budget co-financing or incentives for investment projects. There is no certainty, stability or transparency with these questions.
In general, now it is not the import substitution issues themselves that should become more important, but the quality control of the products produced and the stimulation of the deeper processing of agricultural commodities.
And another important aspect of the near future, in my opinion, is the support of food exports (including those produced in the Far East), especially to the APR countries.
This is what Pavel Grudinin thinks about import substitution in Russia:
- Tkachev must first see how many tractors and combines we buy. And he will understand that due to the fact that we have ceased to buy agricultural equipment at all, soon he will have to go out into the field with his subordinates and mow. And, maybe, then we will reach 100% of import substitution.
In order to compete at least with Belarus, Tkachev needs to look at the data on the amount of fertilizer applied by us and them. Where does a good harvest come from in Russia if we fertilize three times less than Belarusians?