After long ordeal, the Verkhovna Rada finally adopted a law on the so-called reintegration of Donbass. On the adoption of the law has already expressed the president of Ukraine Petro Poroshenko. From his writing to
Facebook
:
280 - for! We will continue to pave the way for the reintegration of the occupied Ukrainian lands by politico-diplomatic means. This is a key signal of the relevant Law, which today was adopted by BP at my initiative. This is a signal for both Donbass and Crimea: you are an integral part of Ukraine!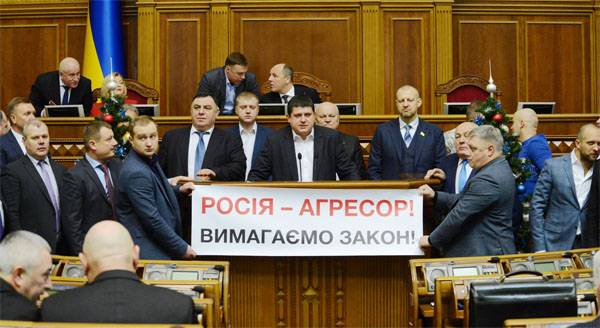 It should be recalled that in the Ukrainian parliament 450 deputies. 280 parliamentarians supported the law, the rest were either absent, or refused to vote, or abstained, or voted against (as the "Opposition bloc").
In the document, which Poroshenko must now sign, Russia is called the "aggressor country", and the territories of the LDPR are recognized as Kiev occupied. The law provides for the possibility for the Supreme Commander-in-Chief of the Armed Forces of Ukraine to use the Armed Forces of Ukraine in peacetime "to protect sovereignty."
Given that the Ukrainian Armed Forces in the Donbass have been used for more than three years (without the adoption of appropriate legislative measures), it can be stated that all these years, the activities of the Ukrainian military in the Donbas have been completely outlawed, and all the actions of the Ukrainian Armed Forces can be classified as war crimes against their own citizens .
The head of the Donetsk People's Republic, Alexander Zakharchenko, commented on the adoption of the law by the deputies of the VRU:
Ukraine shows that it does not want a peaceful resolution of the conflict, that is, it is going to fight and for this it makes a political platform (...) Poroshenko said that he would allow us to return to Ukraine faster. In his understanding of this law will unleash the hands of the Ukrainian military, to introduce martial law. Unfortunately, this completely violates the Minsk agreements.