10: 34. Do not think that I have come to bring peace to
land; I did not come to bring peace, but a sword



(Gospel of Matthew)
Each topic for an article on VO is "not just like that": he sat down, put a finger to his forehead and "gave birth" to the text. It is necessary to find information, and often the most interesting information has to be taken from the books of English-speaking authors. "Pictures" - well, it is even more so the Metropolitan Museum, where 14.000 is laid out (look for it and find it), and where the picture is today, and tomorrow is completely different, so every day you can look for them there again! So some materials are being prepared for printing ... for years! Until it all folded. This is especially true of all sorts of extensive topics. "Cavalry attack" are just not to overcome. Here are swords ... they wrote a lot about them and different authors. Therefore, it is difficult to say something new. However, why not try? Let's start as always with historiography. Today, for Russians, two books are the most accessible on this topic.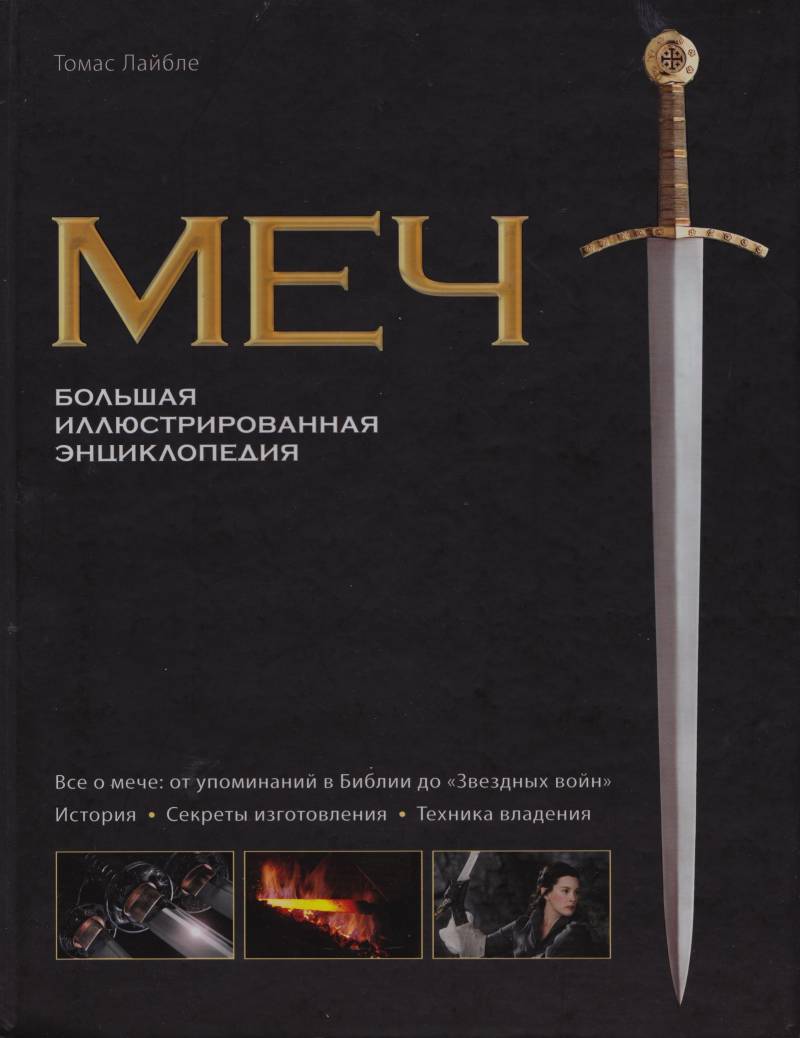 The first book is "The Sword" by Thomas Libible (translated from German), written in a very popular language and with good illustrations, although personally I would illustrate it much better.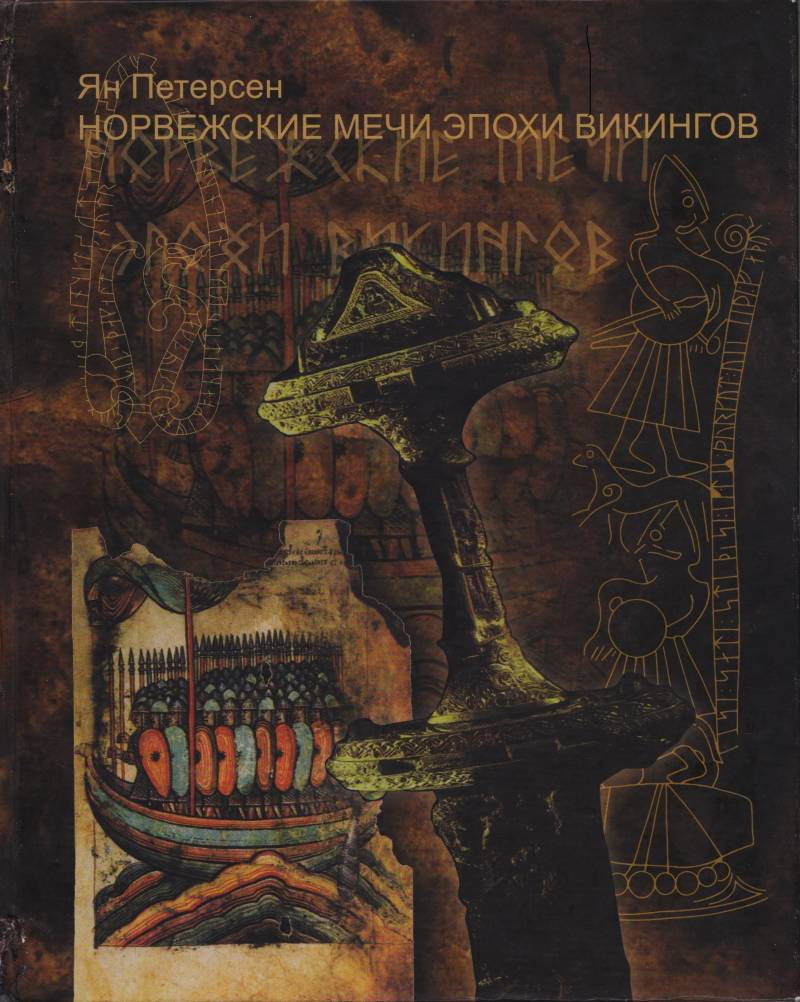 The second is a book by Jan Petersen "Norse Viking Age Swords" (translated from Norwegian). This is a very academic publication, and it is unsuitable for popular reading. But covers the issue in an exhaustive manner. And at the same time it introduces the "Petersen typology", which substantially complements the "Oakshott typology".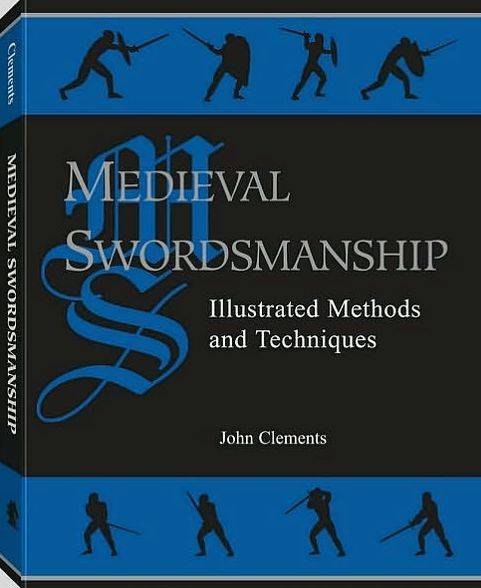 The book "Medieval Swordsmanship: Illustrated Methods and Techniques" (Paladin Press) by John Clements is less accessible, because well, who knows English so well that we can read such books in it - just a few, and there is hardly any translation into Russian because it is very specific. Nevertheless, it can be recommended. It is on the Web, as a whole, and in passages from which you can get a complete picture of its content.
A miniature from the manuscript 1290 g with the image of sword fencing techniques using a buckler shield. (Royal Arsenal, Leeds)
Sword like
weapon
, it began to be used for a very long time, and already in antiquity there were both purely piercing swords, and sharp-chopping swords, as well as pure chopping. At the same time, long slashing swords were primarily riders' weapons. Both Scythians, Sarmatians, and many other nations and tribes possessed such swords, and their length was usually such that a horseman riding a horse could freely reach with a tip of a sword from a saddle to a man lying on the ground. Swords were mainly lenticular and - less often - rhombic blades, and crosshairs were made from a single bar that skirted the blade at the heel and were welded by forging. Often they were completely wooden or bone. The tops of the arms were circular or exuded in the form of a lens of semi-precious stones. The sheath was fastened to the belt by a bracket made of bone, wood or jade, located on their outer side with a single strap, so they usually hung horizontally at the hip. The crosshair, known to us from classical medieval swords, appeared on them quite late, when they tried to fence with swords, and from sword strikes began to hide behind shields. Before that, there was practically no crosshair, since there was no need for it! Why all? Because such was the tactic of using the sword! Roman legionaries had piercing swords and ... throwing darts at their enemies, they simply fled at them, hiding behind their huge shields and hitting with their whole mass. They fell, but the Roman legionnaires only had to bend down and poke the enemy from under the shield!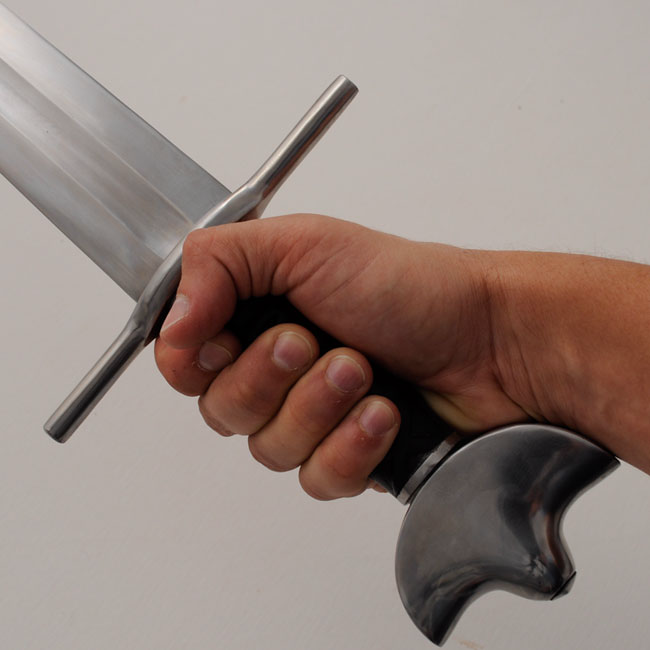 Protective action crosshairs.
The Sarmatians, who also had long swords, first attacked the enemy with spears at the ready, holding them with two hands, and only then, when they broke or were lost, they chopped down the infantrymen with blows from top to bottom. Naturally, there were few chances to hit the knuckles on the surface of the shield, and guard was not required! The first cross-hairs appeared on the rather long swords of Greek soldiers, whose infantrymen had to fight with swords and at the same time hide behind shields. Well, and then this detail appeared on European swords. Look at the photo of the hand with the sword. Between the crosshair and the top there is a space in which the hand with the sword is reliably protected from contact with the shield, while the crosshair itself protects the warrior's hand from another's sword!

Typical sword of the X century. (Metropolitan Museum, New York)
However, medieval knightly swords proper are descended mainly from the Roman horse sword of spata, about 80 cm long, intended both for a slashing and for stabbing blow. The swords of Byzantium directly inherited them, while the barbarians living to the north used their own local developments, in particular, single-edged cleaver, and Gallo-Roman designs, which gave rise to the Franks and Normans. The best specialist in swords among British historians is Evart Okshott, who examined in great detail almost every part of the medieval sword, starting with the blade and ending at the top, but John Clements wrote about everything related to the actual fencing art of the Middle Ages.

Sword XII - XIII centuries. Length 95,9, see Weight 1158 (Metropolitan Museum, New York)
He notes that the swords of 500-1000, as before, were rather short (about 70 cm) and weighed no more than 600 of the city. In the VIII-X centuries. in Europe, the Scandinavian-type swords were most widely spread, the finds of which are found everywhere from England and right up to Russia and Volga Bulgaria. These were already swords, which can be called "typically medieval". Their length was 88-109 cm, and the weight is from 800 to 1400 g. As a rule, these were double-bladed blades with a dale that occupied up to 80% of the blade, with double-sided sharpening. However, the same Vikings, in addition to such blades, were single-edged.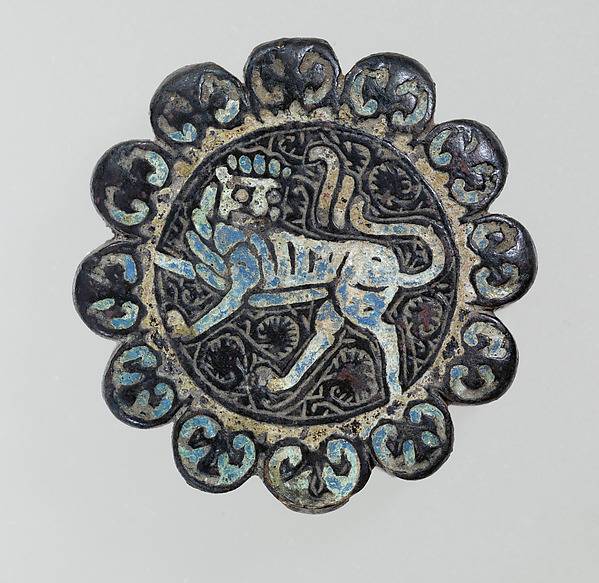 The top of the handle XII - XIII centuries. France. (Metropolitan Museum, New York)
The heads, the cross, and in some cases the very hilt of these swords were richly decorated with inlays of gold, silver, copper and brass, often in various color combinations. The handle itself was rather short and pinched the hand of a warrior, clenched into a fist. To fence with such a sword was almost impossible. They were struck with strong chopping blows, from which no chainmail saved, but a solid-forged Umbon shield was a sufficiently reliable defense, and in extreme cases they usually tried to take them. The swords of the Vikings and the Anglo-Saxons at the same time differed in design, although outwardly they were quite similar. It is known that the cost of the sword in the Anglo-Saxons reached 120 bulls or 15 male slaves. Like any valuable thing, swords were given names. Everyone knows that the legendary Roland's sword was called Durendal. But the sword of Charlemagne also had its name - Joyez, which means "joyful." In Vikings, the most popular name was "Nogokus", and everything from the fact that they practiced striking them under the shield, and therefore (and archaeologists only confirm this!), Most often they were injured in the legs!
Sword handle XII - XIII centuries. close-up.
Beginning with 1000 and 1250, the swords acquired an even longer blade, from 81 to 91 cm, and already at the beginning of 1300, see 96-121. At the same time, the length of the handle becomes such that it could even be pulled with two hands . Typical topping XI-XII centuries. became the head in the form of a paranus (southern walnut), and the spider extended in length to 18-23, see.

Sword of the 13th century France. Length 91,8, see Weight 850.5 (Metropolitan Museum, New York)
It was these swords that were given the name Norman, according to the images on Bayeux embroidery, but this is a common European type of sword that was found everywhere. Another type of knight's sword approximately around 1300 was the so-called "sword of war", which had a blade with both a dol and a rhombic cross section and narrowed to the end, so that it became possible for them not only to chop but also to prick. Differently, it was also called the "long sword", and indeed it was long (101-121 cm, of which the handle was 17-22 cm, with a weight of about 1,2-1,4 kg), as a result, it was usually carried on horses left by the saddle. There are facts that indicate that for the first time such swords appeared already around 1150, it was connected with the spread of large breed horses in the knightly cavalry, which is why an ordinary sword from the back of a horse to a knight lying on the ground reach out!

Sword 1375 – 1450 Length 96.6, see Weight 1275,7 (Metropolitan Museum, New York)
Their further development was bastard swords (or "hands and a half swords") and so-called "big swords" that differed little from them. At the same time, the cutting-swords were first replaced by piercing-chopping ones, like more universal ones. The heads on their arms acquired all sorts of outlines: in the form of a double cone and in the form of a disk, a pear, a cork from a decanter and an octagon (at the end of the 14th century).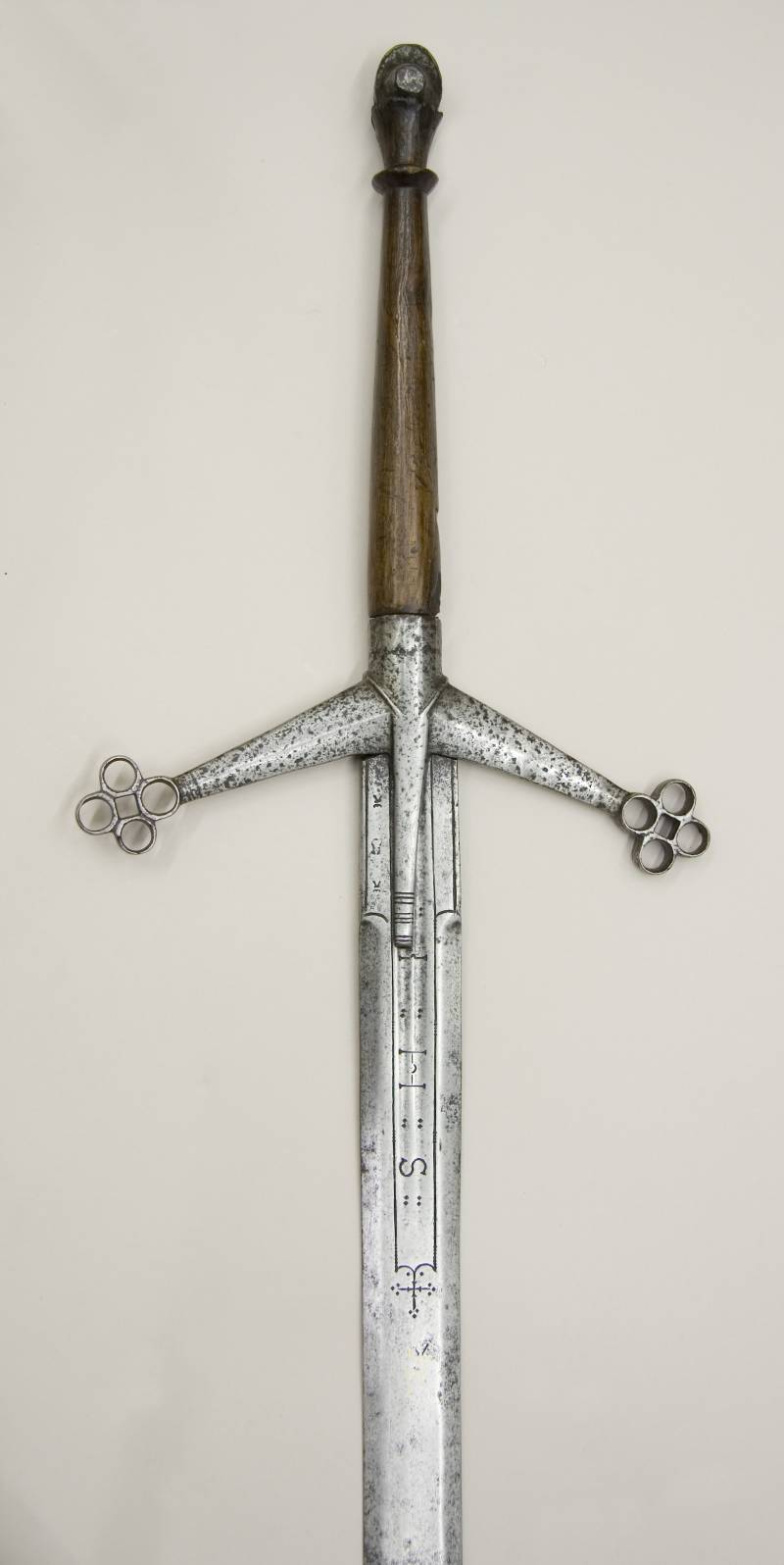 Scottish Claymore Stick. (Metropolitan Museum, New York)
The most famous "big swords" were the Italian spadone and the Scottish claymore, which also appeared around 1300, as well as the estuary sword, with a three-four-sided blade, intended solely for stabbing blows between plate-armor joints. The weight of the "big sword" reached 1,2-1,6 kg, length - 111-134 cm. These swords were used massively rather late, already at the decline of the Middle Ages.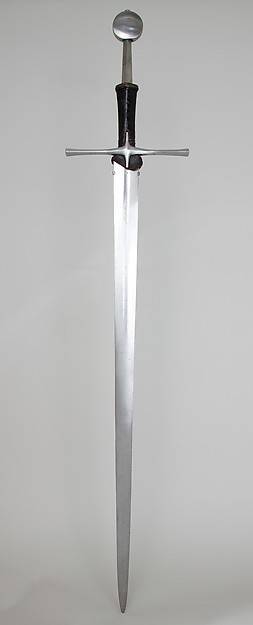 Sword of the XVth century Length 122.9, see Weight 1618 (Metropolitan Museum, New York)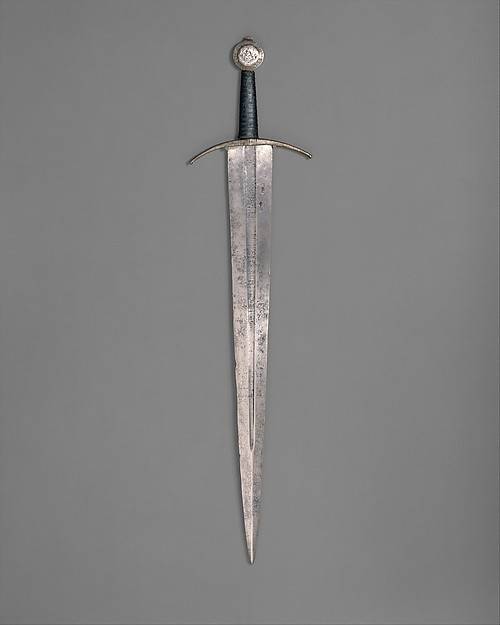 Sword 1400 Western Europe. Length 102.24, see Weight 1673 (Metropolitan Museum, New York)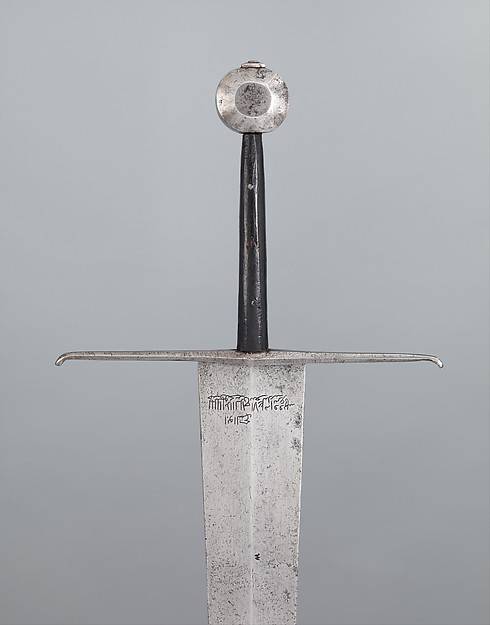 1419 Sword Stick. 111 Length, see Weight 1644 (Metropolitan Museum, New York)
The English weapon historian D.Clements specifically states that, although the arms of all these swords were completely "two-handed", all these swords in the full sense were by no means in any way possible, since it was also possible to operate any of them with one hand. The "two-handed swords" so beloved by novelists, i.e. swords, which, because of their length, were worn on a shoulder, and which could only be held with two hands, appeared, first of all, as weapons of landsknechts at the turn of the 15th and 16th centuries, and were never a knight's weapon!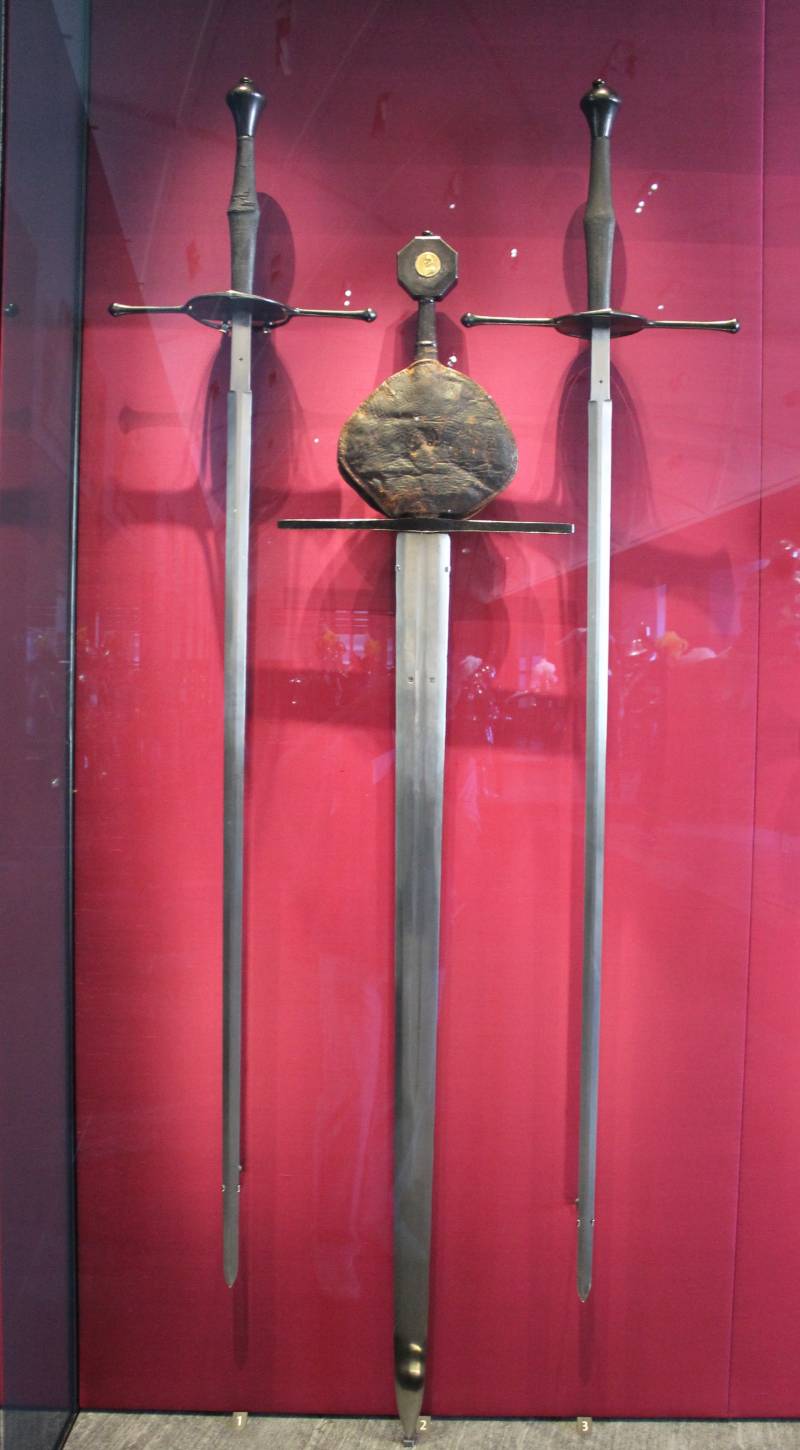 The two Bidenhender swords in this photo on the left and right are typical "big swords" swords intended for piercing armor. The sword between them is especially interesting. This sword with a leather protective cushion and weighing 8.25 kg belonged, judging by its top, to Prince Juan of Austria (1547 - 1578), who commanded
fleet
Christian League at the Battle of Lepanto on October 7, 1571. (Dresden Armory)
The earliest samples had a straight, flat, or rhombic blade in cross section, which later began to be supplied with double-sided hooks located behind the cross-hair, which were to hold and engage the blades of the enemy. In the XVI century. swords with a wavy and even sawtooth blade also appear, while their length itself reached a human height with weight from 1,4 to 2 kg. At the same time in England, such swords appeared only around 1480.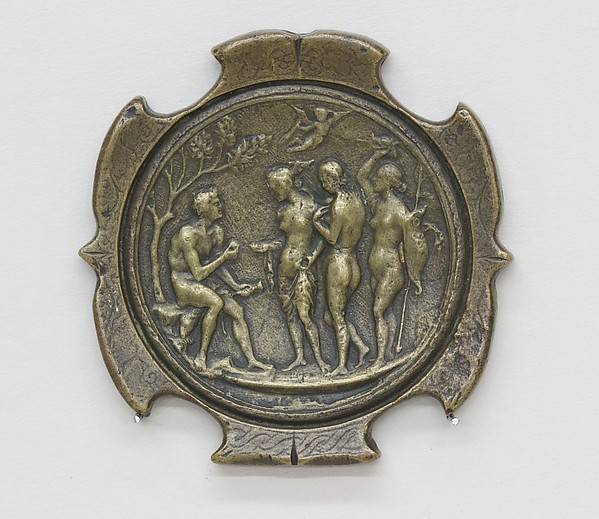 Italian tops of 16th century sword Weight 295 (Metrolite Museum, New York)
On the two-handed swords of the Renaissance should be a little to tell separately. They clearly differed from the "combat swords" of the Middle Ages, not only in detail, but also in such important indicators as the length, weight and tactics of their use in battle.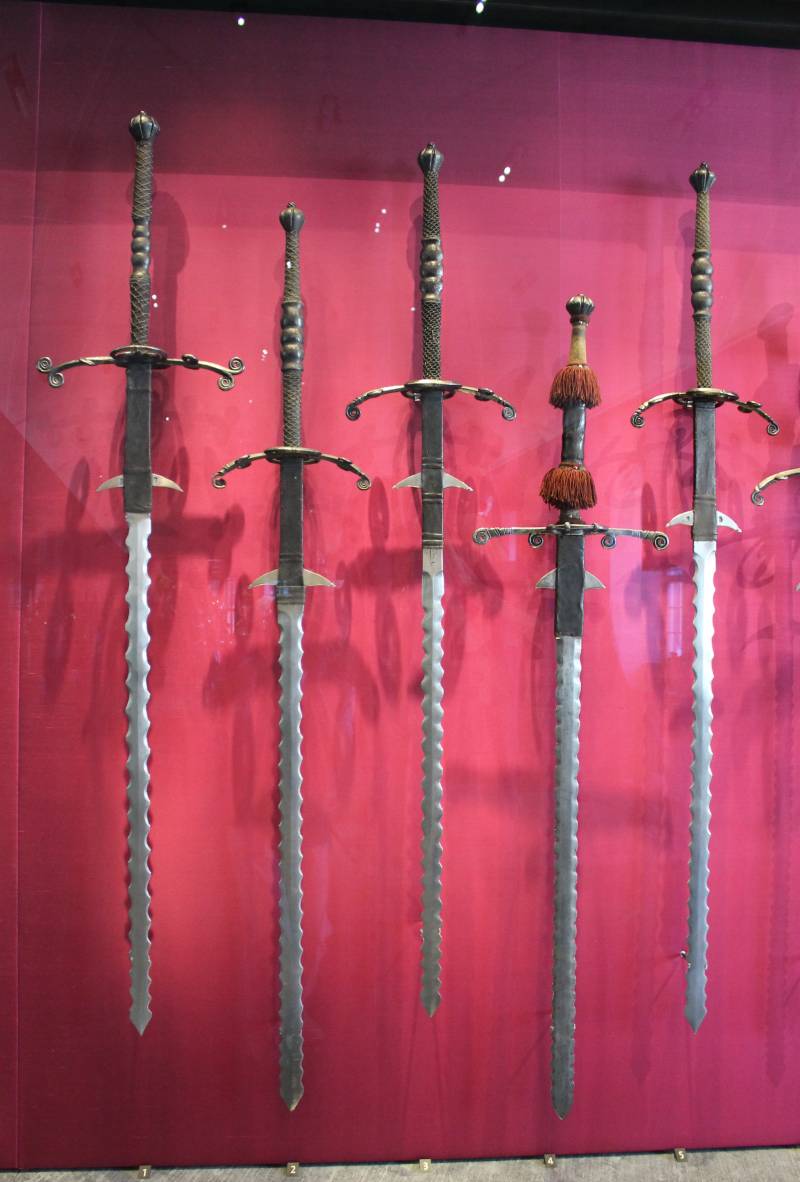 Here they are the swords of the Renaissance. Awesome, but very, very specific, as a weapon.
The two-handed sword of that time (Thomas Libible uses the term "bidennender") had a total length from 160 to 180 centimeters, that is, he could match the height with a man. They did not have a wife, as they were worn, laying on their shoulders like a pike. The part of the blade, lying close to the handle, was usually not sharpened, but covered with skin in order to take hold of it and act as if the warrior had a rifle with a bayonet in his hands! Very often, the blades at the end of their unsharpened part had two additional parrying hooks. That is, as a medieval battle sword, the sword of the Renaissance could not be used. And it was not used by horsemen, infantrymen, to make gaps in the ranks of the enemy's peak. Since it was in a certain sense a weapon of suicide bombers, only very strong and well-trained warriors could receive such two-handed swords, who received double salaries for this. Therefore, they were called "double mercenaries."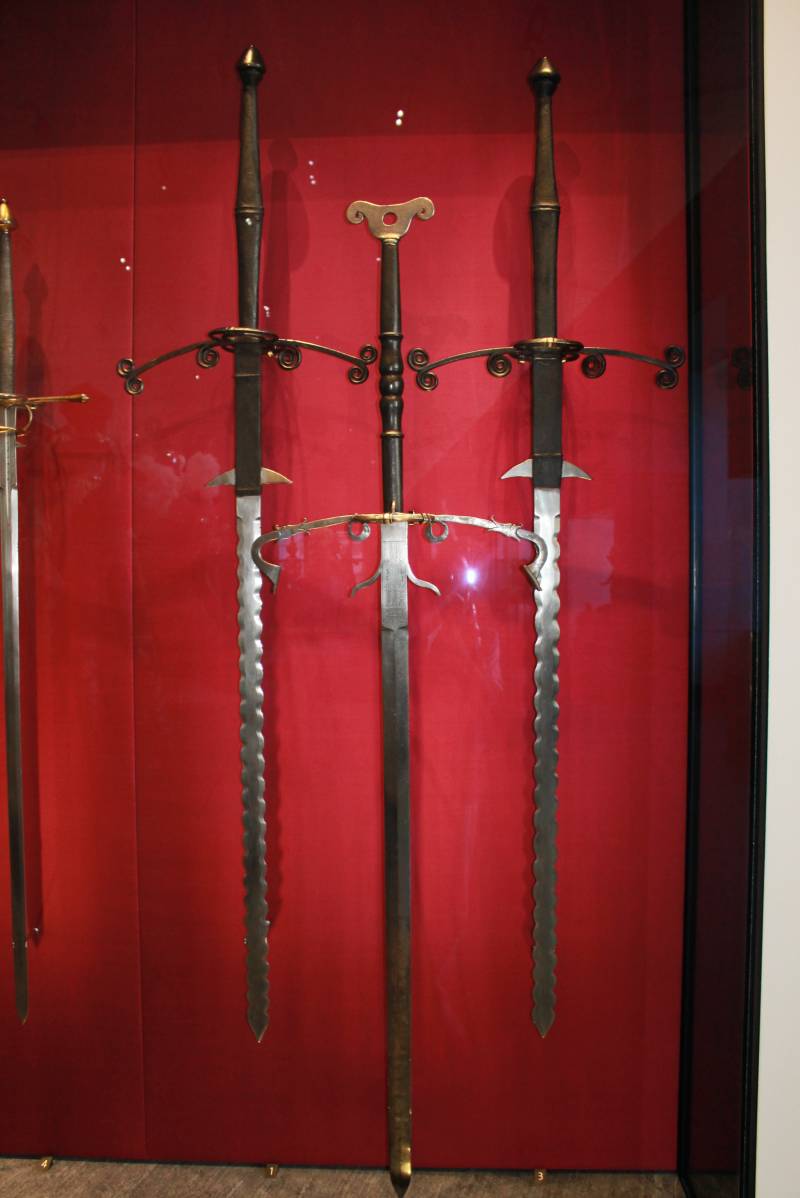 These swords of length 180 and 210 see and weighing in 4 and 4.8 kg belong to the era of the reign of the Duke Augustus of Saxony. They entered the Dresden Armory from the Duke's arsenal in 1833. (Dresden Armory)
During the 16th century, such swords were used less frequently in battles, but they were used as ceremonial weapons. They began to arm the guard of honor (which represented a kind of PR), because such swords made a strong impression on people. They began to make in front of a special monarchs or monarchs, leaving the throne room, which only emphasized their strength and power of power. These swords began to reach two meters in size and were magnificently decorated. The arms of the crosses began to playfully bend in different directions, and the blades themselves were sharpened in waves (the flamberg sword), although this no longer played a special role.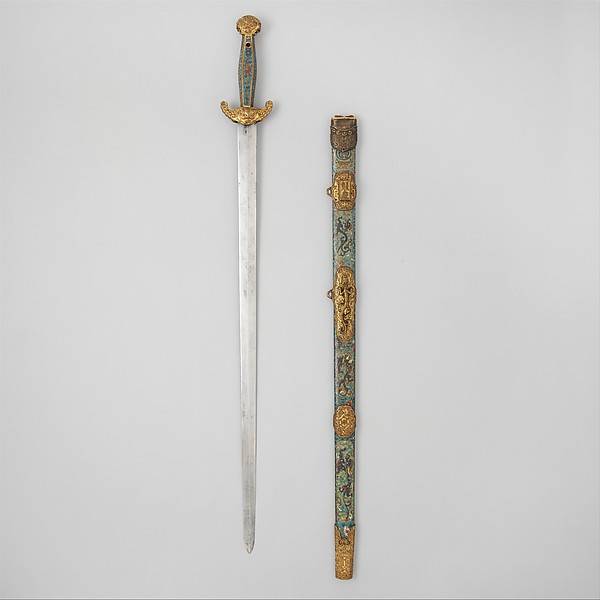 But in general, oriental swords were, in most cases, lighter than European ones and had a different form of guard. Here is a 17th-century Chinese sword. Length 92,1, see Weight 751,3 (Metropolitan Museum, New York)
By the way, the record in size belongs to the parade swords of the guards Prince Edward of Wales, when he was still Count of Chester (1475-1483). The lengths of these monsters reached the 2,26 meter. Needless to say, they had absolutely no practical value.
A serious addition to the knight's sword were daggers. For example, in Italy, basilard was popular - a dagger that had an N-shaped handle.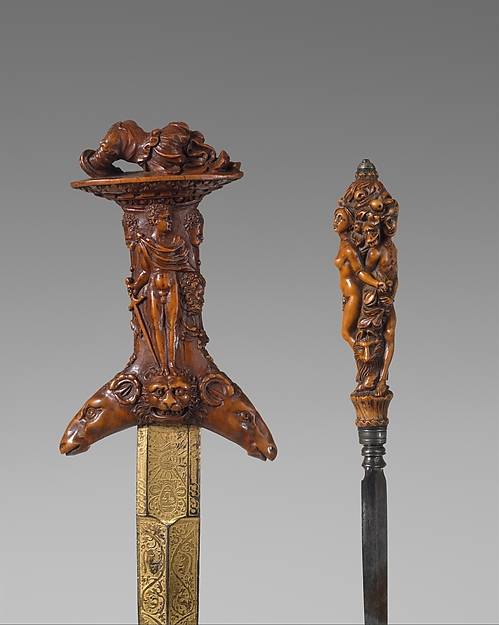 Basilard 1540 d. Length 31.8, see Weight 147,4 g. (Metropolitan Museum, New York)
The dagger with a faceted blade and the characteristic form of a handle with protuberances at the place of the crosshair is called Bullock or "kidney dagger".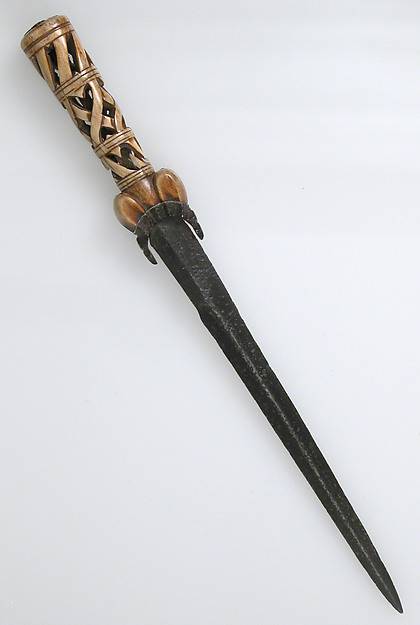 Bullock 1450 – 1500 Length 35.7, see Weight 190 (Metropolitan Museum, New York)
Rondel had a handle with two discs, which is why they called him that.

14th century Rondel England. Length 33, see Weight 198,4 (Metropolitan Museum, New York)
The Cinquedea, however, was not a knight's dagger - it is the weapon of the Italian citizens of the Renaissance.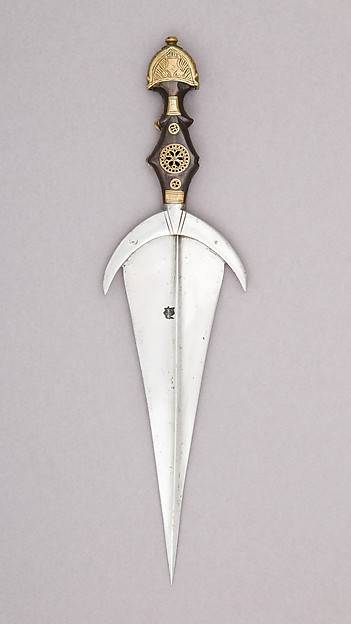 1500 cinquedea. Length 30,3, see Weight 200 (Metropolitan Museum, New York)
However, in more detail about all these daggers will be told in the following material.
To be continued ...