I haven't written anything in this area for a long time, but here you don't want to, but you'll go over the topic.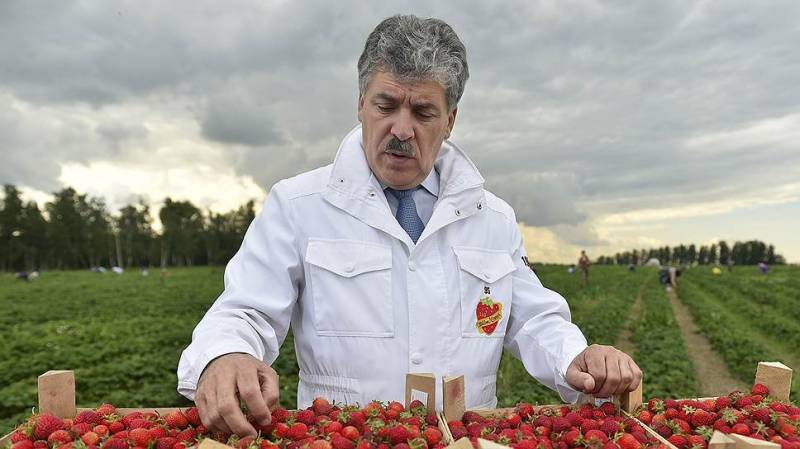 Very funny, right, to observe how the leading media rushed to bury Pavel Grudinin. It resembles a hypermarket of some kind: the goods themselves were delivered, they themselves advertised, weighed, packed and paid.
Well, sentenced Grudinina. Everything, they say, merged oligarch. The public did not forgive him the secret and obvious accounts. And in general, it is not a matter for a rich person to go to the polls. As I understand it, only one who has a louse on a lasso in his pocket should go to the elections, so what?
And one more thing I begin to understand. How do we VTsIOM public opinion polls, we all know. But tsiferkami all shake. And nobody cares that VTsIOM has already surveyed 3 (three) thousand people by telephone. Everyone do not care.
The main thing is for Putin: 73,2% of Russians, for Grudinin and Zhirinovsky by 6,1% of the total.
The fact that all the media that have published these results, in the comments (who is allowed) dozens screaming "And we are for Grudinina," is a trifle.
The impression is beginning to take shape that Putin is below 72% and will not fall. More precisely, do not lower. Well, no matter how it was on past 71,73%, it's impossible on these lower ones.
Discharged down? Well, let's see.
But in general, all this fuss in the state and local state media says only one thing - Zyuganov did a really good move. Otherwise, why such a fuss rose?
So we were told why Navalny and Putin's goddaughter (Sobchak) were not a cake, but now everyone rushed to the collective farm chairman as if on command. Has the team really passed?
Apparently, yes. But - as always, in a hurry and unprofessional. Found something to blame - the money was abroad. And who, say so, from the powerful of this world is not?
I'm not talking about the latter-day citizens of Malta or Switzerland. I'm just talking about those who keep money where he likes. And about those who have allegedly no accounts.
Yes, of course, we have people who should not have accounts abroad, because they can be arrested, and money can be taken away. So what? Who does it stop? Only, probably, an orphan and stop. And a person who has brothers, sisters, reasonable children, aunts, uncles and other relatives, including brilliant women-businesswoman, has no problems.
Well, who really cares how to act in this case, you can read about Roldugin and Egorov at your leisure as well.
And by the way, I'm talking here without any hitting or envy. I would not be able to work at such a level as an offshore wallet.
So with regard to Pavel Grudinina - really past the box office. It's wonderful that he has money. Although ... 7,5 billion rubles ... I beg you wholesale and retail. Well, is this money?
We have customs in garages, I'm sorry, they store more.
So the non-communist collective farmer Grudinin has nothing to worry about. What the VTsIOM draws there is one thing that in fact is another.
But on the Internet, people say they will vote for him. Yes, to be honest, I will vote. Why not? True, about why yes, we'll talk another time.
The main thing so far is that it is good that the central media began to bury Pavel Nikolaevich like that. Will benefit. As in the movie "Office Romance", remember? "Callers, speak? Then you should definitely take it! "