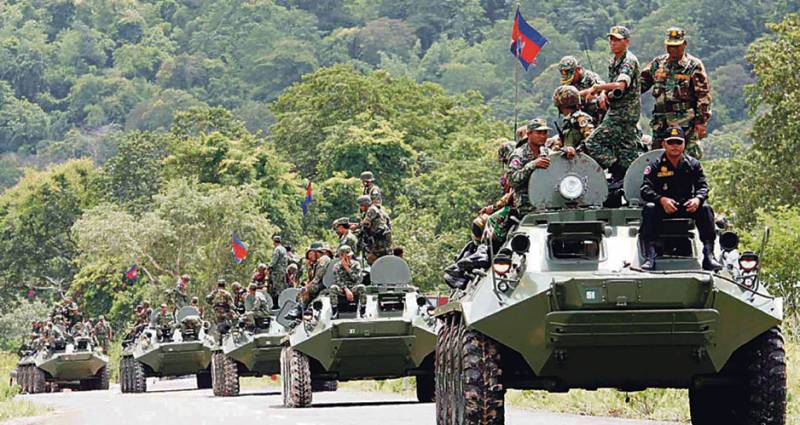 Three decades ago, Laos and Cambodia were considered socialist countries. Their "elder brother" was the USSR, the "middle one" was Vietnam ("Hanoi's Ark").
Cambodia survived the dictatorship of Pol Pot with the total genocide of its own population, the invasion of the Vietnamese army, a long civil war, the overthrow and restoration of the monarchy. The internal situation has now stabilized, but it is one of the weakest economically and militarily ASEAN countries.
With Polpotovsky heritage
The army is very archaic, no own military-industrial complex. The military potential of Cambodia (especially the Air Force and Navy) is much lower than that of the main potential enemy - Thailand, with which there are serious border conflicts ("Siamese sly fellows"). However, a special relationship with Hanoi seems to guarantee security.
The armed forces of Cambodia are equipped mainly with the old Soviet
weapons
, deliveries from Eastern Europe and Vietnam continue to this day. In recent years, the import of machinery from China has resumed, its influence on the country is gradually increasing.
Ground forces are divided into 6 military districts. They include 4 infantry divisions (1 – 4-I), 11 infantry brigades (8, 9, 11, 31, 41, 42, 43, 51, 52, 90, 99). -I) and special forces (70-I).
Tank
the fleet includes from 213 to 262 Soviet T-55 and Chinese Tour 59, as well as from 25 to 50 light PT-76. In service - up to 34 BRDM-2, up to 79 BMP-1, up to 150 armored personnel carriers (up to 26 Czechoslovakian OT-64, from 88 to 120 Soviet BTR-60PB). Artillery: up to 150 towed guns - Soviet ZIS-3 (up to 50 units), M-30 (12) and D-30 (13), American M101A1 (25), Chinese Ture 59-1, as well as several hundred mortars and more 250 MLRS - Chinese towed Toure 63 (up to 200) and Toure 81 (10), Soviet BM-21 (12) and BM-14 (up to 20), Czechoslovak RM-70 (25). There are 15 Soviet anti-tank missiles T-12. As part of the army air defense - 50 modern Chinese MANPADS FN-6 and up to 20 old HN-5A, about 400 anti-aircraft guns - Soviet ZU-23, 61-K, S-60 (about 100 of each brand), KS-19 (8 ), up to 100 Chinese Tour 65 and Tour 74.
In addition to Chinese MANPADS, all weapons are very outdated.
As part of the Air Force no more than 4 combat aircraft, Soviet fighter MiG-21 (2 bis and UM), 6 transporters (European A320, English BN-22 and 2 Chinese MA60 and Y-12-II), 11 training (to 7 Czechoslovak L-39C, 4 Italian Р-92). But there is 4 of the latest Chinese combat helicopters Z-9WЕ, created on the basis of the French AS365. Multipurpose and transport helicopters: 3 French AS350, 8 Chinese Z-9, to 6 Russian Mi-17, to 8 Soviet Mi-8. 2 Mi-26 are in storage. Ground defense includes the 1 division of the Soviet air defense system C-125 (4 PU).
The Navy consists of old patrol boats — the Soviet 205P project (4 units), the 206 project (2), the 206М project (2), and the Chinese 062 project (4). Samples of projects 206 and 206М were originally torpedo, but TAs were dismantled. In addition, there are 3 small boats built in China.
Marines include 7 infantry and 1 artillery battalions.
Conditionally combat-capable
Of the ASNEAN 10 countries, only Brunei is inferior to Laos in terms of its military potential. Due to the extremely low solvency, Vientiane is unable to acquire any modern weapons. In the presence of only a small amount of Soviet equipment obtained from the USSR and Vietnam, as well as the long-outdated American in even smaller quantities, plus some weapons from the Middle Kingdom. While Laos remains mainly in the sphere of influence of Vietnam, but Chinese penetration into the country is growing.
The ground forces are divided into 4 military districts, which include 5 infantry divisions and several separate regiments and battalions.
The tank fleet includes up to 15 old Soviet T-54 and up to 15 T-55, up to 10 quite ancient T-34-85, up to 10 light PT-76 and up to 10 Chinese 62 Tour. It has up to 10 BRDM-2 and up to 90 BTR, mostly Soviet (up to 20 BTR-152, up to 35 BTR-60P, American М8 and 20 М113 - up to 35). Artillery: up to 95 towed guns - English M116A (10), American M101 (25) and M114 (10), Soviet M30 (20), D-30 (20), M46 (10), as well as mortars 70 - 50 Soviet M-43 (82- and 120-mm), 20 American М2А1. In the composition of the military air defense around 120 Soviet Strela-2 and 25 Russian Igla-1, up to 10 Soviet ZSU-23-4 Shilka and 84 anti-aircraft guns (48 ZU-23-2-XNXX-18-61-18-60-XNUMX-XNUMX-XNUMX-XNUMX). XNUMX C-XNUMX).
In addition to the Igla-1 MANPADS, all the equipment of the ground forces is very outdated, the level of maintenance is low, so the above quantitative values ​​are very conditional, there is almost no practically operational equipment.
The air force is in even worse condition than the ground forces. There are no combat aircraft in service, in storage up to 23 of Soviet fighters MiG-21 (up to 7 PFM, up to 14 bis, up to 2 FF). There are transport workers - 1 Ukrainian An-32, Chinese MA60 (3) and LE-500 (4), training aircraft - up to 8 of old Soviet Yak-18 (apparently, already withdrawn from the Air Force) and, possibly, 2 – 3 Russian IL-103. There are also no combat helicopters, there are only multipurpose and transport helicopters - up to 6 Russian Ka-32T and up to 15 Mi-17, up to 4 American UH-1 (possibly withdrawn from the Air Force), 2 European EU 155 and 4 Chinese Z-9. Ground defense includes the 2 division of the Soviet air defense system C-125 (8 PU).
Vietnam is trying to keep Cambodia and Laos in the sphere of its influence, but China is slowly but surely moving it aside. The military and economic potential of Beijing and Hanoi is incomparable, for the poor and the weak Phnom Penh and Vientiane is a decisive factor. It is Cambodia and Laos, along with Myanmar, becoming the main conductors of the interests of the PRC in Southeast Asia.