Syrian complexes 9K35 "Strela-10" are still in service and ready to perform combat missions, writes
Rossiyskaya Gazeta
.
New photos of one of these machines of military air defense appeared on the Internet.
"If the systems" Wasp "and" Square "of the CAA often appeared on the Web, then the photos of the complex" Strela-10 "practically did not" shine "literally until last year. If they were very rare, they were dated to the period up to 2012 of the year, "the article says.
It is therefore not surprising that some experts were confident that such
weapon
simply did not survive the years of intense fighting. However, in the summer of last year, during an offensive along the Damascus-Baghdad highway, observers saw "Arrows-10" in the combat formations of government Syrian troops.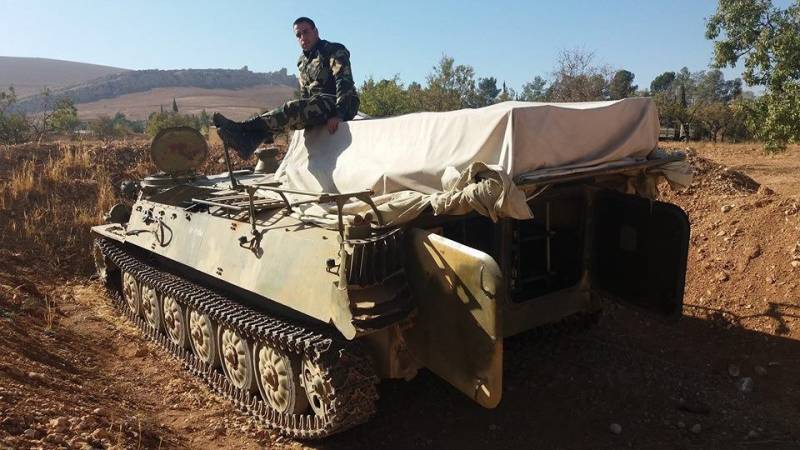 It is known that these installations were supplied to the SAR back in the times of the USSR. They are mounted on simple and reliable MT-LB tractors. On launchers placed 4 missiles. The same amount is in stock, inside the machine itself.
The rocket is capable of hitting air targets at a range from 0,8-1,2 to 5 km, at altitudes from 25 m to 3-3,5 km. At the same time, the target can move at a speed of up to 415 m / s on a collision course and 310 m / s on followers. Rocket weight - about 42 kg.
As a self-defense weapon, the crew has an 7,62-mm PC machine gun.
"There is no information that Syrian Arrows could record any aircraft of the enemy into their own account, but any pilot who knows what is operating in the area where 9K35 is deployed will be extremely cautious," publications.