A strange feeling triggered one letter, which was handed to me by friends. I do not know the author of the letter. Moreover, I did not even try to meet her. Distance ... But I met other teachers. The problems turned out to be similar. Russia is great for its lands. Great distances. Great people. But, most importantly, problems.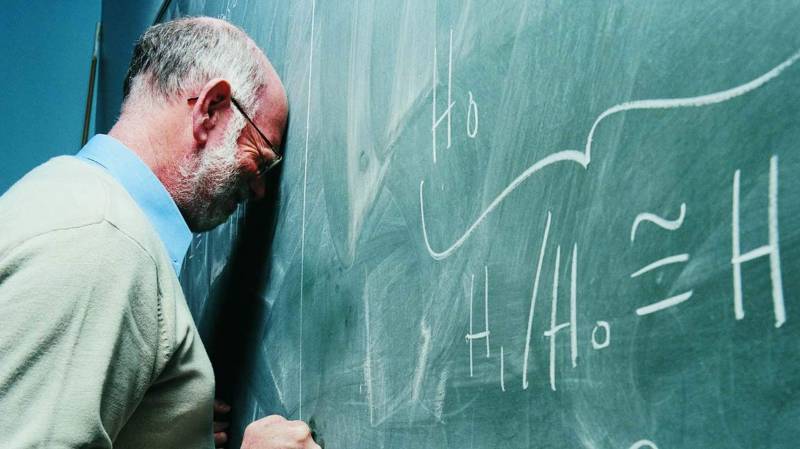 We are deservedly proud of our youth. We are worried about bad modern education, but in our hearts we rejoice in the diploma of our own child. See the publications of recent months. See your own comments. Bad at our school. Bad in high school. No, not so. Worse than it was in Soviet times. So, probably, it will be more accurate.
But tell me honestly, will you agree to the reduction of universities in Russia? Agree to pay a ruble or two less taxes, but subject to the closure of budgetary institutions and universities? No and no again! And I will present you a letter. A letter from a specialist who wants to be useful for the country, for people.
I did not specifically edit anything and did not remove it in this letter. To show the level of education and intelligence of the author. The author is a product not of Soviet, but of Russian education. Good, good product. And ... not needed by our country.
"Catherine, teacher
stories
, Voronezh.
Hello. I am writing to you from the city of Voronezh, provincial, but large and "confidently developing." I am 28, and the last 11 years of my life have been devoted to education and science. After graduating from the university's history department, full of hope and dressed in rose-colored glasses, I entered the graduate school of my native department. Three years have passed in the permanent work in archives, conferences, writing scientific articles, pre-defense rush and now, finally: peace! Meet the finished scientist! Alas, no one needed a scientist. In my own department for the 10 years that have passed before my eyes, four teaching rates have been reduced. After endlessly sending out resumes, going to universities, I was convinced that localism — the system of appointment to the post in accordance with the nobility of the clan, abolished at the end of the 17th century — did not disappear. "Hasn't a strong city asked for you?" Whose patronage are you? So what if you have recommendations, articles, 95% originality of the thesis? There is no load, you know what the situation is in the country! "
At the same time, before my eyes, in high schools and elite schools, by calling those who are probably the best in science and teaching in this world, they took yesterday's students with no work experience or degree, with solid graduates in their diplomas. Now I work at school. For the salary of 12 thousand rubles for one and a half rates, where no one cares about the quality of teaching the subject, and only care about the ratings that you can get for participation in competitions, online contests, performances at pedagogical councils. I visited all aspects of the barricades of education, except, unfortunately or fortunately, the top management, and I am well aware that with the current trends of segregation and social Darwinism, an expert who just knows well and does his work with soul and not who is not someone's protege, will be counted among the ranks of "collective farm nags, not Arab racers."
Without education, there is no life. Without a teacher, teacher, teacher there is no education. Pay them decent salaries ?! Allow me! They should dress in children's love, pay for the apartment with the gratitude of students, eat the contribution to science ... What's the most terrible thing, it's not only the officials who think so. So think the parents of those we teach. I'm 28. I love and know my subject, I was loved by students and children. I intensively pull up a foreign language and prepare for emigration. Like all friends of my circle. "
Well, it was not scary from the bare truth? Not nude or nude. Just naked! Teacher's letter to nowhere. Cry crying in the wilderness. The pain and tears of the human soul. Russian soul.
Notice the difference between most of us and this young woman? The difference that we understand within ourselves, but we often cannot express it. She does not agree!
I do not agree to live for the future. I do not agree to be a "collective farm nag". We agree, but she is not. She is different. We lived, and many still live, for the sake of a "bright future." And she just wants to live. To live in accordance with the formation of talent, needs.
She is a good specialist. Moreover, she is a specialist for us. But the current system does not accept such a specialist. Not because there are no places. Just because "the marshal has his son." Let blunt, not far, but his.
Its further fate? If he fulfills his promise and leaves the country, he may be able to find himself somewhere. Somewhere, but not in Russia! It may even make a career in some Western university as a specialist in Russian history. And we will write about the brain drain to the West. About the perfidy of this very West, which takes the best.
Will stay? Then through 5-10 years will turn into an ordinary down-to-earth teacher. Not a teacher. The teacher with extinct eyes, which to damn students and the subject. Who knows how to conduct a "demonstration lesson", how to write some test work on teacher improvement courses, how, without straining, "to conduct the lessons as expected."
She does not write about modern training programs. She does not write about the load of the teacher. She does not talk about the insane load on students. The author is a modern teacher. Able to work in extreme mode. Able to teach the modern student to learn. But not needed by our school.
Someone will now say about the cowardice and rudeness of the author of the letter. We must fight, we must raise the school that sheltered her. You can not throw students. That's right. And for what?
In order for you to poke your poverty? To count pennies to paycheck? Maybe in order to see their students as academics, war heroes, notable inventors at the end of their lives? .. The old Soviet film ends this way. Just let us answer ourselves, based on the experience of our own family: do former students today often go to see their teachers?
But exactly the same situation in other state-funded sectors of the budget. Doctors who receive tens or even hundreds of thousands of rubles, have you met? I'm not talking about "thank you" in envelopes. I'm talking about legal wages. Maybe the kindergarten teacher your child goes to boasts three or four tens of thousands in his pocket? A scientist in a research institute? The beauty and pride of our science drives to Porsche?
Now there is an election campaign. They will promise us exactly the same as before, the golden mountains, milk rivers with honey and other stars from the sky. To promise in the hope of our forgetfulness.
It's time to collect stones ... We have to write, talk, shout about the need to change the vector of the country's domestic policy today. A person, a simple person with his problems and demands, should be at the head of all further transformations. In order not to dream the most about foreign salaries and respect.
A person who, together with pride in foreign policy successes in the refrigerator, will have a big piece of meat. A man who after work will rest in the theater, and not in the beer. A man whose even thoughts will not arise to change citizenship for the sake of a piece of bread. A man who, like in the famous cartoon about Mowgli, will be able to proudly say: "Yes, I am a man!"