Six strategic bombers B-52 Stratofortress will be sent to the airbase on the island of Guam (American territory in the Pacific), located south of the Korean Peninsula, reports
TASS
message the press service of the US Air Force.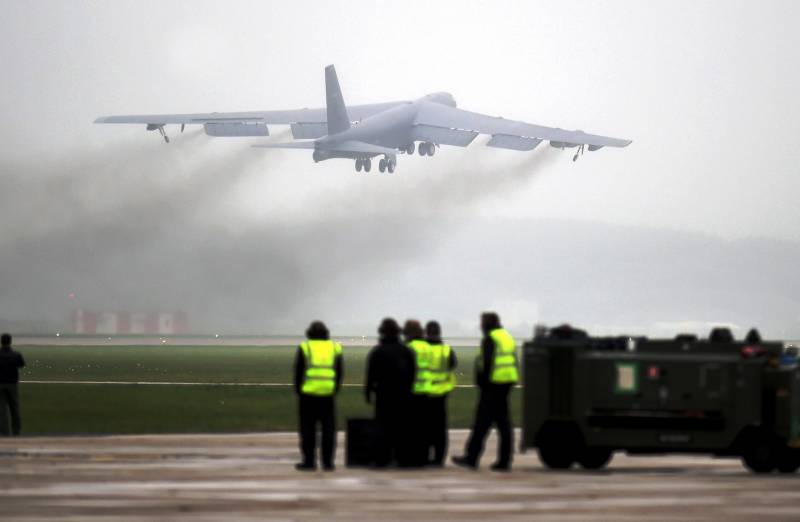 Six B-52H Stratofortress bombers and about 300 flight crew members from the Barksdale Air Force Base (Louisiana) are sent to Andersen Air Force Base to support the US Pacific Command (PACOM),
says release.
The press service recalled that B-52 was last deployed on the island in July 2016.
It is planned that the bombers "will conduct various joint and bilateral exercises with the self-defense air forces of Japan, the Air Forces of the Republic of Korea and Australia with the participation of the Navy and the US Marine Corps."
Recall, last week, the Pentagon deployed the strategic bomber B-3 Spirit to Guam 2 and about 200 US military personnel to Guam "in order to support the efforts of the Pacific Command of the US Armed Forces aimed at containing threats in the region." In addition, the base also contains strategic bombers B-1B Lancer.
B-52 is the oldest American long-range bomber. In the Air Force, it is used from the year 1955 (first flown in the year 1952). Currently, the Air Force is 76 such aircraft (18 of them - in reserve). Each of them is able to carry 31,5 tons of payload.