Air defense systems of Saudi Arabia intercepted yesterday a rocket launched by Yemeni Hussite rebels, reports
TASS
message from Sky News Arabia.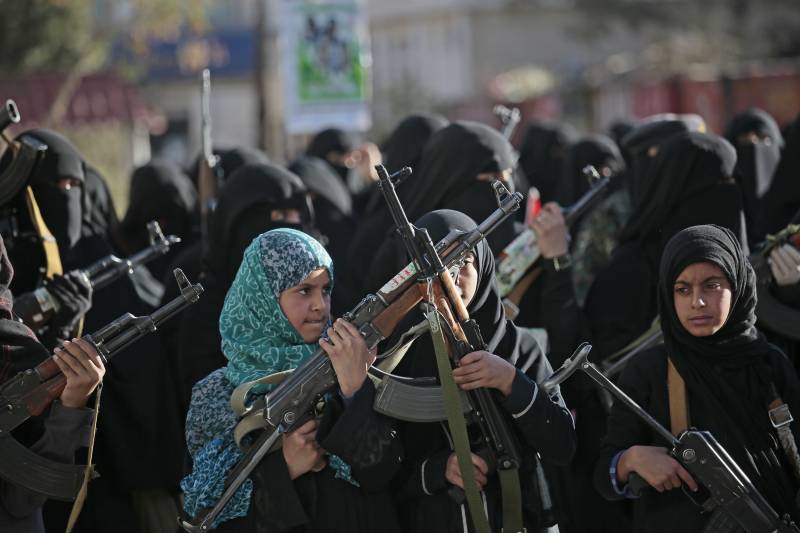 Yemeni girls during a rally in support of the Hussite rebel movement in Sanaa, January 13 2018.
According to the channel, "the rocket was shot down in the sky over the province of Dzhizan, located in the south-west of the kingdom near the border with Yemen." About the victims and the destruction of information has been reported.
Rebels repeatedly subjected Saudi territory to rocket fire. For example, on December 19, the kingdom's air defense intercepted a Burkan-2 ballistic missile launched by the Hussites in the south of Riyadh, similar to the one shot down near the capital of November 4. There were no casualties in both incidents.
Recall that the Yemeni conflict entered the most active phase with the beginning of the invasion at the request of the acting head of the republic Abd Rabbo Mansur Hadi in March 2015 of the Arab coalition. The situation sharply worsened at the end of November on 2017, when violent battles began in Sana'a, which were triggered by attempts by the Houthis to seize a number of institutions and facilities controlled by supporters of former President Abdullah Saleh. On December 2, the former head of state announced a break in partnership with them, and on December 4 was killed by the rebels.
According to the UN, 22 million people in Yemen are currently in need of humanitarian assistance, more than 8 are threatened by millions of people.