Over the past few days, several materials have appeared in the French press at once that French citizens have filed lawsuits against Russia regarding the payment of "debts". We are talking about citizens who are descendants of the holders of bonds of the so-called royal loans. The descendants have their own association. And now members of this association are demanding payments from the Russian Federation, which ultimately can be up to 30 billion euros.
At the same time, French media say that the court is unlikely to "be able to oblige Russia to pay such an amount." The fact is that earlier the Russian Federation repaid its debts (plus debts of the Russian Empire and the USSR) to France, in the sum of which were about a third of billions of euros specifically for tsar's loans.
For reference: the French association of imperial loans holders (talking about loans for building a railway in Russia in the 19th century) includes up to 400 thousand people. Almost Napoleonic army ...
RIA News
referring to the Ministry of Economy of France, reports that after the payments made by Russia, the official Paris cannot demand that Moscow pay off "pre-revolutionary private debts".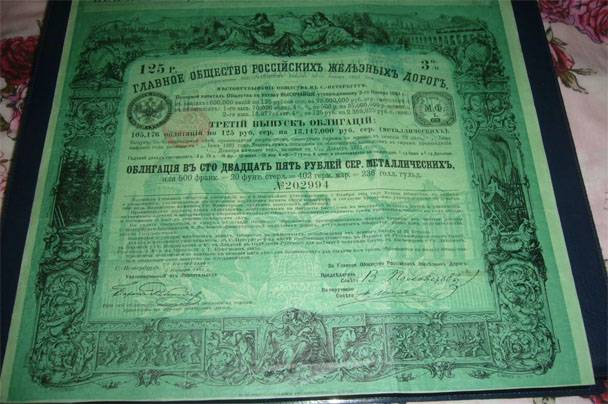 From the statement of the ministry official:
Intergovernmental disputes between the French Republic and the Russian Federation on the issue of "Russian loans" were eliminated by signing 27 on May 1997 of the agreement between the two countries, on which France and Russia mutually refuse all financial debts that arose between them before 9 on May 1945, and refrain from supporting the claims of their citizens related to these debts.
At the same time, it is added that it also cannot prohibit its citizens from filing claims against Russia.
According to some information, the French owners of the Russian tsarist bonds tried to make demands even in the period of the existence of the USSR. However, in the Land of the Soviets, it was quickly explained that there could be no question of any redemption of "royal" debts by the Soviet government and Soviet citizens.