The Ministry of Defense of Ukraine published a video of the passage of "tests" by tankers in the so-called "ATO" zone. At the same time, the very concept of an "anti-terrorist operation" looks strange, to say the least, given the fact that the Verkhovna Rada of Ukraine once again did not dare to recognize the LDNR as "terrorist organizations". In other words, there is a paradoxical situation against the background of the Ukrainian "logic": there are no terrorists, and the antiterrorist operation is underway. Against whom in this case?
During the "tests" in the "ATO" zone, the tankers of the Armed Forces of Ukraine worked by firing regular projectiles under conditions that, remarkably, not only defensive but also offensive combat.
The statement of the deputy commander is given.
tank
Brigades of the Armed Forces of the Armed Forces of Lieutenant Colonel Evgeny Mezhevikin:
We train personnel on how to fight in these conditions. First, the theory, without which nowhere, because the main burden - in practice. Only the best crews are allowed to pass the final tests.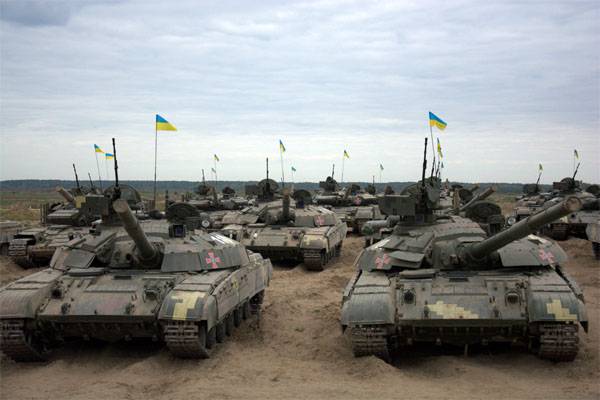 T-64BM APU tanks at the Goncharovsky training ground
During the exams, Ukrainian tank crews also completed reconnaissance and target recognition, tank withdrawal, as well as fire support and the interaction of various units in a changing combat environment.